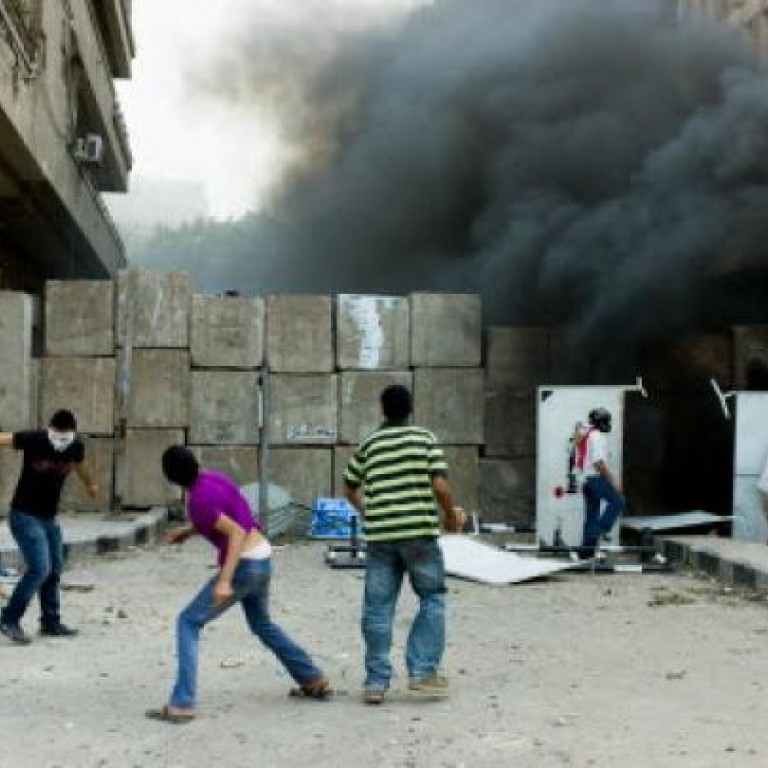 Police seal off area near US embassy in Cairo
Hundreds of riot police sealed off the area near the US Embassy in Cairo on Saturday and the interior minister said he would restore calm after four days of clashes between police and Egyptians incensed by a film denigrating the Prophet Mohammad.
A 35-year-old protester was killed and dozens of people were injured in clashes overnight.
The authorities closed the street leading to the embassy where the demonstrators had spent four days throwing rocks and petrol bombs at police.
The area was quieter early on Saturday. A Reuters reporter saw police push several young men into trucks. Two of the men looked bruised and one was stripped down to his underwear.
"Not so rough," shouted one as he was hustled away.
Police formed cordons on roads into Tahrir Square near the US mission and plain-clothes officers wielding sticks frisked passers-by. The square, the focus of last year's popular uprising that overthrew President Hosni Mubarak, was strewn with garbage and a torched vehicle was towed away.
"Our presence here is to clear the square of people who are breaking the law," Interior Minister Ahmed Gamal el-Din said as he inspected the area. "We must preserve the square as a symbol of the revolution. That is the aim of our operation."
He said measures would be taken to ensure "those breaking the law" do not return.
The protesters said they wanted to expel the US ambassador to punish Washington over the low-budget film, produced in California, that portrayed the Prophet Mohammad as a womanizer and religious fake. US Secretary of State Hillary Clinton has called the film "disgusting and reprehensible".
Egypt's state news agency said 27 people were injured on Friday, which suggests more than 250 people have been hurt in the clashes since Tuesday, when protesters climbed the embassy's walls and tore down an American flag.
Hundreds of protesters had pelted police with stones and petrol bombs late into Friday night as they were pushed back from the embassy perimeter.
"God is Greatest" and "There is no god but God," one group near the front of the clashes chanted as some threw stones on a street leading from Tahrir to the embassy. Police in riot gear fired off rounds of teargas.
President Mohamed Mursi, an Islamist and Egypt's first freely elected leader, has to strike a delicate balance, fulfilling a pledge to protect the embassy of a major aid donor while delivering a robust line against the film to satisfy his Islamist backers.
In Sinai, militants attacked an international observer base close to the borders of Israel and Gaza, a witness and a security source said. Two Colombian soldiers were wounded, an official from the observer force said.
US Defence Secretary Leon Panetta called his Egyptian counterpart, General Abdel Fattah al-Sisi, to "underscore the importance of ensuring the safety and security of the US diplomatic mission," Pentagon spokesman George Little said.
"Minister al-Sisi reiterated Egypt's commitment to secure US diplomatic facilities and personnel," Little said.
Many Muslims regard any depiction of the Prophet Mohammad as blasphemous. The film has provoked outrage across the Middle East and led to the storming of several US missions in the region.
In Libya, authorities said they had made four arrests in the investigation into the attack on the US Consulate in Benghazi on Tuesday that killed the US ambassador and three other Americans.
Mursi has condemned the film, rejected violence and promised to protect diplomatic missions. His cabinet said Washington was not to blame for the film but urged the United States to take legal action against those insulting religion.
The United States has a large embassy in Cairo, partly because of a vast aid programme that began after Egypt signed a peace deal with Israel in 1979. Washington gives US$1.3 billion in aid a year to Egypt's army plus additional funds for government.
Fury about the film tore across the Middle East after weekly prayers on Friday with protesters attacking US embassies and burning American flags as the Pentagon rushed to bolster security at its missions.
 At least seven people were killed as local police struggled to repel assaults after weekly Muslim prayers in Tunisia and Sudan, while there was new violence in Egypt and Yemen and across the Muslim world, driven by emotions ranging from piety to anger at Western power to frustrations with local leaders and poverty.
 A Taliban attack on a base in Afghanistan that killed two Americans may also have been timed to coincide with protests.
But three days after the amateurish film of obscure origin triggered an attack on the US consulate in the Libyan city of Benghazi that killed the ambassador and three other Americans on September 11, President Barack Obama led a ceremony to honour the returning dead and vowed to "stand fast" against the violence