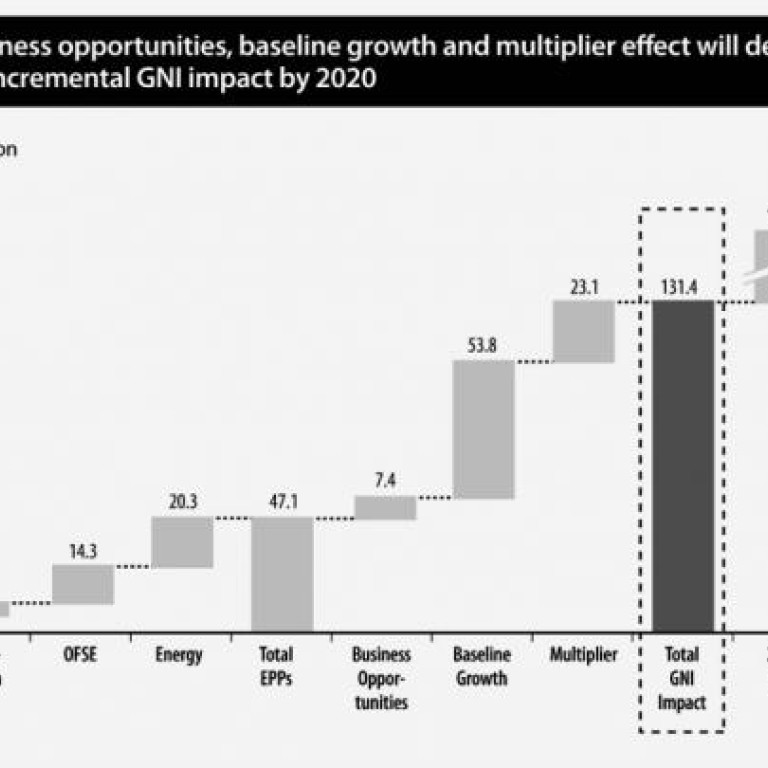 Redefining global oil and gas trading in the region
Discovery Reports - Malaysia Oil, Gas and Energy
With Asia positioning itself as a global growth driver, the time is ripe for a blueprint that accounts for the region's heightened role in the oil and gas industry. Malaysia is showing the way with its ETP.
The outcome of intensive talks comprising government agencies and private sector players, the ETP embodies Malaysia's aspirations for an integrated oil and gas industry in Asia. Requiring investments of US$100 billion, mostly from the private sector, it sets the stage for long-term growth.
"The government will develop Malaysia into a leading oil and gas services hub in Asia, grow Malaysia's role in oil storage, logistics and trading and import LNG [liquefied natural gas] to serve latent gas demand and attract new gas-based industries," says Malaysia's Prime Minister Najib Razak.
There are compelling reasons for building Asia's oil storage and trading hub in Malaysia, according to Dr Mohammed Emir Mavani Abdullah, oil, gas and energy (OGE) and financial services director at PEMANDU.
Large crude oil and fuel cargoes from the Middle East have to be split into smaller cargo deliveries within the region. At the same time, regional producers need a terminal to aggregate supplies before dispatching to regional refiners. Blending must be done before refinery output becomes useful to other industries. With its central location in Southeast Asia, Malaysia is the best place to do all these.
Given its early start in exploration and development since the discovery of reserves in Sarawak in 1910, Malaysia is regarded as a mature market in the oil and gas industry. The country is also in a position to complement Singapore, which is the functioning hub for oil and gas trading in the region.
Malaysia is emerging as a cost-efficient regional base with world-class infrastructure including storage tank farms, deepwater jetties, roads, refinery complexes, and warehousing and bunkering facilities. The country also has a wide pool of skilled professionals and technical experts with multilingual abilities.
"We are determined to become the trading hub," says Emir, who is also president and CEO of the Malaysian Petroleum Resources Corporation (MPRC), the agency responsible for oil and gas downstream sector goals in the prime minister's department.
MPRC launched in October last year the Global Incentives for Trading (GIFT) programme, which makes it feasible for international trading companies to bring their business to Malaysia.
GIFT licensees have committed to generate a minimum company turnover of US$100 million annually, spend at least 3 million ringgit (HK$7.3 million) per year and use local expertise and support services. In return, they enjoy 3 per cent corporate tax rate, 100 per cent exemption on fees paid to non-Malaysian directors and 50 per cent exemption on gross employment income for non-Malaysian professional traders. Aside from standard fiscal perks granted to Labuan-registered businesses, GIFT licensees also receive documentary tax stamp exemption for business activities in the area and tax-free dividends relating to Labuan International Trading Commodity Company.
Aside from Dialog Group and PETCO - a PETRONAS subsidiary, GIFT licensees include YTL Power International, B.B. Energy of Greece and Vitol Group of Switzerland.
"We are also improving the ecosystem for the trading," Emir says. "We support the traders coming here by providing financial services, logistics and insurance mechanisms."
Such perks give companies the flexibility to expand, enhance operational scale and participate as long-term investors in Malaysia, including those in Southeast Asia, China and India.
Malaysia's target is to build 10 million cubic metres of storage capacity by 2017. With commitments for 7.3 million cubic metres of land-based oil storage capacity as of last year, it is well on its way of achieving this.
A consortium led by Dialog Group is building an independent deepwater petroleum terminal in Pengerang, Johor. The consortium, which also involves Dutch heavyweight Royal Vopak and the Johor state government, plans to open the terminal next year with an initial capacity of 1.3 million cubic metres. The facility is designed for about 5 million cubic metres of total storage capacity.
Vitol and MISC have committed to expand their storage facility in Tanjung Bin, Johor with a base capacity of 841,000 cubic metres. Tanjung Pelepas Port has also committed to invest in expanding its existing storage facility, which has a capacity of 3.25 million cubic metres. In Tanjung Langsat, a consortium comprising of Dialog Group, MISC and Trafigura will expand their existing storage facility to a targeted capacity of 1.027 million cubic metres by 2014.
Once Malaysia completes its massive downstream build-up, it will form a natural corridor with Singapore, where future expansion of storage, refining and blending capacities is severely curtailed by the lack of coastal land availability. Malaysia's new facilities are being put up in Southeast Johor - just a few hundred metres from Changi.
"We can support the demand from China and cater to their refinery needs. Since we have allowed crude importation from the Middle East, China can refine it and export the derivative products back to the mainland," Emir says.
With Malaysia as a hub, global oil and gas players can do the same and extend their reach throughout Asia-Pacific and beyond. Their options vary, but they can enter as service providers to the upstream players to take advantage of the oilfield services and equipment (OFSE) boom in the region.
The country's upcoming petrochemical facilities, spearheaded by PETRONAS, also present vast opportunities for expansion in such industries as pharmaceuticals, glass and plastics manufacturing and semiconductor wafer production. Given its pioneering role in oil and gas development and production in
Asia, Malaysia is also ideal for training the human capital of the mainland and Southeast Asia in OFSE competencies.
"There are only a few countries in the world where you can make such choices in doing business," Emir says.