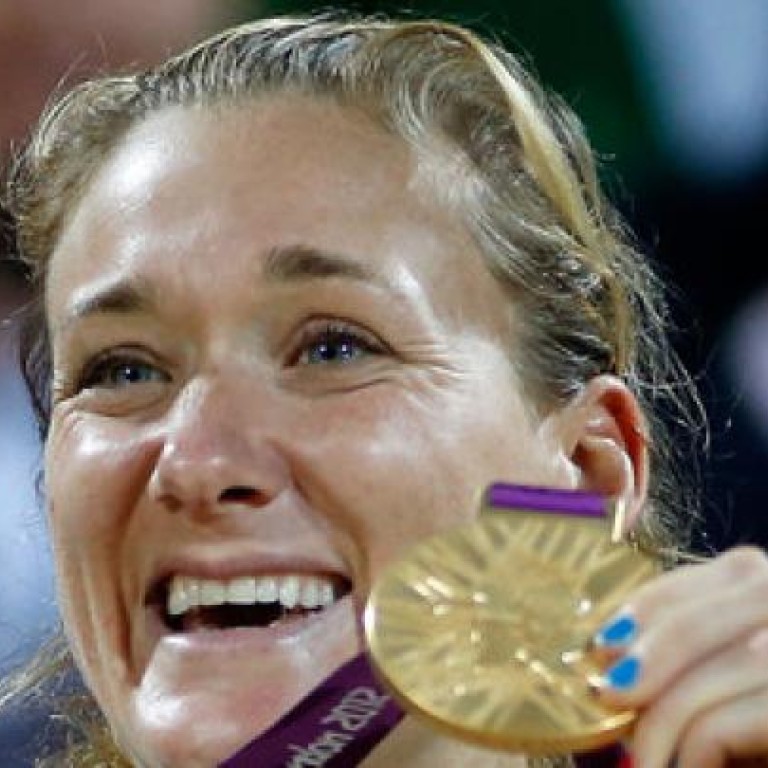 Walsh Jennings was pregnant when she won gold
Kerri Walsh Jennings revealed on Monday that she was pregnant last month when she and fellow American Misty May-Treanor teamed up to win a women's beach volleyball gold medal at the London Olympics.
On the Today show broadcast by US Olympic telecaster NBC, Walsh said she is 11 weeks pregnant with her third child, meaning she was more than a month pregnant when she and May-Treanor won their third Olympic title in a row.
"When I was throwing my body around fearlessly, and going for gold for our country, I was pregnant," Walsh Jennings said.
Walsh Jennings, 34, said she and husband Casey Jennings, also a pro beach volleyball player, conceived first son Joey before leaving China after she won the 2008 Olympic crown. She and May-Treanor also won at Athens in 2004.
And they are already talking about defending the crown again at the 2016 Rio de Janeiro Olympics.
"I want it," Walsh Jennings said. "I feel like I have so much more to learn, so much more to accomplish. I'm planning on coming back stronger and smarter."
The new baby, due April 9, will join sons Joey, 3, and Sundance, 2.
Walsh Jennings said she felt moody in London, more than could be explained by the stress of going for gold.
"I'm a pretty happy girl and I was unreasonably moody," she said. "I thought it could have been the stress of the Games and travel kind of throws your schedule off but I knew. I definitely started feeling something in London."