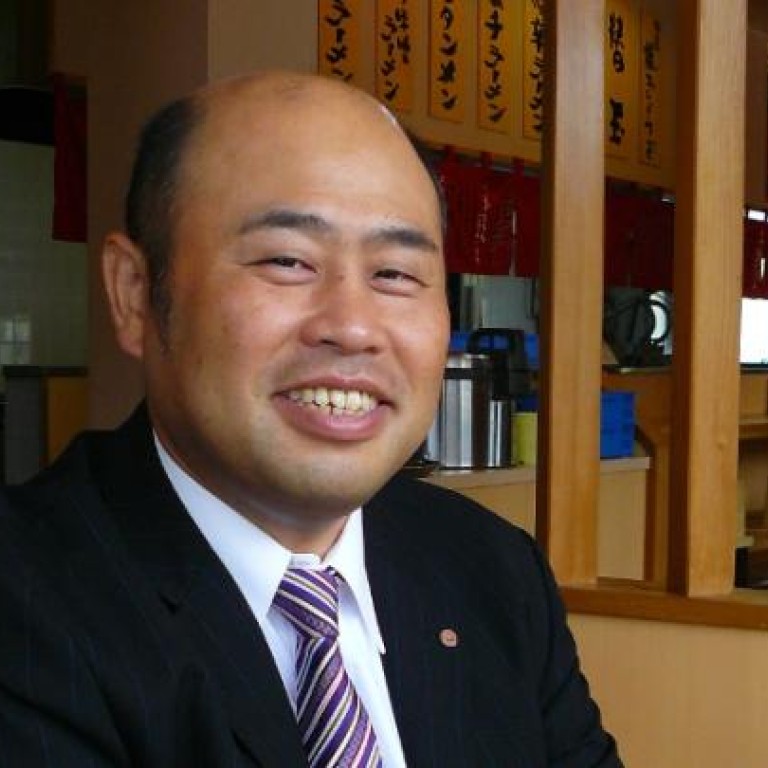 Y.S. Food spreads ramen tradition in Asia
Supported by:
Discovery Reports
Whether in Thailand or on the mainland, Yamagoya Ramen evokes a happy dining experience. Y.S. Food mastered the Fukuoka ramen tradition to create the authentic experience throughout its restaurants in Asia. With the successful debut of its Indonesian and Malaysian branches this year, Y.S. Food is on track to open 100 stores in the region within the next five years.
"Our ramen is still loved and in demand after more than 40 years," says Masanori Ogata, Y.S. Food president. "The most important thing is to maintain and manage the taste and quality of service."
The company's founders started ramen huts in the Tagawa district of Fukuoka prefecture in 1970. Its signature product is the Chikuho ramen, which has the distinctively rich sauce derived from pork bones that Fukuoka-based ramen is known for.
The success of these roadside restaurants prompted the owners to open franchising opportunities in 1992, which led to the incorporation of Y.S. Food two years later. A publicly listed company since 2005, Y.S. Food operates three restaurant chains in Japan and is engaged in real estate leasing. It has a subsidiary focused on the mail-ordering business and another one on manufacturing and selling ground sesame.
There are 108 outlets of its most popular brand, Yamagoya Ramen, throughout Fukuoka, Tokyo and other Japanese cities. The two other chains are Basaraka, with 22 stores, and Ikkoryu, with one shop, running to date. About 60 per cent of these shops are franchise operations, which drives the company's internationalisation strategy.
Starting with a joint venture in Thailand in 2006, Y.S. Food has 19 international branches as of July this year. Y.S. Food has launched the Yamagoya and Basaraka brands in Thailand, where there are a total of 13 outlets. It entered the mainland in 2009 and has four operating Yamagoya restaurants there. Yamagoya opened to rave reviews in Indonesia in January and in Malaysia in April.
All outlets are served by a commissary based in Japan, which can provide supplies for a maximum 500 stores.
"Our philosophy is to offer the same taste of our traditional Chikuho ramen overseas, by paying particular attention to its five elements - the soup, noodles, roast pork, gyoza [Chinese dumpling] and the secret sauce," Ogata says. "We have succeeded in doing this even with locally sourced ingredients. Customers who come to our overseas stores are satisfied with the Japanese quality ramen."
Aside from advising on select kitchen facilities, Y.S. Food transfers cooking know-how to its franchisees through attentive consulting. It provides a management manual and supports franchise stores with supervisor training. It works closely with its franchisees on selecting store locations, renovating the shops and educating the staff. The company also ensures that all stores reflect the Japanese level of hospitality.
Y.S. Food aims to work with more franchisees who share the same passion for ramen and quality assurance. With relatively lower labour and utilities costs in Southeast Asia than in Japan, prospective franchisees stand to earn stable profits within the initial five to 10 years.
Aside from Singapore, Y.S. Food's expansion is geared towards Hong Kong, Taiwan, Vietnam, Myanmar and the Philippines. The company is also open to manufacturing partnerships, given plans to diversify its product range to match customer preferences in varying locations. It is keen on developing soups based on chicken bones and beef bones for people who cannot have pork bone-based ramen for religious or health reasons. Y.S. Food is also exploring more affordable ramen options to gain traction in Asia's middle-income nations.
"We believe we can satisfy people all over the world with our proud offering of Chikuho ramen," Ogata says.