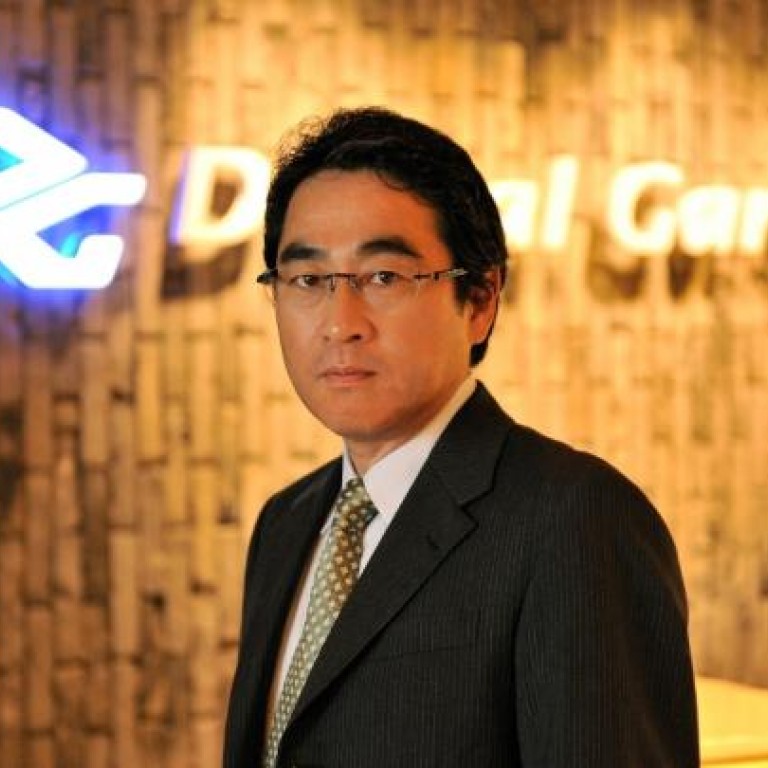 Digital Garage set to become internet business gateway of Asia
Supported by:
Discovery Reports
Seemingly all pervasive and borderless, the internet has fundamentally changed business within the span of one generation. As the number of internet-based technologies grows worldwide, opportunities have opened up dramatically for e-commerce and new business paradigms.
With nearly 20 years of experience in the commercialisation of the internet and strong ties to Silicon Valley, Digital Garage is cementing its position in Asia.
Digital Garage was founded in the early days of the internet by president and group CEO, Kaoru Hayashi and director, Joichi Ito who created the first personal homepage in Japan in 1994. The company subsequently established PSINet Japan, the country's first commercial internet provider, and Infoseek Japan, a search engine portal. Digital Garage was listed on JASDAQ in 2000 and selected as one of "J-Stock Index" in 2006.
The company boosted its clout by investing in and incubating start-up companies. The company acquired Kakaku.com in 2002 which has become the leading price-comparison site in Japan, with approximately 80 million unique users. The site is spearheaded by user-generated content and other web services such as food-rating restaurant guide called Tabelog. Digital Garage was also an early investor in Twitter, which has grown to become one of the world's leading social networks with nearly a billion users.
Digital Garage nurtures start-ups and provides them with solutions for advertising/promotion and online payment. For example, Digital Garage sells banner-ad spaces on Twitter in Japan and provides an escrow service for merchants on Kakaku.com in conjunction with its online payment solution.
Digital Garage established e-context in 2000, signifying the company's early entry into the e-commerce industry. The subsidiary launched Japan's first convenience-store-based payment and fulfilment system, which later became one of the leading online payment service providers in Japan.
Digital Garage's next big leap is to expand its business towards the Asian market. By utilising its notable experience gained in Japan, the company strategically plans to develop a strong presence in the e-commerce industry in Asia.
Asia's e-commerce potential
With the combination of increased penetration rates, rising affluence and a growing population, Asia's e-commerce future looks promising.
A study by iResearch shows that online shopping value on the mainland has increased by 52 per cent to HK$328 billion in the second quarter of this year.
Separate studies by the Economist Intelligence Unit and PwC show that Japan will remain one of the most advanced and sophisticated markets in the region. The mainland's e-commerce sector will most likely experience the fastest growth, with about a third of its 420 million users shopping online.
Internet World Stats states that only 26 per cent of the population in Asia has internet access, suggesting similar growth will be mirrored in other countries in Asia including Indonesia.
"E-commerce is on the cusp of exploding in Asia," Hayashi says. "There is great growth potential for credit card transactions as they currently make up only a few per cent of payment methods in the region."
For businesses to capitalise on this potential, a secure and convenient e-commerce platform such as e-context is crucial.
Asia's settlement gateway
Digital Garage is keen on becoming the gateway to the settlement business in Asia.
Soon after its establishment in 1995, the company began exploring the internet's potential for commercialisation through its two core business platforms - online advertising and settlements.
Digital Garage processed transactions worth HK$14.8 billion this year while serving 70,000 websites and 700 national clients through its advertising promotion business.
"We strive to be the forerunners and the most advanced. We have been putting a lot of emphasis on strengthening our settlement business in the Asian region," Hayashi says.
The company took a significant step in April to become the partner of choice for settlement services in Asia by acquiring VeriTrans, Japan's largest online payment service provider with multiple partnerships throughout Asia. This acquisition accelerated Digital Garage's campaign to collaborate with the top settlement business companies in Asia.
VeriTrans had established key relationships, teaming up early on with China Union Pay, the banking card industry association on the mainland.
The alliance was initially formed to support VeriTrans' Buy-J.com, an e-commerce website which sells Japanese products to the mainland market.
VeriTrans also has a joint venture with Shanghai-based iResearch. Established in 2002, iResearch is the largest online research company on the mainland that focuses on the country's internet industry. The partnership will provide greater insight into e-commerce and consumer retail trends.
VeriTrans has established a partnership with PT Midtrans, Indonesia's largest online payment service provider. PT Midtrans offers a full range of e-commerce services covering all business types from emerging start-ups to multinational corporations.
With the strong ties in Asia, Digital Garage plans to move its settlements headquarters to Hong Kong. This is in addition to its strategic footholds in Tokyo and Silicon Valley.
"Hong Kong is very open," Hayashi says. "Business moves pretty fast there. The strategy will also bring us closer to our business settlement partners, comprising Asian companies, large credit card institutions and banks."
Bridging Silicon Valley and Asia
Crucial to the success of Digital Garage is its network and role in bringing cutting-edge internet services across from Silicon Valley, such as Twitter, LinkedIn and Path.
"It is very important for Bay Area companies to have a Japanese partner," Hayashi says. "The Japanese market has more than 100 million people. It has the infrastructure and its user engagement is very high. Once they start utilising a service the Japanese keep using it."
As one of the early investors in Twitter, Digital Garage has been playing a key role in supporting Twitter's Japanese business through marketing promotion and ad sales. To accelerate Twitter's user growth, Digital Garage has been running a navigation website, Twinavi, which provides useful information for users such as celebrity accounts, popular tweets and campaigns.
Along with providing settlement solutions, Digital Garage plans to incubate promising Asian start-ups by utilising its experience with partners in Silicon Valley.
Lean Global
Digital Garage has also started driving its lean and agile software development business towards potential Asian start-ups.
"The waterfall development, which takes months and even years to complete, is obsolete," Hayashi says. "As the success of Facebook, Twitter and other cutting-edge internet services shows, a continuous evolution of service is crucial for start-ups. That is why we focus on lean and agile development."
Under its United States subsidiary, New Context, a global internet company focused on lean and agile development, Digital Garage has opened a software development consultancy company in Singapore. Led by New Context co-founder and president Ian McFarland, the Singapore subsidiary offers its services to the Singaporean government and start-ups across Asia.
"Not only do we provide settlement solutions and business development assistance, but we also support Asian start-ups in software development with the concept of Lean Startup," Hayashi states.
"Asia is just the first step in implementing our global strategy, which we call 'Lean Global'."
As the centre of the Lean Global strategy, Digital Garage is developing an incubation centre at the heart of San Francisco near Union Square. Its 1,000-square-metre office space will support internet start-ups and technology entrepreneurs in transforming their ideas into viable businesses.
New Context plans to run incubation programmes for start-ups in conjunction with mentors, such as the Lean Startup guru Eric Ries, Twitter co-founder Biz Stone, LinkedIn's founder Reid Hoffman and MIT Media Lab director and co-founder of Digital Garage, Joichi Ito. Hayashi will also act a co-mentor in Digital Garage's global incubation centre. Sharing the same concept and set of mentors, the company opened similar co-working spaces in Japan this month.
As innovation continues in the US and flourishes in Asia, Digital Garage is well positioned with incubation centres, networks and a well-respected reputation in both regions. This will help the company continue to discover new frontier technologies that will influence internet business for decades to come.
"We are in the global era and Digital Garage will become the world's gateway for Asia," Hayashi says.
"Although profit is important to us, we also believe in the necessity to create a business that contributes to the future. We will continue to provide new contexts towards the next generation."