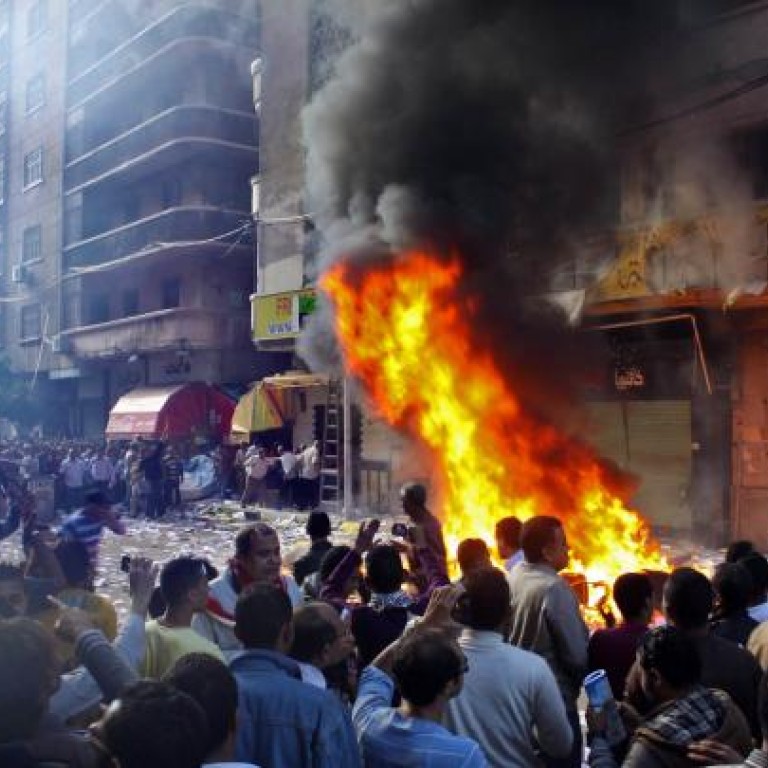 Egyptian fury as Mursi draws fire with new powers
Protesters torch Islamist party headquarters in Egypt cities
Protesters torched Muslim Brotherhood offices on Friday, state media said, as supporters and opponents of President Mohamed Mursi staged rival rallies across Egypt a day after he assumed sweeping powers.
The offices of the Freedom and Justice Party (FJP), the Muslim Brotherhood's political arm, were set ablaze in the canal cities of Ismailiya and Port Said, state television said.
An FJP official told reporters the party's office was also stormed in the Mediterranean city of Alexandria, where clashes broke out between rival demonstrators.
In Cairo, an array of liberal and secular groups, including activists at the forefront of the protest movement that forced veteran strongman Hosni Mubarak from power early last year, planned to march on Tahrir Square, Cairo's iconic protest hub, to demonstrate against the "new pharaoh".
Mursi's backers led by the powerful Muslim Brotherhood gathered outside the presidential palace in north Cairo in a show of support for his decision to temporarily place his decisions above judicial oversight.
"The people support the president's decisions," the crowd chanted.
Mursi was mulling an address to the nation defending his decision later in the day, aides said.
On Thursday, the president undercut a hostile judiciary that had been considering whether to scrap an Islamist-dominated panel drawing up a new constitution, stripping judges of the right to rule on the case or to challenge his decrees.
The decision effectively places the president above judicial oversight until a new constitution is ratified.
Mursi's opponents poured into Tahrir Square after the main weekly Muslim prayers.
They were expected to be joined by leading secular politicians Mohamed ElBaradei, a former UN nuclear watchdog chief, and Amr Mussa, a former foreign minister and Arab League chief.
"This is a coup against legitimacy... We are calling on all Egyptians to protest in all of Egypt's squares on Friday," said Sameh Ashour, head of the lawyers' syndicate, in a joint news conference with ElBaradei and Mussa.
ElBaradei denounced Mursi as a "new pharaoh," the same term of derision used against Mubarak when he was in power.
"Mursi is a 'temporary' dictator," read the banner headline in Friday's edition of independent daily Al-Masry Youm.
The Islamist president assumed his sweeping new powers in a decree read out by his spokesman Yasser Ali on state television on Thursday.
"The president can issue any decision or measure to protect the revolution," it said.
"The constitutional declarations, decisions and laws issued by the president are final and not subject to appeal."
Mursi also sacked prosecutor general Abdel Meguid Mahmud, whom he failed to oust last month, amid strong misgivings among the president's supporters about the failure to secure convictions of more members of the old regime.
Mursi appointed Talaat Ibrahim Abdallah to replace Mahmud and, within minutes of the announcement, the new prosecutor was shown on television being sworn in.
Abdallah later issued a brief statement, pledging to "work day and night to achieve the goals of the revolution."
In his pronouncement, the president also ordered "new investigations and retrials" in cases involving the deaths of protesters, a decision that could net military top brass and other former Mubarak regime officials.
The declaration is aimed at "cleansing state institutions" and "destroying the infrastructure of the old regime," the president's spokesman said.
A senior official of the Justice and Freedom Party, the Brotherhood's political arm, said Mursi's decision was necessary to guarantee the revolution was on course.
"We could not find any legal avenue to pinpoint and prosecute those in the interior ministry who were responsible for killings," Gehad Haddad told reporters.
He said there had been a string of acquittals of interior ministry officials, evidence was withheld in cases, investigations had been weak and many had not been brought to trial over the killings of hundreds of protesters during and since the uprising -- a view that secular protesters would agree with.
"The avenues we are taking are born of necessity, not choice," he said.
Some 850 protesters were killed in clashes with security forces or Mubarak loyalists during last year's uprising.