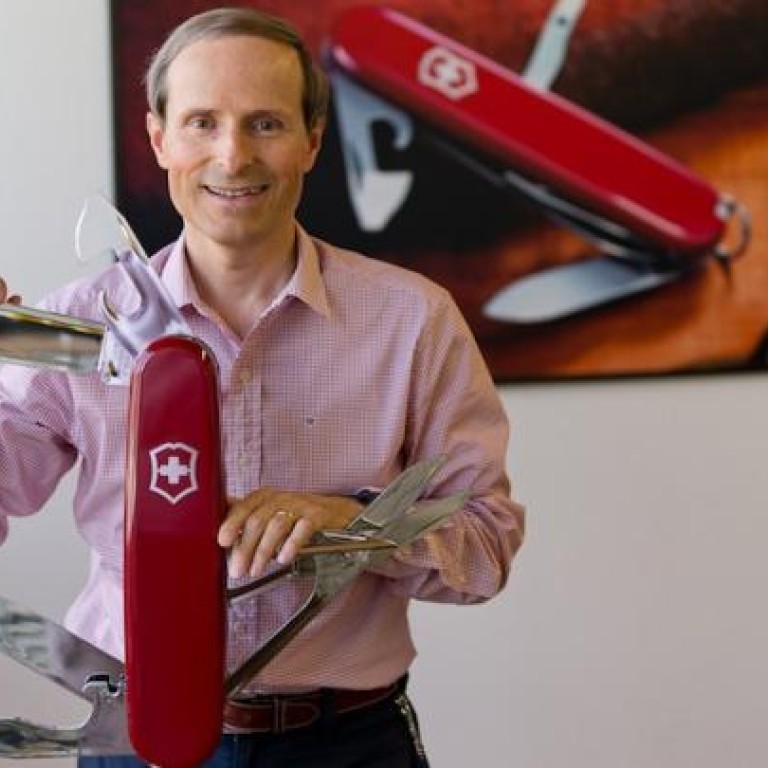 Swiss Army knife inspires holistic Victorinox brand
Supported by:
Discovery Reports
Beyond being the most recognised versatile tool, the Swiss Army knife is an icon of quality, ingenuity and craftsmanship, much like its maker Victorinox has been for more than a century. While its products have grown from cutlery to timepieces, travel gear, fashion and fragrances, the company's philosophy lives on: Victorinox - companion for life.
"Our customers carry the Swiss Army knife in their pocket, timepiece on their wrist, fashion on their body and fragrance on their skin. They send us countless stories recounting how Victorinox has kept them company in their adventures, survival and even everyday lives," says CEO Carl Elsener Jr. "They are the inspiration for our slogan and the reason why our products, while increasingly becoming diversified, are all anchored on the heritage of the Swiss Army knife."
Continuing the legacy of Victorinox founder and his great grandfather Karl Elsener, Elsener Jr recognises that keeping the family-run company focused yet adaptable was the key to making it relevant for more than 128 years. Responding to customers' clamour for more high-quality products, Victorinox released timepieces in 1989. The line's success paved the way for other categories including travel gear, and led to the opening of Victorinox retail stores in 2001.
Which product best describes Victorinox today? Elsener Jr says that Victorinox Swiss Army knives equipped with USB flash drives demonstrate how the company can preserve tradition, explore modern technology and combine the two seamlessly.
Another model, the Victorinox Tomo, represents creativity and the company's advocacy for the environment. Featuring 100 per cent recycled and reusable cellulose packaging, the Tomo borrows design principles from Zen Buddhism and Kirigami executed by Japanese designer Kazuma Yamaguchi and Tokyo-based label Abitax. Complementing the traditionally masculine Swiss Army knife, the softer Tomo appeals to a wider consumer base, particularly women.
Equally indispensable, for example, is the Night Vision timepiece which integrates low-consumption light-emitting diodes for dial illumination, flashlight and strobe functions.
"I tell the development department: always put the Swiss Army knife on the table when you work on a new Victorinox product," Elsener Jr says. "Imagine how you can replicate the quality, functionality, innovation and iconic design of this little red knife."
Such imagination has come a long way as Victorinox flagship and brand stores have since expanded to 74 worldwide. Nearly 60 outlets are in Asia where the company sees tremendous growth as it moves beyond its European and North American markets. Asian customers are supported by Victorinox's subsidiary in Hong Kong, offices in Shanghai, Beijing, Taiwan and a growing presence in Singapore, Malaysia and Thailand.
"China is a top priority. We have a clear multichannel and multicategory strategy in approaching the market, which we will roll out this year," says global brand manager Veronika Elsener. "We also look forward to working with potential Asian partners and designers to create products that will appeal to the region."
The next five years will see Victorinox further investing in branding and retail, with its timeless brand ambassador - the Swiss Army knife - at the centre of it all.
"It is not so much about the number of stores we are opening, but the holistic brand experience that we want to provide our customers worldwide," Elsener Jr says.
"We do not look at quarterly figures; we think in generations. Just as we perfected the Swiss Army knife through nonstop innovation, we will continue striving for the satisfaction of our customers, motivation of our people and quality of our products."