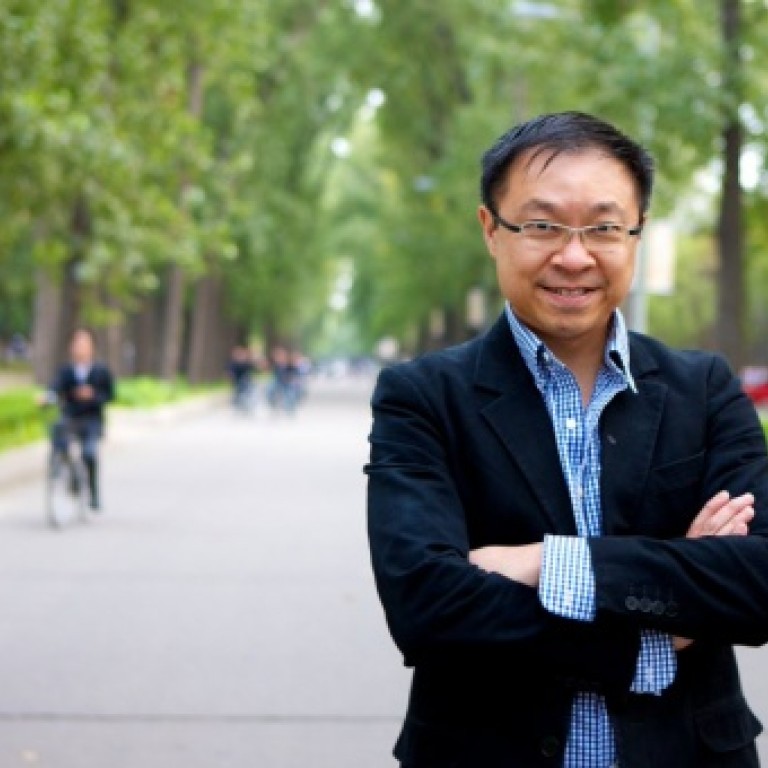 MBA adds new dimension to police work
Anyone meeting Sean Lin, chief inspector of information systems for the Hong Kong Police Force, will notice that he is as outgoing, approachable and humorous as he is eloquent. Born and bred in Hong Kong, Lin was one of the Ten Outstanding Young Persons (TOYP) nominated locally in 2006 and has experienced a series of changes which have been positive catalysts for the path he has taken in life.
As one of the first students to enter HKUST, something he saw as a once-in-a-lifetime opportunity, he decided within three days to head the students' union. Becoming the founding president was a chance to make an immediate impression and the experience gained has stood to him ever since.
Lin, one of Hong Kong's Ten Outstanding Young Persons (TOYP) in 2006, poses with local singer Kay Tse (left), who was also selected as one of the TOYP in 2010.
Attending HKUST, which was still establishing its reputation, inspired Lin to be the best he could be and, in due course, led to him joining the government. After only a year as an executive officer in the Civil Service Bureau, he became a probationary inspector of police and came to realise that studying for an MBA at HKUST would help his prospects of career progression.
"In itself, continuous study is a good thing, it doesn't necessarily matter what subject," says Lin, who might have taken something more directly related to his police work such as law, IT or social sciences. He was, though, looking for a programme which could give new perspectives and add an extra dimension.
"An MBA introduces you to the best in academia and industry. You cover managerial perspectives, leadership issues, business skills and problem solving. And you can't forget the networking opportunities an MBA usually brings."
Initially, Lin thought he might be the odd one out in his class, but was pleasantly surprised to find himself part of diverse group with different backgrounds, even including a magician and a composer. What brought them together was the MBA's ability to teach "success skills" which can be applied across the spectrum.
Lin is the MC of an activity organised by the Outstanding Young Persons' Assocation last year.
At times, hearing the success stories of other classmates made Lin feel slightly humble about his own accomplishments, but this also caused him to analyse where and how he could improve.
One thing was to plan ahead more carefully and, doing this, Lin joined the police negotiation cadre a year into his MBA. It was a chance to broaden his experience and use the new skills he was acquiring.
"I thought it would positively reinforce what I was learning: communications, interpersonal skills, group work and even negotiation exercises," he says.
He had also seen that being a good public speaker would be a major advantage and, indeed, a requirement, in future roles.
"A classmate invited me to his Toastmasters Club which, with the discussion in MBA classes, taught me the necessary skills. I was really shy at school, but you learn to become a good orator."
Lin now uses his personal story to encourage youngsters to consider training in public speaking. He tells them that success in life will entail speaking in public at some point, so it is best to learn early and plan for that possibility.
"Don't think too long, make it happen," he says. "Remember that even your mistakes bring progress."
Lin encourages the youth to think about public speaking training.