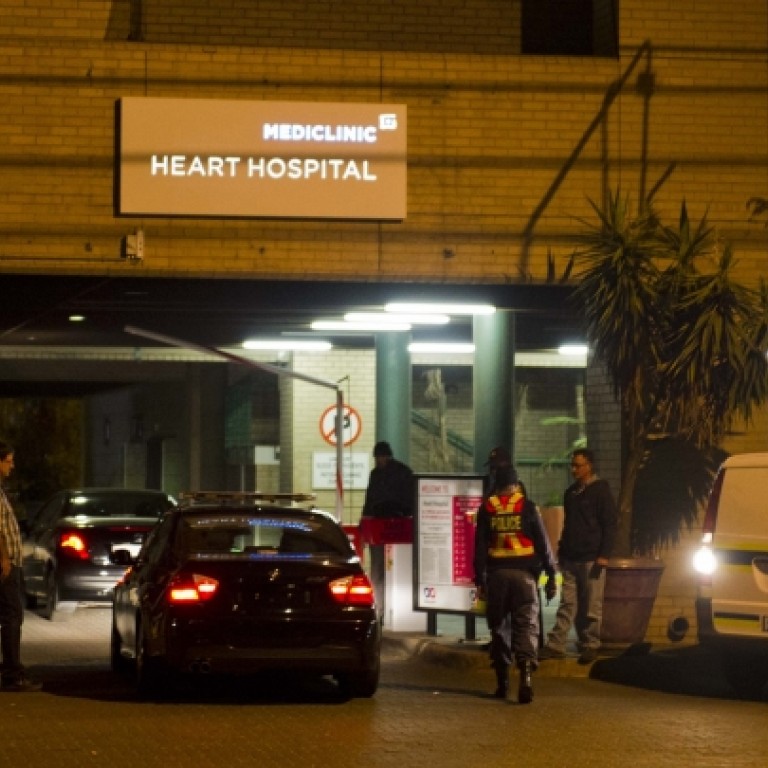 Mandela remains in hospital for fourth day
Former South African president being treated in intensive care for lung infection
Nelson Mandela was spending his fourth day in hospital on Tuesday where he was being treated in intensive care for a lung infection.
The 94-year-old former president was rushed to a Pretoria hospital early on Saturday and was said to be in serious but stable condition.
His latest health scare has been met with prayers and a growing acceptance among South Africans that their hero may be nearing the end of his life.
"He is receiving intensive care treatment," presidential spokesman Mac Maharaj, who served jail time with Mandela, told AFP on Monday.
He "remains in hospital, and his condition is unchanged," the presidency said after describing him as being in a "serious but stable" condition.
Security was tightened around the Mediclinic Heart Hospital in Pretoria, with police cordoning off an area around the entrance, searching incoming vehicles and pedestrians.
On Monday Mandela was visited at the hospital by his former wife Winnie Madikizela-Mandela and their daughter Zindzi.
His current wife Graca Machel has been by his bedside since his admission to hospital.
Little information has been released about Mandela's condition, but he has a long history of lung problems since being diagnosed with early-stage tuberculosis in 1988.
It is the fourth hospital stay in seven months for the man beloved as a global symbol of peace and forgiveness and the father of the "Rainbow Nation".
The African Union Commission chief, Nkosazana Dlamini-Zuma, said she has heard that Mandela is "responding positively to treatment."
"He has done his part. We just pray that he recovers," said Kennedy Moraga outside the hospital.
Meanwhile access to the revered statesman has been restricted to close family members in a bid to reduce the risk of further infections.
In late April, President Jacob Zuma and top party officials were photographed with an unsmiling Mandela looking exceedingly frail at his Johannesburg home.
The visit prompted allegations that the under-fire ruling party was exploiting Mandela for political gain.
The ANC - facing next year elections - has lost much of its Mandela shine amid widespread corruption, poverty and poor public services.
The party and the government denied local media reports that they had been barred from visiting Mandela in hospital by the former leader's entourage.
Maharaj said Zuma would visit when the time is right.
"The president intends to visit him, his attitude is first let the medical team have complete space to attend to him and secondly let his close loved ones be able to have access to him."
Mandela, who turns 95 next month, is back in hospital two months after being discharged following treatment for pneumonia.
He has not been seen in public since the World Cup final in South Africa in July 2010, and has not been politically active for years.
Mandela's lengthy absence from the spotlight has forced his adoring country to envisage what their hard-won and often fraught multi-racial democracy means without the man who forged it.
"I think there will be concerns from outside South Africa that Mandela is seen as the glue that holds South Africa together," analyst Daniel Silke told AFP.
"But I think that this is something long gone frankly."
But that has not stopped well wishes pouring in.
Fellow Nobel Peace Prize laureate Archbishop Desmond Tutu joined the legions of local and international personalities wishing the ailing leader a speedy recovery.
"As the beloved father of our nation ... once again endures the ravages of time in hospital our prayers are for his comfort and his dignity," a statement from Desmond and Leah Tutu's foundation said.
As well as being diagnosed with early-stage tuberculosis, Mandela has also had treatment for prostate cancer and suffered stomach ailments.
In December, he spent 18 days in hospital, his longest stay since walking free from an apartheid prison in 1990.
In March he was admitted for a scheduled overnight check-up before returning later that month for 10 days suffering from pneumonia.
President Zuma in March appeared to prepare the nation for Mandela's passing, saying it "should be thinking about" his going home.
After serving just one term as president, Mandela turned his energy to the battle against AIDS and conflict resolution, before stepping out of the public eye a decade ago at the age of 85.