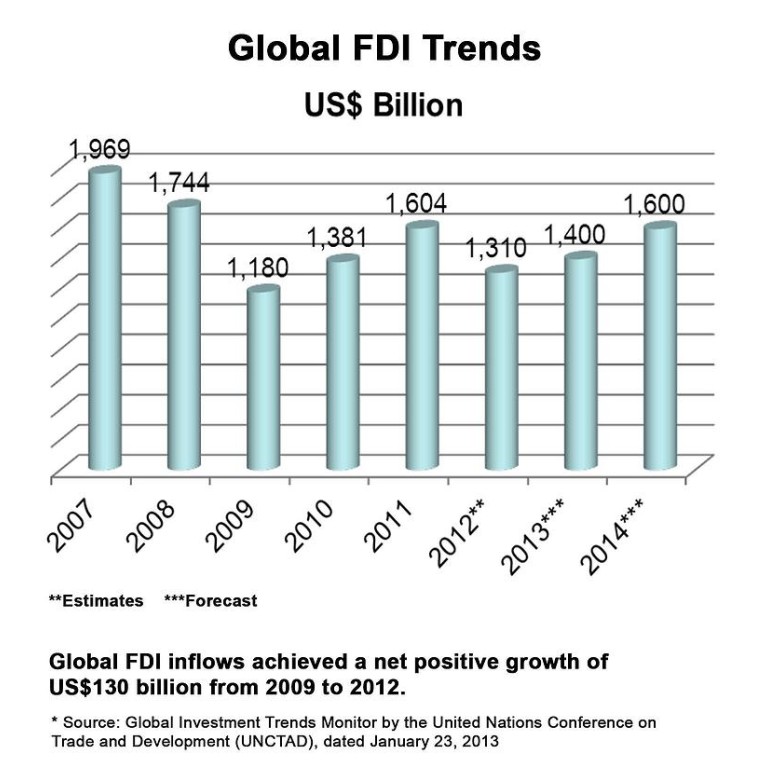 One-stop advisory unit to unlock Asia's potential
Supported by:
Discovery Reports
Asia's economic transformation has ushered in an unprecedented surge in cross-border trade in the region. The latest figures show that Asia has overtaken Europe and North America as the largest destination for foreign direct investment (FDI).
Asia is playing an increasingly important role in the global FDI market. Asian FDI inflows now make up 8.2 per cent of the global FDI, representing a significant jump from 2 per cent after the financial crisis in 1997. From 2009 to last year, FDI inflows into Southeast Asia grew by 227 per cent to US$107 billion, of which an estimated US$8 billion flowed into Thailand.
Thailand is a preferred FDI destination because of its favourable business climate, rapidly developing infrastructure and stable government. These factors have contributed to the country being consistently ranked as Southeast Asia's second-biggest FDI location.
Anticipating the continued rise of inbound and outbound FDI in Thailand, United Overseas Bank (Thai) set up a dedicated FDI Advisory Unit to help Thai companies expand their business in the region and foreign companies looking for investment opportunities in Thailand.
The unit gives customers access to United Overseas Bank's (UOB) full suite of corporate and personal banking products, and allows them to tap into the bank's extensive international banking network. While keeping a single point of contact, customers can also leverage UOB's international relationships with key government agencies and strategic partners in the legal, audit and consultancy fields. Customers also have the valuable insight of experienced bankers with in-depth knowledge of key industries such as manufacturing, commodities, oil and gas, electronics and technology.
"UOB is ahead of the curve in that sphere and is well-positioned to support companies in their business development outside of home countries," says Peter Foo, UOB (Thai) president and CEO. "UOB had long extended its network beyond Singapore's shores well before globalisation and regionalisation became buzz words."
The unit's launch comes ahead of the formation of the Asean Economic Community (AEC) in 2015. The AEC is envisioned to create a region with free movement of goods, services, investment, skilled labour and capital. UOB (Thai) foresees the AEC opening windows for Thai businesses looking to spread their wings across the region.
"With the AEC, Asian countries will see a notable increase in the quantity and quality of investments, outbound and inbound, in almost every major sector of their economies," Foo says. "UOB has steadily grown its footprint in the region for a good 40 years now, and we have a 'multi-local banks' franchise in Southeast Asia bonded by a common operating platform in the region. This is most invaluable in providing local insight, accessibility and support for companies in their pursuit of cross-border investment and trading opportunities."
UOB has also formed a strategic alliance with the Board of Investment of Thailand (BOI), the country's main investment promotion agency, which has traditionally focused on attracting foreign investments to the country.
UOB was the first bank in Southeast Asia to sign a memorandum of understanding with the China Council for the Promotion of International Trade (CCPIT). Under the memorandum, CCPIT will provide support to UOB's customers expanding into China. The assistance will be in the form of hosting trade delegations, providing business referrals and invitations to trade events. CCPIT will also assist UOB customers seeking to expand beyond Shanghai and Beijing and into cities such as Tianjin, Jiangsu and Jinan.
With these partnerships in place, UOB has aided hundreds of companies in their successful cross-border investments. One of them is Lianfeng International, a steel company operating in China that chose UOB to assist in the formation of its international headquarters in Singapore. UOB was chosen because of its strong network in Southeast Asia and capabilities to support the company's operations and expansion plans.
Going forward, UOB's FDI Advisory Unit will be prioritising the increasing number of Thai companies planning to expand their businesses abroad. The bank expects Thai manufacturers to bring forward their overseas expansion plans to lower production costs and patch up labour shortages at home.
"UOB has the largest Southeast Asian banking network," Foo says. "We are in a unique position to advise companies seeking new opportunities. Our history and heritage in this region have delivered long-term sustainable growth as we expanded in the region."