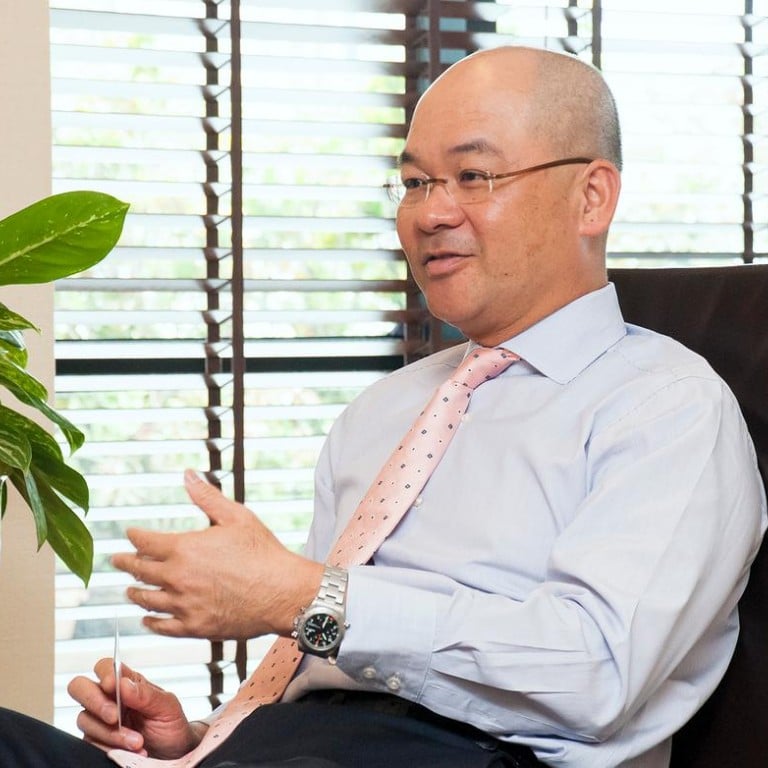 Asian foothold and local expertise give UOB (Thai) a regional edge
Global in scope yet replete with local knowledge, United Overseas Bank (Thai) possesses the best qualities of the international and domestic banking worlds. A subsidiary of United Overseas Bank (UOB), UOB (Thai) has leveraged its parent's pan-regional network and strong foothold in Southeast Asia to operate as a fully fledged local bank with offshore banking services. This "hybrid" quality sets UOB (Thai) apart from other institutions in the country.
Supported by:
Discovery Reports
Global in scope yet replete with local knowledge, United Overseas Bank (Thai) possesses the best qualities of the international and domestic banking worlds. A subsidiary of United Overseas Bank (UOB), UOB (Thai) has leveraged its parent's pan-regional network and strong foothold in Southeast Asia to operate as a fully fledged local bank with offshore banking services. This "hybrid" quality sets UOB (Thai) apart from other institutions in the country.
"We have a regional presence, especially through our Southeast Asia network, that is unrivalled by any other bank," says Peter Foo, UOB (Thai) president and CEO. "We are also very deeply rooted in Thailand, with a good understanding of local knowledge and culture."
As an integrated part of UOB's business and a key component to the group's regional strategy, UOB (Thai) has taken a prudent and sustainable approach to building its business, understanding that first-hand experience with local market dynamics is essential to success over the long term.
That philosophy is a key differentiator when it comes to managing its business through each market cycle. "Everything that we do here is to ensure that our customers can be supported through the ups and downs of market cycles," Foo says. "Our integrated and wholly owned Southeast Asian network is unparalleled and difficult to replicate, but at the same time it was born hand in hand with our customers' regional expansion plans."
While size sets offshore and domestic banks apart, the two also differ in the kind of clientele and specific services they offer. However, hybrid banks cater to all types of clientele and offer a range of services common to local and offshore banks. Corporate customers with cross-border needs have traditionally relied on banks such as UOB for their regional business expansion. Locally owned and operated, with employees from within the towns they serve, domestic banks are immersed in the community and have a better grasp of local needs. The combination of these qualities defines the versatility of hybrid banking as exemplified by UOB (Thai).
"The building blocks of most banks are the same," Foo says. "Banking is about people and relationships, and how it all comes together in providing services that meet our customers' needs."
Regional bank with local insights
Strategically positioned in the midst of Thailand's developing banking industry, UOB (Thai) aims to leverage its regional expertise to serve Thai companies in spreading their wings
in the region or growing their businesses at home, and foreign clients who seek investment opportunities in the Thai market. Nationwide, it has a network of 156 branches, 358 automated teller machines and 24 foreign-exchange kiosks.
Its steady and stable business approach has also been recognised by ratings agencies. UOB (Thai) has been rated AAA (tha) for National Long-Term by Fitch, Baa1 for Long-Term by Moody's and BBB+ for International Long-Term by Standard & Poor's. The bank creates shareholder value by adopting a cost-effective capital structure and optimising the use of capital.
"Thailand embraces external influences openly and is forever growing," Foo says. "My aspiration is to deepen our roots in Thailand and grow with our customers."
UOB's award-winning corporate social responsibility (CSR) programme focuses on the areas of arts, children and education. Its flagship Painting of the Year programme is the longest-running art competition in Singapore.
UOB's CSR programme also includes the volunteerism of staff at local charities. Its annual UOB Heartbeat Run/Walk project, meanwhile, has raised more than HK$18 million for beneficiaries in China, Indonesia, Malaysia, Singapore and Thailand.
UOB has been awarded Singapore's Community Chest Special Events Platinum Award and the Singapore National Arts Council's Distinguished Patron of the Arts Award for its CSR programme.
Total banking solutions
Specialising in personal financial services, treasury services, commercial and corporate banking, UOB (Thai) provides an expansive array of products. It has a range of deposit accounts, credit and debit cards, personal and home loans, insurance services and investment services such as financial planning, unit trusts, structured deposits, treasury instruments, securities, market strategies and electronic banking.
"We make sure that we meet the customers' increasing needs and demands in Asia's fast-changing economy," Foo says. "Responding to these unfolding trends, we have put together a promise of services that calls for a certain sense of commitment."
Businesses can take advantage of the bank's receivables cash management service, which allows clients to make use of the UOB (Thai) network to simplify cheque, cash or electronic funds transfer collection. The bank's payables management service also simplifies payments and associated documents, including withholding tax certificate issuance, through the use of domestic payment solutions.
UOB's Zero Balance Concentration Account cash management system improves a company's overall yield and eliminates the need to manage accounts individually. This solution helps improve liquidity by enabling the accounting department of companies to link operating accounts with a central account held with UOB.
The bank also has a package of treasury services that covers currency exchanges, interest rate swaps and other foreign exchange and interest rate products. UOB (Thai) also offers structured products and fixed-income products such as debt securities.
UOB (Thai) has product expertise to offer financial advice on leasing and equipment financing. These solutions support business expansion that requires acquisition of manufacturing equipment, commercial vehicles and other assets.
UOB (Thai) has maximised the internet for a variety of online solutions. Through its Business Internet Banking service, users can make common transactions on their own online, such as accessing account information, making enquiries on cheque status, funds transfer and others. Through the service, users can initiate payroll, bulk payment and collection, and make single payment transactions online. The service even offers online trade finance services, which cover trading needs, remittances and bank guarantees.
"We have used technology to help us provide better services," Foo says. "We are constantly innovating and improving our processes and training our people to achieve a higher standard of service delivery."
Partnerships and local expertise
Dubbed as one of the safest banks in the world with a credit rating of AA by international rating agencies, UOB provides an integrated platform for clients through its "one-bank model". The platform allows the bank to price products and offer services more definitively to customers throughout the region. Supported by its innovative treasury and investment banking products based on customer needs, UOB has the capability to provide end-to-end regional banking solutions to customers.
"UOB has grown with our customers," Foo says. "These banking relationships have stood the test of time to become partnerships of value and trust."
Over time, UOB has improved its ability to offer comprehensive solutions to serve its growing customer base. The bank has done this through matching the right products and solutions to the customers' circumstances.
For retail customers, UOB continues to offer suitable products to help clients manage their wealth at a pace with which they are comfortable. For some customers, this means working with them to help preserve their wealth; for others, it is to help them accumulate more. Many customers choose both options as they seek ways to protect and grow their wealth.
The bank presents opportunities for client-partners to diversify their portfolios across a wider spectrum of investments. For the wealthier set, UOB (Thai) provides customised products and wealth advisory.
Sterling performance
Thailand marked last year with reconstruction programmes that helped the economy substantially recover from the effects of the floods in the previous year. Despite a decline in the country's net exports due to diminished global demand, Thailand's gross domestic product improved at 6.4 per cent from 0.1 per cent in 2011. The government's stimulus programme generated domestic consumption, while a stable political atmosphere restored investor confidence.
Amid the country's recovery last year, at the end of June this year, UOB (Thai) enjoyed higher loan demands that grew by 15 per cent to 224 billion baht (HK$55.7 billion). Total deposits base increased by 32 per cent to 220 billion baht from the same period last year. The bank's half-year net profit before tax grew 38 per cent to 1.7 billion baht compared to 1.3 billion baht on June 30 last year. It also handled non-performing loans through effective strategies in sales collection and debt restructuring, with the achievement of a ratio that is lower-than-industry average as of June this year.
UOB (Thai) has reconfigured its services and distribution structure, resulting in significant growth in bancassurance and mutual funds last year. Spurred by growth that is based on prudence, stability and long-term commitment to customers, UOB (Thai) has maintained a steadfast approach in developing a business that taps into its global strengths and domestic appeal.
"Our mission is to make sure that we prevail and are accepted as an international bank and domestic lender, and excel at both," Foo says. "We are leveraging our uniqueness to assure our success."