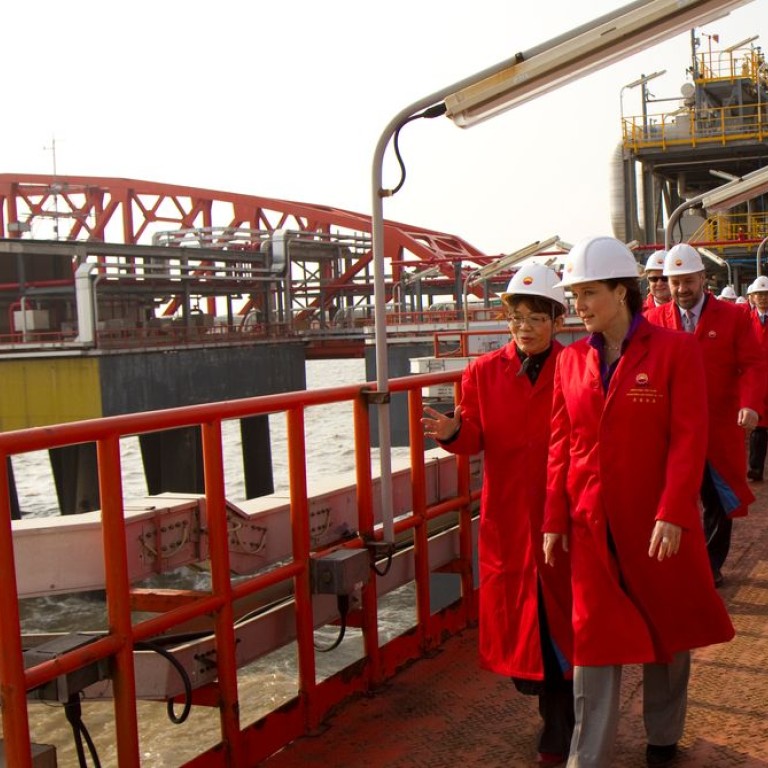 Asian companies find success in British Columbia
Supported by:
Discovery Reports
When Shi Hao stepped into his office along Burrard Street in Vancouver for the first time, the chief representative of Agricultural Bank of China (ABC) was not completely treading new territory. Hao was an international student at the University of British Columbia more than 10 years ago. He has returned to Canada from China, this time to represent one of the world's top 10 largest banks.
ABC joins the growing number of foreign companies partaking in opportunities that abound in British Columbia. The province has been home to nearly 1,000 international companies from Mercedes-Benz, IBM, BASF and NAMCO Bandai Games to Amazon, Electronic Arts and Microsoft, to name a few.
The bank's location in Vancouver is its fifth representative office overseas, after New York, Tokyo, Frankfurt and Sydney. British Columbia Premier Christy Clark met with Hao in Beijing in November 2011 to discuss the prospect of establishing a presence in the province.
With the help of the British Columbia ministry of international trade office in Beijing, Canada's Office of the Superintendent of Financial Institutions (OSFI) approved ABC's request to set up a representative office in Vancouver in May 2012.
ABC is applying this time to be recognised by OSFI as a Schedule III bank, with its Canadian head office in Vancouver.
"Our future is incumbent in Asia-Pacific, especially in China," says Teresa Wat, British Columbia's minister of international trade. "Our ministry's mandate is to secure at least five corporations from that region to set up their headquarters in British Columbia."
ABC's decision to set up an office in the province is understandable. British Columbia has one of the most stable financial systems in the world. While most economies reeled from the 2007 global financial crisis, strict adherence to financial regulations sheltered the British Columbia banking system.
The province boasts a strong, responsible fiscal policy and a balanced government budget. Moody's and Standard & Poor's have consistently given British Columbia their highest rating of AAA.
Perfect location
Strategically located on Canada's west coast, British Columbia also lies at the commercial crossroads of North America and Asia-Pacific. In particular, the ports of Vancouver, Kitimat, Stewart and Prince Rupert are Asia's closest ports of entry on the west coast of North America. Vessel transit time from Prince Rupert to Shanghai, for example, takes only about 10 days.
"Our biggest attraction is our location," Wat says. "Any Asian company that would like to do business in North America, or even South America, would have close communication with both Asia-Pacific and North America."
Such proximity augurs well for Chinese companies wanting to trade with British Columbia. This is the case with Beijing Xinhaiyou Trading, which has taken interest in one of British Columbia's natural resources - glacial water. The market for bottled water in China is forecast to shoot up, and the Chinese company has turned to British Columbia for its supply. In particular, overall demand for bottled water across China is predicted to reach around US$16 billion by 2017, up 78 per cent from only US$9 billion in 2012.
British Columbia trade and investment representatives immediately supported the Chinese company by referring Chilliwack-based Pacific Water International, which bottles pristine mountain water from the province. The representatives arranged a tour of Pacific Water's facilities for Beijing Xinhaiyou executives and assisted the Chinese company in subsequent due diligence required in British Columbia. Beijing Xinhaiyou closed a deal worth C$7.7 million (HK$54.4 million) in only six weeks of preparation, paving the way for the export of hundreds of water containers each month.
Wider market with Nafta
British Columbia is also a channel to a broader market for products and services as the province enjoys duty-free access to the world's largest marketplace with the North American Free Trade Agreement (Nafta). Comprising the United States, Mexico and Canada, Nafta covers an enormous market of roughly half a billion people spending about US$20 trillion annually.
This market is open to foreign companies that have entered into partnerships with businesses based in British Columbia. Such is the case with Durae, South Korea's largest manufacturer of cosmetics and beauty products.
Durae has partnered with Richmond-based Ironwood Clay, which mines mineral-rich clay material in Bella Bella in British Columbia for use in skincare formulations around the world. Together with Durae, Ironwood will be using new formulations derived from glacial clays to develop and market new products. The Canadian company has particularly developed a technology to extract more than 70 minerals for use in personal care items.
The Korean company, through AmorePacific, made an initial shipment of 13 tonnes of glacial clay-derived marine mineral water from Ironwood in 2012. The orders have been steady since then. But the relationship between Durae and Ironwood extends beyond trading. Ironwood will share industry and product knowledge with Durae and both companies will have the opportunity to meet each other's clients and regional contacts.
World-class products
The trade patterns of British Columbia have shifted over the years from the US and Europe to Asia-Pacific. Former British Columbia Premier Gordon Campbell foresaw this trend as early as a decade ago and acted accordingly by redirecting trade promotion to the region.
Campbell oversaw the expansion in the Chinese market of trade in lumber products. The government set up a marketing office in Shanghai, which showcased the excellent quality of wooden houses from British Columbia. The campaign was so successful that over the years the demand from China grew to account for about 40 per cent of British Columbia's total lumber exports. With overall trade expanding 24 per cent yearly since 2002, China has become the province's fastest-growing export market and its second-largest trading partner after the US.
British Columbia replicated the marketing model for lumber in other countries such as Japan, South Korea and India, and expanded the range of products involved. British Columbia, for example, is changing the landscape of the beer market in Japan. The country's penchant for the beverage is renowned worldwide.
As the seventh-largest beer market in the world, Japan consumes about 6 billion litres of beer, which is more than twice Canada's consumption levels.
British Columbia is matching this craving by introducing craft beer made from high-quality natural ingredients. One such British Columbia company leading this initiative is Vivace, which exports and markets special alcoholic beverages to Japan. The company's founder, Raymond Chiu, moved to Japan in 1998 to market various products before launching Vivace in 2012.
Despite the local dominance of major Japanese breweries such as Asahi, Kirin, Suntory and Sapporo, Chiu saw the potential for Canadian craft beer in the Japanese market.
He was not mistaken as his introduction of craft beer from Phillips Brewing based in Victoria was met with enthusiasm from Japanese consumers.
The ministry supported Chiu in promoting Phillips' beers to various bars and restaurants across major cities in Japan. Vivace's biggest success so far was the inclusion of Phillips' beers as part of a two-week focus on food from Canada at Hankyu Hanshin Department Store's flagship location at Osaka Station. Hundreds of bottles of Phillips beer were sold during the fair.
With Chiu's diligence in capturing the Japanese market coupled with the ministry's continued support, Blue Buck, Slipstream Cream Ale and Phoenix Gold Lager will soon become familiar beer brands across Japanese watering holes.
Sustained focus on Asia-Pacific region
British Columbia continues to build up trade with and investments in Asia-Pacific, focusing on industries ranging from agri-food, forestry, mining and natural gas to international education, clean technology and tourism.
The ministry welcomed 27 business leaders representing 20 Chinese companies from various sectors in September last year. During the same month, companies in the ocean science and technology sector from British Columbia went on a 12-day trade mission to China, showcasing their expertise and innovation. The mission kicked off at the Oceanology International China show in Shanghai. British Columbia companies and institutes, such as ASL Environmental Sciences and AML Oceanographic, met with key research centres across east China. These meetings provided an opportunity for companies from British Columbia to support China's ambitious maritime strategy to develop an environmentally friendly and efficient seaside economy.
British Columbia is similarly focusing on liquefied natural gas (LNG). After arriving in Beijing in November last year, Clark and Wat visited Nantong and the Jiangsu Rudong LNG facility, a gasification plant capable of handling British Columbia's LNG exports.
"You have to strike up a good relationship first, and to do that, you have to understand their culture and the way they do business," Wat says. "We are blessed with a diverse population that comes from Asia-Pacific and these people know how to do business with their original home countries."
This personal approach, incorporated into the various initiatives of the ministry, has helped knit success stories of companies and helped expand the trading and business relationship between British Columbia and Asia-Pacific.