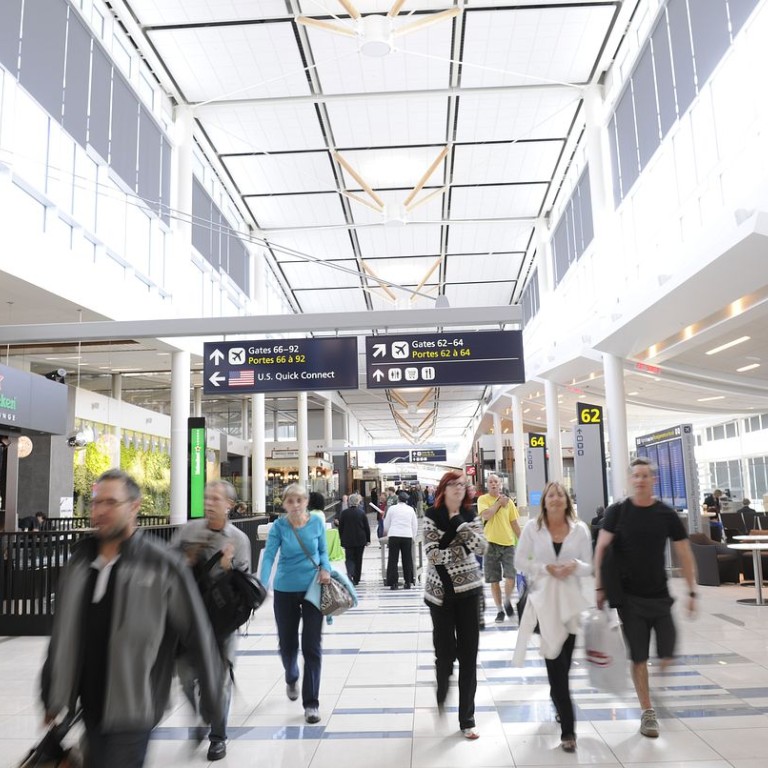 Edmonton International Airport on track to welcome 10 million passengers by 2020
Edmonton leads the country in terms of rapid growth, driven by its oil, gas, and oil sands manufacturing and logistics industry valued at more than C$165 billion (HK$1.16 trillion). The city also increasingly draws more global leaders in other industries, becoming a hub for advanced medicine and biomedicine, food processing, biomedical and software development, among other dynamic sectors such as nanotechnology, being home to Canada's nanotech institute.
Supported by:
Discovery Reports
Edmonton leads the country in terms of rapid growth, driven by its oil, gas, and oil sands manufacturing and logistics industry valued at more than C$165 billion (HK$1.16 trillion). The city also increasingly draws more global leaders in other industries, becoming a hub for advanced medicine and biomedicine, food processing, biomedical and software development, among other dynamic sectors such as nanotechnology, being home to Canada's nanotech institute.
Growth at the Edmonton International Airport (EIA) has mirrored that of the Edmonton region. For the past three years, EIA has been a Canadian airport growth leader, now connecting 7 million passengers annually to more than 60 destinations throughout North America and overseas. Growth for last year and forecasts for this year continue to keep pace. And with every arriving and departing flight - the economic story of the city, region and much of Canada is told.
EIA's phenomenal growth is evidenced by the number of passengers it serves. Up 4.6 per cent from the previous year, the passenger figures were largely driven by trans-border travels to and from the United States, which increased by 7.7 per cent from 2012. Travellers across Canada also rose by about 4 per cent with more than 5.31 million, while overseas figures grew by 3.4 per cent.
Taking pride in this achievement is operator Edmonton Airports, a community-based, financially independent not-for-profit corporation that oversees EIA's passenger and air cargo operations.
"EIA is growing dramatically. In the last nine years alone, traffic has risen by about 70 per cent - leading the country as the fastest-growing major airport," says Tom Ruth, who joined EIA as president and CEO of Edmonton Airports last month.
Ruth's appointment follows the leadership of Reg Milley, who retired in January on the highest note possible, having successfully spearheaded a massive expansion of EIA. Ruth brings with him an extensive background in the airport and airline industry, most recently as president and CEO of the Halifax International Airport Authority.
"Airports may differ from one another, but all are enablers of growth," Ruth says. "In Edmonton, we owe much of the activity to the thriving economy, particularly to the flourishing oil and gas industry in the north, to which we are proud to be the gateway."
EIA serves as an anchor to Canada's west and north and is located at the heart of its strongest economic region. It is next to Canada's largest energy industrial park, the Nisku Business Park. Also the second-largest energy park in North America and a major centre of manufacturing, Nisku is a crucial foundation of Alberta's economy as the home of more than 600 companies.
"Most of the businesses were set up here initially to serve mainly a northern market. But today, many of them are already exporting their products worldwide," Ruth says. "Even more exciting is the rising influx of activity and investment from other parts of the world, such as China. We see tremendous Chinese investments coming in - and we are positioning ourselves to support further growth."
Ruth says that this is mirrored by a growing focus on Alberta's Industrial Heartland in the northeast corner of the Edmonton region. A growing destination for Chinese investment, the Heartland is Canada's largest hydrocarbon processing centre.
Passenger mobility, logistics powerhouse
Throughout its history, EIA has effectively responded to keep pace with the growth in its region, ensuring that it is well-positioned to be an economic facilitator and partner to regional businesses, which are increasingly globally mobile.
"EIA saw that the number of people travelling regionally and internationally has been growing in leaps and bounds, and we wanted to react to that progression with a sustainable approach," Ruth says. "The airport began a comprehensive expansion in 2007 - and we are beginning to see the benefits of that commitment."
Apart from recording its highest-ever passenger figures last year, EIA also saw a dramatic upsurge in its business aviation, with speciality service to Canadian oil and gas and mining industries. Chartered business flights totalled about 26,000, an overall increase of 30 per cent.
Another significant enabler in the area is Aerocentre 2, a premier space made up of 43,000 sqft of hangar area and 25,000 sqft of shops, offices and passenger lounges. Constructed in co-operation with Edmonton Shell Aerocentre, the Aerocentre 2 features a 400-seat passenger lounge for charter service clients, such as oil and gas and mining specialists, who travel across northern Canada.
Such a feat would not have been possible without Edmonton Airports' investment in infrastructure development, including a C$670 million expansion of the terminal facilities over the past two years.
The Leadership in Energy and Environmental Design-certified building added new boarding gates and bridges to meet the demand of carriers, and upgraded its state-of-the-art control tower, fully automated central baggage facilities. Moving walkways and upgraded scanning systems were added. EIA has also focused extensively on ensuring a top-tier passenger experience with growing opportunities to shop, eat and relax on the way to, or in between flights.
Complementing the remarkable growth in passengers is EIA's equally impressive performance in terms of cargo handling capabilities. The airport's cargo services have also experienced volume growth for 15 consecutive quarters and are expected to continue an upward trend, thanks to the latest enhancements at EIA's specialised Cargo Village. Apart from a new Canada Border Services Agency facility, the village provides a dedicated cargo apron, air and ground side buildings and additional road and land servicing facilities.
In partnership with Runway Developments, EIA is set to build an additional 30,000 sqft building to accommodate freight forwarders requiring customised offices and warehouses. It has also partnered with global real estate firm Panattoni Development to develop warehouses and logistics areas and other industrial-use facilities. Spanning about 32 hectares, the facilities are targeted to serve freight forwarders and will be custom-built for each tenant.
"With all of this investment, EIA is on its way to becoming a powerhouse for passenger mobility and logistics supply chain," Ruth says. "Seeing that passengers and cargo traffic will continue increasing, EIA will also continue to invest to keep pace with customer needs."
Moving 10 million passengers by 2020
EIA looks forward to continued growth, forecasting 10 million passengers annually by 2020. As a key enabler of this growth, it is further looking for opportunities to invest and expand its own services to respond to regional needs, primarily focused on aeronautical areas, but also in complementary areas of development.
The airport is located on 3,238 hectares of property in the midst of one of Canada's busiest industrial corridors and within a growing region of more than 1.2 million people. About half of the airport's property is reserved for aeronautical use, and portions have already been developed with existing facilities such as the terminal, two runways and additional infrastructure and runway expansion slated in the near future.
In addition, EIA is facilitating opportunities for complementary developments on-site in the area of industry, commercial and retail development. These activities include the recent announcement of a deal with Ivanhoe Cambridge to develop an 18-hectare commercial/retail development.
This new development benefits from EIA's ideal location and provides additional revenue streams to help manage costs for carriers and help fund continuing improvements for EIA overall.
Building the Asian connection
Asia's dynamism reverberates throughout the Edmonton region, where business and industry are increasingly attracting more diverse investments and customers from across Asia, and most significantly from China.
Beyond the energy sector, economic and educational linkages are growing across a number of industries including Canada's agriculture industry. Beyond this, links through tourism and education continue to grow between Edmonton and Asia.
"EIA clearly sees the impact that the region's booming economies are creating globally and how increasingly, interest in our opportunities aligns with growth and opportunity in Asia," Ruth says.
"There is no question that it is where growth is heading, and we are looking to do all we can to serve these expanding markets very well."
Ruth cites Asia's burgeoning middle class with rising disposable incomes and global-oriented businesses among the main drivers of the world travel market.
With Edmonton's rich history, reputable educational institutions and opportunities in oil, gas and other industries, Edmonton Airports seeks to capture a slice of that market.
"Having a direct connection to Asia means enabling Edmonton's industries to reach Asia's dynamic markets more timely, efficiently and cost effectively," Ruth says. "We will build that connection in our next development phase, and target to meet potential partners such as Asian carriers."
Beyond collaborating with airlines and related organisations, EIA also works closely with other sectors such as education. It partners with academic institutions such as University of Alberta, MacEwan University and the Northern Alberta Institute of Technology, and aims to foster similar relationships in Asia.
"Canada and many Asian countries are pursuing similar advancements in various fields such as energy, agriculture, medicine and food safety," Ruth says. "The match-up with China is strong - as well as with South Korea, Japan and Asia's developing economies. That is a window of opportunity EIA is excited to explore as an economic enabler."