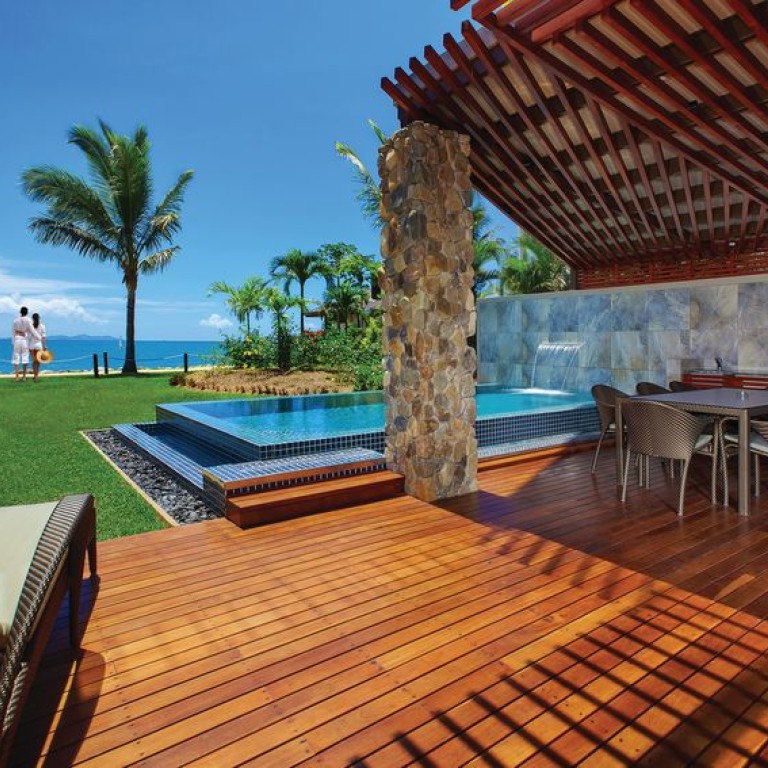 Wyndham gives Asia more ways to holiday
The Australian outback, beaches, exotic wildlife and coastal cities present a tourist's paradise for Chinese travellers, and numbers continue to increase by almost 20 per cent annually. These travellers have traditionally made their way through guided tours and luxury hotels, but are now ready for fresh options for going on holiday in and around Australia. Wyndham Vacation Resorts Asia Pacific welcomes Asian visitors by introducing them to vacation ownership.
Supported by:
Discovery Reports
The Australian outback, beaches, exotic wildlife and coastal cities present a tourist's paradise for Chinese travellers, and numbers continue to increase by almost 20 per cent annually. These travellers have traditionally made their way through guided tours and luxury hotels, but are now ready for fresh options for going on holiday in and around Australia. Wyndham Vacation Resorts Asia Pacific welcomes Asian visitors by introducing them to vacation ownership.
As the world's largest vacation ownership developer, Wyndham serves close to 50,000 vacation owners in Australia, New Zealand and Fiji, and more than 900,000 vacation owners in the United States. These owners can choose from many destinations in Wyndham's global network of vacation ownership resorts. Wyndham Hotel Group also manages and franchises many of the world's leading hotel and resort brands, including Wyndham, Ramada, Ramada Encore, Planet Hollywood, TRYP, Night and Days Inn.
Having established the vacation ownership model in Australia and the South Pacific from its headquarters in Queensland, Wyndham is now preparing to launch into Asia. "We are passionate about the Asian market, and there is great potential to showcase what we have on offer down here in the South Pacific," says Barry Robinson, CEO and managing director.
More options with vacation ownership
Wyndham's vacation ownership model puts a spin on traditional time-share. Traditional time-share allows vacationers to own accommodation at certain destinations for a fixed period of time. However, Wyndham has revolutionised the model by giving its vacation owners flexibility. The company's credits-based system allows owners to go on multiple holidays any time of year for decades into the future at a choice of resorts. Depending on how many vacation credits they own, owners can choose to stay at more than 4,000 resorts all over the world, and they can even use their credits for cruising holidays, flights or car hire.
This model is suited to the needs of a full range of travellers. It fits seamlessly into a cosmopolitan family lifestyle, as many of the company's properties have spacious, condominium-style accommodation. Families that prefer to travel together may combine credits to avail of additional amenities and upgrades such as three- or four-bedroom presidential suites.
Wyndham also offers vacation ownership options for younger, individual travellers going on a quick business trip or holiday with friends. "The trend among young people is to rent rather than own. So instead of owning a unit at one holiday destination, vacation ownership allows them to go to a variety of different destinations," Robinson says. "We have found this appeals to the up-and-coming generation for their travel requirements."
The vacation ownership developer is looking forward to delivering the same quality service and flexibility of its vacation ownership offerings to Asia as it looks to acquire an asset for its first entry into the region. Having set up regional headquarters in Singapore and established the club structure for purchasing vacation credits, Wyndham is considering a number of property options in Asia.
More exciting, mixed-use experiences
The success of Wyndham's vacation ownership model in Asia-Pacific stems from the company's acquisition of mixed-use properties. As an equity partner in these properties, Wyndham is able to offer its vacation owners access to more hotel-style facilities in addition to condominium-style rooms.
Vacation owners staying at Wyndham Surfers Paradise on Australia's Gold Coast, for instance, may also relax at the bar and the common area. Wyndham Vacation Resorts Asia Pacific Port Douglas, which is an ownership destination within Ramada Port Douglas, also welcomes owners at the resort's restaurants and conference facilities. Wyndham likewise has equity in Wyndham Resort Torquay on the Great Ocean Road, which allows it to offer a range of facilities and services to vacation owners staying there.
Wyndham's promise of premium service, combined with its equity in its mixed-use properties, has paved the way for its creation of vacation havens in prime locations. The company's latest mixed-use property is Wyndham on William at the corner of William and Little Bourke streets in Melbourne's central business district.
Set to operate as a hotel, Wyndham on William features a 24-hour concierge, gymnasium, restaurant, medical centre, library, conference space, meeting room and rooftop pool.
The property will have 531 condominium units including studios and one- to three-bedroom apartments, 86 of which will be dedicated to vacation ownership. The company expects to complete the property this year.
"Bringing a hotel slant to vacation ownership has allowed us to introduce a variety of products to our properties like presidential suites with plunge pools and rooftop spas," Robinson says.
Establishing such destinations in strategic locations gives Chinese and Asian travellers a convenient jump-off point for accessing the most popular attractions in the South Pacific. Wyndham Vacation Resorts Sydney, for instance, places travellers within walking distance of local attractions such as the Sydney Harbour Bridge, Hyde Park, Oxford Street and Darling Harbour. Its Port Douglas property brings tourists up close to two World Heritage Sites - the Great Barrier Reef and the Daintree Rainforest.
Wyndham also gives travellers from Hong Kong a tourist circuit option, which begins with a direct flight to Fiji for a tropical island experience with scuba diving and white sand beaches. Travellers may then explore Australia, passing through scenic Queensland with its rainforests, wildlife reserves, theme parks and coastal areas. New Zealand is the last stop on the itinerary, where travellers may round off their vacation with skiing, snowmobiling or bungee jumping on the South Island.
In serving travellers on vacation in the South Pacific, Wyndham has developed a strong service culture among its staff, which is committed to giving its vacation owners a complete vacation experience.
"We bear in mind that the 'home away from home' feeling is so important to our owners," says Gary Croker, senior vice-president of business development for Asia. Wyndham creates these experiences by offering holidaymakers a diverse portfolio of properties comprising urban development projects and resorts in exotic locations.
"There are premium hotels if you want a hotel experience, but to experience an environment, look to Australia," Robinson says. "We are focused not just on the accommodation but more on the experience at the facility or resort."
A prime example of this experience is Wyndham Vacation Resorts Seven Mile Beach in Tasmania. Designed to blend with the environment, Seven Mile Beach is ideal for travellers looking to experience nature at its finest. Wyndham allows tourists to harvest edible local plants, gather freshly laid eggs, eat freshly shucked oysters at a nearby oyster farm and dine on freshwater trout from local streams.
"We are looking for properties where travellers can experience traditional cooking with lamb on a spit, enjoy produce from the farm, round up the cattle or go for a ride on horseback," Robinson says.
More expansion in Australia
As it continues to plan its farmstay property, Wyndham is also actively pursuing its expansion efforts in Australia. In response to the significant influx of Chinese tourists, the company is working on improving its hotel services to enable it to better serve Chinese and Asian travellers. These services include offering translation devices at the front desk. "We are focusing on the cultural changes we need to make to get ready for the Chinese market," Robinson says.
Wyndham is also developing a staff exchange programme that leverages its network of more than 650 hotels in China, which includes major international hotel brands Howard Johnson, Days Inn, Super 8 and Ramada. The company's Australian staff will spend three months in China learning the Chinese language and culture while their Chinese counterparts do the same with English in Australia.
Wyndham has built up a long history of working with Chinese partners while building its hotel network in China. Its partnership with major Chinese developer Hengyi Group on the construction of Wyndham on William marks its first collaboration with a Chinese company on a property in Australia. Wyndham welcomes similar partnerships with other developers and investors from China as it continues to identify opportunities presented by inbound Chinese vacationers.
"I am more excited than I was when I first started with the company 10 years ago because there is so much opportunity for growth in the region," Robinson says. "If we have 50,000 vacation owners in the 13 years we have been in Australia, there is no reason why we can't have half a million vacation owners from China within 10 years."