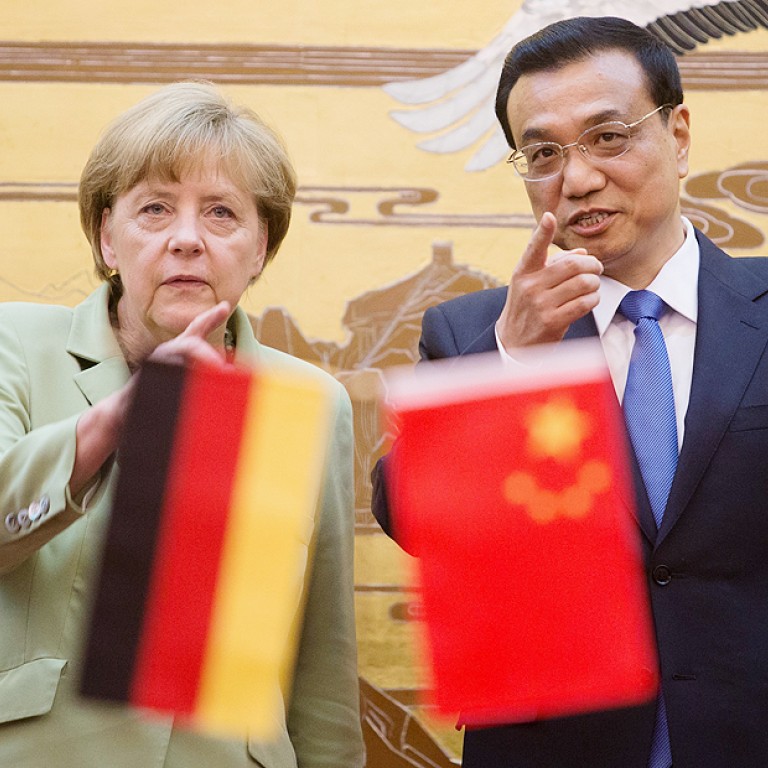 Update

|
China opens HK$100 billion door to German investors
The agreement, which allows investments in both Shenzhen and Shanghai, is expected to help both those markets as well as the yuan's globalisation
China will allow Germans to invest up to 80 billion yuan (HK$100 billion) in China's stock exchange, a move that will help boost the fragile market and further internationalise the yuan.
In a joint press conference following talks with visiting German Chancellor Angela Merkel, Premier Li Keqiang also said the Chinese economy had improved in the second quarter and the country can keep its economic growth within a reasonable margin. The government has set 7.5 per cent as its GDP growth target for 2014.
Li warned against the risks of a slowdown, saying the country could not be complacent. "China will continue to stimulate the vigour of the market," he said.
Li and Merkel yesterday witnessed the signing of six documents on economic cooperation. German investors will be allowed to invest in the bourses in Shanghai and Shenzhen through the Renminbi Qualified Foreign Institutional Investor scheme. Britain and France, among others, have a similar arrangement. Last week, China granted an 80 billion yuan quota to South Korean investors. By the end of June, the government had approved 250.3 billion yuan of investment under the scheme by 71 domestic and foreign institutions.
Analysts said the move would help China's struggling stock market, and yuan-denominated investment would help the internationalisation of the currency.
Merkel was due to meet President Xi Jinping late yesterday. It is Merkel's seventh trip to China since taking office in 2005. Trade issues have apparently dominated the agenda, as Merkel brought with her the largest German business delegation to visit the country.
Li also announced yesterday that he would visit Germany in October.
This article appeared in the South China Morning Post print edition as: China opens stock market to German investors