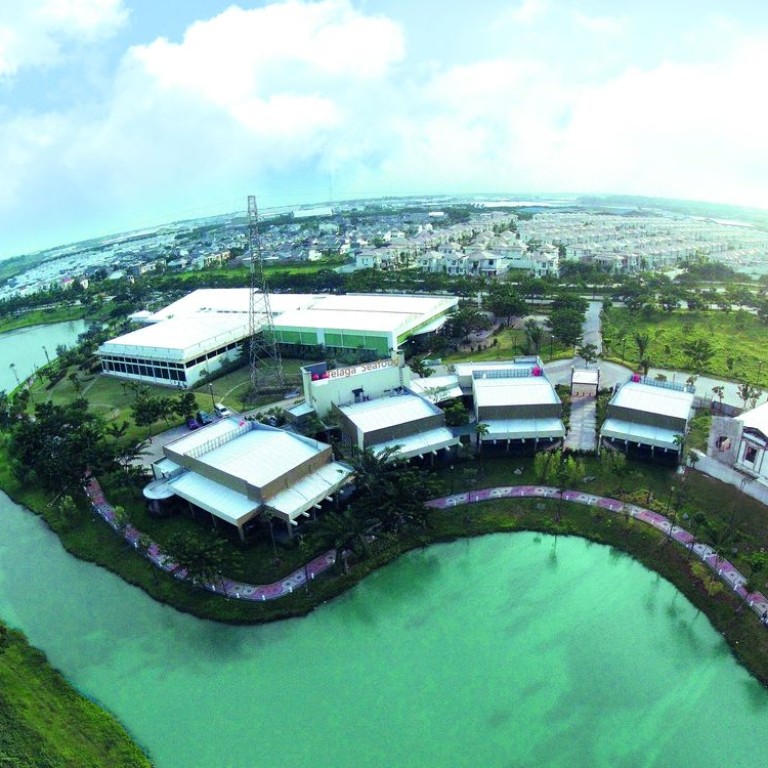 Aggressive, sustainable growth drives business prospects
Indonesia and Lippo Cikarang reflect one another beyond sharing an upbeat outlook. A rich history and an aggressive growth strategy complement a vision to which their citizens and residents aspire: a better quality of life.
Supported by:
Discovery Reports
Indonesia and Lippo Cikarang reflect one another beyond sharing an upbeat outlook. A rich history and an aggressive growth strategy complement a vision to which their citizens and residents aspire: a better quality of life.
"Our greatest contribution to Cikarang and Indonesia in general is the creation of an environment conducive for comfortable, better-quality living," says Lippo Cikarang president and CEO Meow Chong Loh.
This commitment traces back to 1995 when the company started its property development business with high ideals of building a comprehensive township and becoming Indonesia's premier industry, commercial and residential-based urban development.
As part of the reputable and widely diversified Lippo Group, whose core businesses include property and retail, Lippo Cikarang listed on the Indonesia Stock Exchange in 1997. Drawing from the group's in-depth know-how of the country's residential and commercial property landscape, comprehensive experience and far-reaching network, Lippo Cikarang land developed into one of the region's biggest economic drivers.
Fuelled further by the continued influx of foreign investments and the rising Indonesian middle class, the company saw its stock price rise from 376 rupiah (HK$0.25) to more than 8,000 rupiah per share in the past six years alone.
"We are proud to say that this growth was not based on speculation, but was achieved through the company's rapid transformation - which raised our value," Loh says. "The strong share price demonstrates how Lippo Cikarang has grown into an industrial township with the most complete infrastructure in place."
Evolving township ushers brighter business prospects
The number of people who work and live along the Cikarang Industrial Corridor continues to grow, drawn by vast employment opportunities within the region's industrial zones and residential estates. To bring together business interests generated within the corridor and better accommodate its growing population, Lippo Cikarang is investing in more commercial, business and residential projects.
"The light-medium industrial sector continues to be an attractive investment magnet for Indonesia. It is especially apparent in the Cikarang Industrial Corridor, whose proximity to the airport, international port, railway and highway appeals to international and domestic companies," Loh says. "We aim to further open up this area to usher more opportunities for our existing stakeholders, while inviting even more tenants, residents and visitors to enjoy the facilities of Lippo Cikarang and help diversify the community."
Empowering a green, sustainable community
Alongside Lippo Cikarang's new paradigm is another transformation. What began as the integration of an industrial powerhouse with a dynamic commercial centre and a pleasant neighbourhood through the township's "work, live and play" concept is evolving into so much more: the empowerment of a green, sustainable community.
"The township's success is based largely on a holistic approach to help industrial clients move quickly from idea to realisation," Loh says. "This includes putting in place sufficient infrastructure that ensures our stringent security and eco-friendly policies allow everyone to experience a safe, clean and enjoyable environment."
Lippo Cikarang strives to match every development in the township with a tangible commitment to support its stakeholders - from daily workers to permanent residents and global investors - in the present and the future.
For instance, together with the successful launch of various residential, commercial and industrial projects last year, Lippo Cikarang has also completed its third water treatment plant. This accomplishment has strengthened the township's capability to channel 100-per-cent treated water via two independent water sources.
Such developments are part of the township's broader corporate social responsibility (CSR) programme, which aims to benefit stakeholders in three major areas: sustainable environmental conservation, social and community development and product responsibility.
A single drive through the township will let anyone see how Lippo Cikarang values the environment. Featuring careful and best-practice zoning in all industrial, commercial and residential areas, it incorporates natural and environmentally sustainable elements in all its developments, town management activities and programmes.
Tree planting has been one of the community's most remarkable environment-oriented programmes. The township has planted an astounding 91,500 trees as of last year, and continues to target planting 5,000 additional trees annually.
Passing on the virtue to its young residents, Lippo Cikarang has also launched a Mini Nursery programme, wherein tree planting is introduced in a dozen schools within the township.
At the workplace, Lippo Cikarang promotes the Less Paper programme, which aims to increase efficiency while reducing waste by optimising the usage of office supplies and equipment. Throughout the township, the conservation of electricity, water and other resources is also widely encouraged.
At the centre of Lippo Cikarang's social and community development efforts are long-standing relationships with various organisations within and surrounding the township.
"Ranging from sports tournaments to disaster relief and emergency management efforts, our programmes provide a well-rounded approach to adding to community spirit and to community empowerment," Loh says.
The community played an active role in helping flood victims in Bekasi last year by providing food, drinks, medicines and other emergency supplies. It also engages in providing clean water to surrounding villages during the dry season, and provides support for the renovation of public facilities.
Stimulating educational activities in neighbouring villages, Lippo Cikarang contributes learning equipment and teaching assistance - and even provides on-the-job training and research for high school and college students.
Encompassing pre-sale, product quality and post-sale service, product responsibility is taken seriously at Lippo Cikarang, which ensures that customer support and means for customer contact and input are provided for each area.
Even before any sale or transaction, Lippo Cikarang certifies that all relevant information available is clear and every staff is well-trained to handle customers' needs. As for maintaining product quality, the township guarantees uncompromised quality by using only the best materials and performing on-site quality control.
Post-sale service is provided 24/7 through the town management division. In addition to contacting permanently posted Lippo Cikarang security personnel, residents can get access to customer service online or through a dedicated telephone line.
"With Lippo Cikarang's growth expected to continue this year and beyond, our stakeholders and other interested parties can count on seeing constant improvements,"
Loh says. "We look forward to providing additional schools, hospitals, hotels, commercial zones - and more beautiful, greener infrastructure that is the hallmark of Lippo Cikarang."