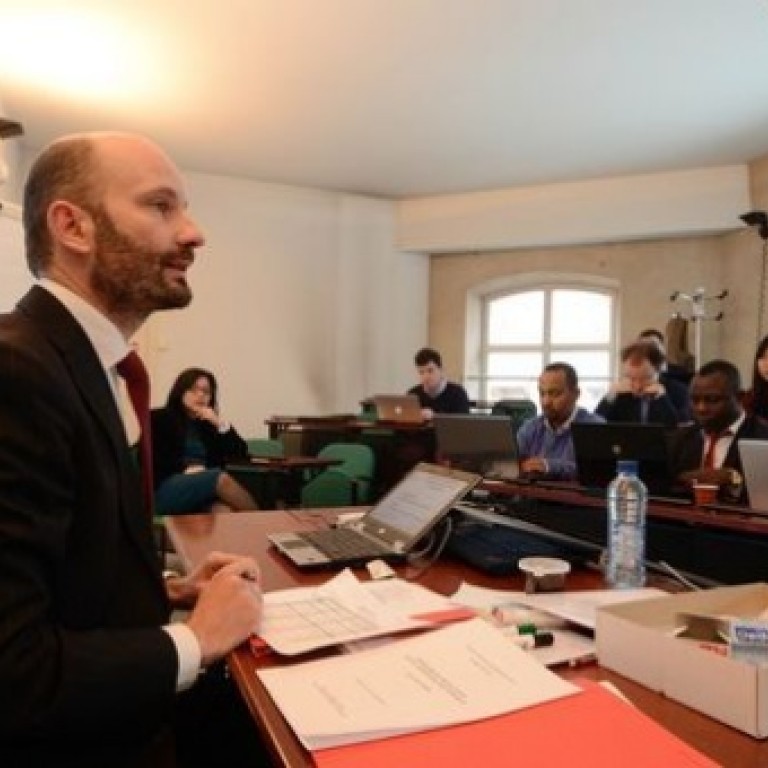 Why bet on an MBA in France?
When thinking of studying for an MBA overseas most people consider universities in the United States. However, surprisingly perhaps, France is fast rising as a study destination.
According to the latest Times Higher Education Alma Mater Index, which ranks institutions based on the number of degrees they have awarded to the CEOs of Fortune Global 500 companies, France has the second largest number of institutions among the top 10 after the US.
Is there any benefit in looking at France as an alternative to the US when doing your MBA?
Coming from a background in the market research industry in Hong Kong and Shanghai, Channing Yeung landed a managerial position at the headquarters of L'Oréal after getting her MBA from HEC Paris. She was looking to "enriching her cultural experience" and believed that "MBA programmes in France have a greater mix of students" compared with many in English- or Spanish-speaking countries.
INSEAD launched the first European MBA programme in 1959, and the school now has campuses in Fontainebleau, Singapore and Abu Dhabi. This year there are more than 90 different nationalities in its MBA programme and basic knowledge of a third language is expected before graduation.
MBA programmes in France also offer exposure to the French language. HEC Paris, for example, makes learning French mandatory for non-natives in its MBA programme, despite using English as the medium of teaching.
This year the French bank Natixis launched a study arguing that French could overtake English and Putonghua as the world's most spoken language, with a potential 750 million speakers by 2050. Although the study's methodology has provoked controversy because it considers all inhabitants of 32 countries with French as an official language as "potential French-speakers", French is still widely spoken in some parts of Canada, Western Europe and Africa.
Despite English being the global language, Erin Meyer, a professor at INSEAD, highlights the risks of "falling into cultural traps that endanger careers and sink deals" in her book, The Cultural Map.
This is particularly true when many multinational corporations (MNCs) are looking into emerging markets where English might not be the most commonly used language. Candidates with global exposure, a multilingual background and a strong cultural adaptability are in demand.
Access to the French business community also makes MBA programmes in France different. Philippe Oster, of HEC Paris, takes pride in the school's "close proximity to La Défense, the heart of European business with the highest concentration of MNC headquarters on the continent", and that makes France "an ideal environment for MBA education".
He adds: "This geographical and intellectual proximity allows for our students to be at the forefront of business innovation, acting as connectors for international businesses and implementing their global strategy locally around the globe."
France may particularly appeal to MBA applicants who are interested in the luxury sector as French luxury brands account for a quarter of global market share, according to Luxury Goods "Worldwide Market Study", Fall 2013, by Bain & Company, and this creates a market for specialised MBA programmes in luxury-brand management.
ESSEC launched the world's first MBA programme specialising in international luxury-brand management in 1995. Other schools in Milan, Monaco and New York have followed suit.
Stella King, who graduated from ESSEC in 2005, became Asia-Pacific president of Moncler in 2011. She values her specialised MBA, as it gives her a better understanding of the luxury industry as a whole, and that enables her to "plan on a broader base".
However, others take a more conservative view of specialised MBAs. As Oster puts it: "I do not believe in specialised MBAs. By definition, an MBA provides, and should provide, a solid general management education. An MBA should cover all the components of management, and not focus on one industry sector in particular."
Some MBA alumni consider that a one-year commitment in Europe gives a better return on investment than a two-year programme in the US because of the shorter time frame and the lower financial costs involved.
Derek Chang, an MBA alumnus of INSEAD, thinks the answer is yes and describes his one-year MBA experience as "drinking from a fire hydrant".