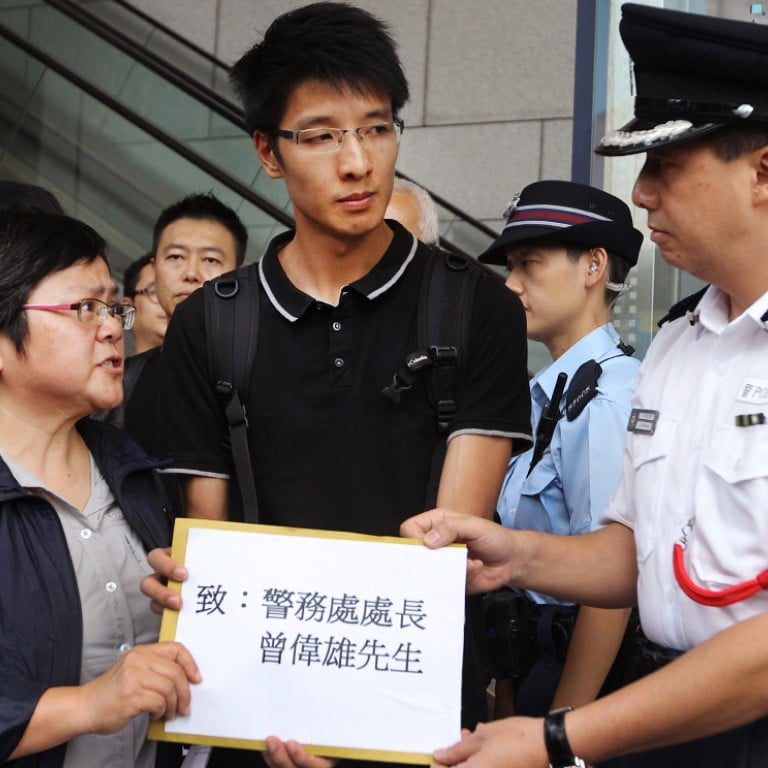 Update

|
Man arrested over assaults on journalists at anti-Occupy rally
Further arrests could follow after attacks on four RTHK and TVB staff at anti-Occupy rally as journalist groups demand more protection
Police have arrested a 61-year-old man on suspicion of assaulting journalists during an anti-Occupy Central, pro-police rally in Tsim Sha Tsui on Saturday.
The case was being treated as assault occasioning actual bodily harm, criminal damage and common assault, police said.
"We will not rule out the possibility of making further arrests," Chief Superintendent Steve Hui Chun-tak of the Police Public Relations Branch said yesterday. Four journalists, from RTHK and TVB, fell victim to attacks in the mayhem that broke out at the "blue ribbon" rally on Saturday.
A woman reporter was dragged to the ground, while a male reporter had his glasses knocked off and tie yanked. One cameraman was grabbed by the neck and another was pushed to the ground. All were scratched around their torsos and faces.
Since the Occupy sit-ins began, at least 24 journalists, including one reporter, had faced attacks of different degrees, the Hong Kong Journalists Association said.
Six journalist groups, led by the association, filed a petition to Commissioner of Police Andy Tsang Wai-hung yesterday demanding immediate action.
The petition called on police to protect the safety of frontline newsmen, produce progress reports on all cases of attack, and respond to a request for a meeting within one week.
"Any attack on a journalist is not just an attack on him or her, but an attack on press freedom and the rights to know of every resident in Hong Kong," association vice-chairwoman Shirley Yam said. "The attacks cannot be tolerated."
When asked why officers did not take immediate action, Hui said the situation was "very chaotic" and police had to control the scene.
"Even if people hold different views, or are discontented, they should not resort to violence," he said. "Police will take enforcement actions impartially and decisively regardless of the background or profession of any persons involved."
Officials and lawmakers from all sides of the political divide also condemned the violence.
"Reporters are our ears and eyes. We cannot let anyone make us deaf or blind," Civic Party leader Alan Leong Kah-kit said.
Tam Yiu-chung, of the Democratic Alliance for the Betterment and Progress of Hong Kong, said: "Whether you are pro-Occupy, anti-Occupy or pro-police, nobody should resort to violence."
The Chief Executive's Office condemned the attacks as a "savage act", while Chief Secretary Carrie Lam Cheng Yuet-ngor said police would handle the incident seriously and bring the attackers to justice.
TVB's news department urged Chief Executive Leung Chun-ying to task the police chief with preventing a repeat of the incidents, carrying out an impartial investigation and upholding the rule of law.
RTHK and its staff union said it would take legal action over Saturday's attack.
This article appeared in the South China Morning Post print edition as: Man held over journalist assaults