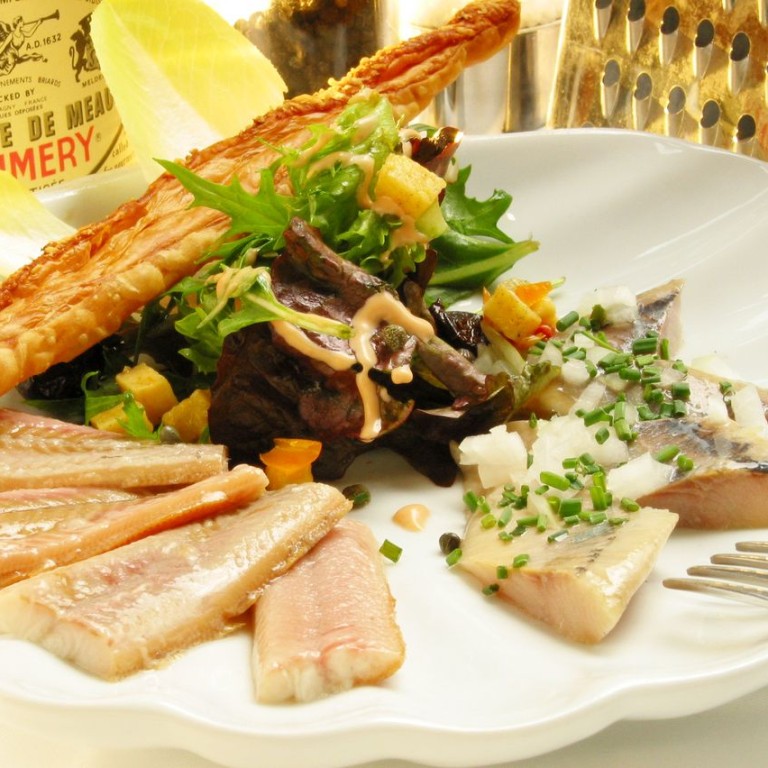 Dutch fare at its freshest
Supported by:
Discovery Reports
The Netherlands may not be as famous for its cuisine as, say, France or Italy, but Dutch menus still offer many excellent selections often featuring seafood, fresh vegetables and hearty meat dishes guaranteed to keep out the cold during the winter months.
With productive coastal waters, a fishing fleet trawling the North Sea and a centuries-long tradition for dairy farming and market gardening, there is an understandable national preference for healthy eating and seasonal specialities. And for anyone in Hong Kong, local or expat, keen to get a taste of some typically Dutch fare without travelling halfway around the world, there is one easy way: head to the Orange Tree restaurant in SoHo.
Located next to the Mid-Levels escalator between Caine Road and Mosque Junction and billed as Hong Kong's only restaurant specialising in Dutch/continental cuisine, it offers a regularly changing menu and daily specials which depend on what is in season and freshly imported that morning.
"Holland is a world leader in agriculture and seafood products, and we want people to see what that means," says chef/patron Pieter Onderwater, who opened the restaurant 17 years ago and has seen it remain a firm favourite with diners ever since. "Therefore, we import a lot of fresh fish, including Dover sole, as well as mussels, oysters and small shrimps, and by buying direct from fishermen and wholesalers in Holland, rather than through local middlemen, we have better control of the quality and price."
This operation sees fish landed and at market on the Dutch coast on a Wednesday morning, for example, before being flown out that night and on the table in Hong Kong on Thursday evening.
The same basic principle applies when importing popular favourites like white asparagus - usually served with ham, egg and hollandaise sauce as a starter or main course - and for some vegetables and crisp garden greens.
A late summer or early autumn à la carte menu might well have appetisers such as rucola and baby spinach salad with goat cheese, artichoke hearts and oven-roasted tomatoes, smoked Balik-style salmon with asparagus salad, apple-wood smoked eel fillets, garnaatjes North Sea shrimps, or bitter ballen deep-fried beef dumplings with Dijon mustard.
"We have a very diverse clientele and many of the local Hongkongers particularly like the dumplings and deep-fried croquettes, which we sometimes refer to as Dutch dim sum," Onderwater says. "Hong Kong diners in general are very concerned about fresh ingredients, and we notice that if they love seafood and sushi, they love salted herring."
Indeed, the arrival of each year's "new" herring is always a special day to mark on the calendar and a major dining attraction for aficionados and first-timers alike. Not far behind in terms of appeal is the start of the mussel season, while options like roasted North Sea plaice, pan-fried whole Dover sole, and free-range organic pork also have a devoted following. "If we get in, say, a nice box of sea cod, that will immediately be put on the menu," Onderwater says.
As the year advances and the temperature drops, interest naturally turns to more "warming" dishes like stews and roasts, which are also time-honoured staples of any Dutch kitchen. Orange Tree main courses as winter approaches therefore include oven-roasted lamb shanks with thyme served with a "Hutspot" mash of carrots, potatoes and onions. An always popular house special is lamb fillets and eggplant baked in puff pastry on a bed of creamed leeks and rosemary. There is turkey at Christmas, and any meal can be rounded with a choice of at least five Dutch cheeses, imported from artisan cheese makers, and perhaps a glass of genever, the juniper-flavoured Holland gin.