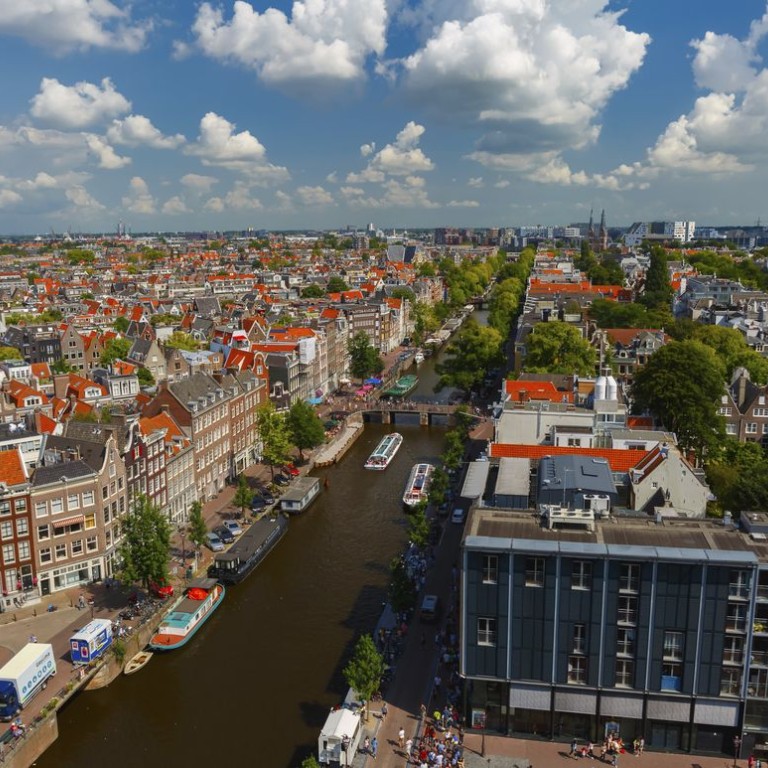 Crafted by angels, waterways give city reasons to flourish
Supported by:
Discovery Reports
The Netherlands' spiritual capital is an alluring confection of imposing architecture, fascinating museums and serene canals. Water has played an important part in the city's evolution, being responsible for its original incarnation. In the 12th century, fishermen erected a bridge and dam across the River Amstel, resulting in the village of Amstelredamme.
Situated in the western Netherlands in the province of North Holland, Amsterdam is home to about 810,000 residents. To understand the geography of this vibrant metropolis, it's vital to realise that everything radiates outwards from its medieval heart. Split into Oude Zijde (Old Side) and Nieuwe Zijde (New Side), this inner area is notorious for the red-light district and numerous marijuana-selling coffee shops. Nonetheless, worthwhile attractions such as the Royal Palace and the voyage of discovery that is Science Centre NEMO are in this vicinity.
Surrounding this ancient centre is what perhaps most of all makes one think Amsterdam may have been crafted by angels - the Canal Ring. This 17th-century Unesco World Heritage site comprises six concentric waterways that branch out into assorted tree-lined, smaller channels. These aquatic routes add up to more than 100km, inspiring the city's title of "Venice of the North".
Along many of the principal canals, all of which seem to flow under picturesque bridges, are impressive restaurants, pubs and galleries. The extraordinary photographic institution Foam is beside Keizersgracht, while the whirl of colour that is the flower market Bloemenmarkt floats on barges on Singel, and the Anne Frank House sits parallel to Prinsengracht. This exhibition movingly conveys the story of its diary-writing Jewish heroine, who hid in the building with her family in an attempt to avoid Nazi deportation and extermination.
Awe and wonder await you in Amsterdam's museum quarter. The Rijks, Stedelijk and Van Gogh museums can all be found here. The latter will be holding an exposition to mark the 125th anniversary of the death of this extraordinary, enigmatic painter. To delve into the psyche of another master of the canvas, stop off at the Rembrandthuis. Inside this residence, where the legendary artist lived from 1639 to 1658, it's possible to view Rembrandt's etchings and discover how he produced them. Visitors can also draw their own sketches.
Rembrandt's great masterpieces contributed to what became known as the Dutch Golden Age. During this epoch, roughly spanning the 17th century, the Netherlands became the leading economic and maritime power on the planet. As the nation's major port at the time (which has since been overtaken by Rotterdam), Amsterdam played a vital role, and became the site of the world's first modern stock exchange. Commerce, architecture, literature, painting, sculpture and science all flourished.
In the 17th century, Jordaan used to be a working-class district. Today, after a period of gentrification that started in the 1980s, it deserves attention as arguably the hippest enclave in town. Crammed into its maze-like streets are several cool bars, cafes and fashion outlets. Less than a 10-minute stroll away, a similarly fun shopping experience can be had in the Negen Straatjes (the nine streets), which are peppered with boutique and vintage stores.
Although the Netherlands is celebrated for its cheese - it's the biggest exporter in the world - and pancakes, Amsterdam has even more to offer when it comes to food. For authentic Dutch cuisine, Greetje on the Nieuwmarkt is the ideal stop-off. Named after the chef's mother, this restaurant's wooden-plank floors, crystal chandeliers and Delft tiles are the perfect setting in which to savour a tasty reworking of national dishes. For sophisticated international fare, nothing beats De Kas, which is situated in Frankendael Park in a stunning former greenhouse built in 1926. Less than 3km up the road is Brouwerij't IJ, a brewery that has been fermenting its own delicious beer since 1985.
Amsterdam has a maritime climate due to its proximity to the North Sea. Consequently, its four distinct seasons are all relatively mild, although the city can often be rather overcast and rainy. In winter, it rarely drops below minus 5 degrees Celsius, while summers enjoy an average daily temperature of 17 degrees. May to August is probably the best time to visit, when there's around 15 to 17 hours of daylight. An unforgettable excursion at this time of year is a trip to Kinderdijk (Children's Dyke). An hour outside town, it's a sleepy old village famous for its 19 Unesco World Heritage windmills from the 1740s.