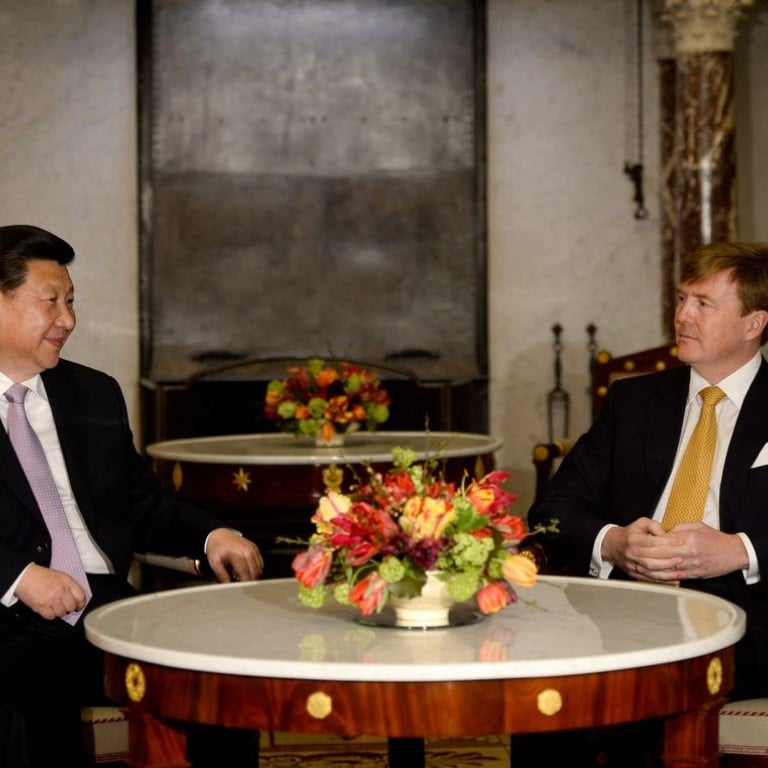 Existing strong ties get a boost
Chinese leader's visit further strengthens solid trade and economic ties, writes Nazvi Careem
Supported by:
Discovery Reports
China has enjoyed excellent trade and economic relations with the Netherlands for decades but, this year, the bond was strengthened with President Xi Jinping's visit to the European country in March.
Xi became the first Chinese leader to make an official state visit to the Netherlands, where he met Dutch Prime Minister Mark Rutte as both sides vowed to step up trade and economic co-operation.
The two leaders were present for the signing of a number of agreements on bilateral co-operation in energy, agriculture, trade and culture. The Chinese leader, who also met King Willem-Alexander, identified further areas such as hi-tech, finance and tourism in which China and the Netherlands can enhance already solid relationships.
In the wake of Xi's visit, Cui Hongjian, director of the department of European studies at the China Institute of International Studies, was quoted as saying the Netherlands is a central market in Beijing's quest to improve economic ties with Europe.
"The Netherlands is still the trade and investment centre in Europe, and much is expected for the co-operation between China and the Netherlands. Deepening co-operation is beneficial to both and important for the global economic recovery," Cui said.
The Netherlands has been China's second-largest trading partner from the European Union for the past 11 years, while there are close to 400 companies and investment projects from China in the Netherlands.
Imports in 2012 were valued at Euro32 billion (HK$317 billion). The majority of imported products (two-thirds) were machinery including computers (13 per cent) and computer parts (10 per cent). Close to 50 per cent of computers imported to the Netherlands come from China. In turn, Dutch exports to China in 2012 were valued at Euro7.7 billion and largely comprised organic chemical materials for the manufacturing industry.
Xi said extensive trade and economic co-operation had played a positive role in promoting the economic and social development of the two countries, and that the Netherlands was China's gateway to Europe.
During his visit, Dutch and Chinese companies signed contracts valued at around Euro1.5 billion. China is the Netherlands' third-largest import country, after Germany and Belgium.
Food security is one area where the Netherlands and China face similar challenges. During Xi's visit, the two countries signed a trade pact in which the Dutch pledged to provide dairy expertise to help Chinese manufacturers raise the quality and quantity of their milk products.
China is keen to repair the reputation of its dairy sector after the 2008 scandal in which milk powder in the mainland was found to be tainted with the chemical melamine. The Dutch government said its experts would help China increase its annual milk production to 40 billion kilograms over the next few years.
According to the Hong Kong Trade Development Council (HKTDC), investments in bilateral economic relations are increasing, with the major Dutch multinationals having a strong presence in China.
The Netherlands remains in the top three among EU countries investing in China, with Dutch companies able to take advantage of a largely predictable investment climate and improved access to China's massive market.
Technological and academic partnership between the Netherlands and China is also a major factor in forging ties between the two countries. Several Dutch tertiary education institutions have ties with their Chinese counterparts, and many Chinese students choose to further their studies in the Netherlands.
The Dutch also have six Netherlands Business Support Offices on the mainland in Chengdu, Jinan, Nanjing, Dalian, Qingdao and Wuhan. These bodies provide support for Dutch businesses, offering information, matchmaking services, market scans, promotional activities, economic diplomacy and support for trade missions.
Hong Kong and the Netherlands have enjoyed healthy trade ties for more than 150 years. Total exports from the city to the Netherlands last year rose by 1 per cent to US$5.4 billion, although HKTDC figures show that the figure fell by 8 per cent to US$421 million for the first month of 2014.
Major export items to the Netherlands include telecommunications equipment and parts, apparel and textiles, computers, footwear, parts and accessories for office machines and computers, electrical machinery, travel goods, silver and platinum, and electrical products.
Imports to Hong Kong from the Netherlands grew 11 per cent to US$3.4 billion last year, but fell 11 per cent in the first month of 2014 to US$266 million.
Major import items are dairy products, telecommunications equipment and parts, meat, printing and bookbinding machinery, chocolate and other foods containing cocoa.
Apart from trade, the Netherlands has a strong presence in Hong Kong in finance, transport, retailing and other sectors. There are around 250 Dutch companies with a presence in Hong Kong, including BN AMRO, ING and Rabobank (finance), KLM Royal Dutch Airlines and P&O Nedlloyd (transport), Philips (electronics), Shell (petroleum), Heineken (beer distribution), Vendex KBB and Mexx (fashion retailing).
By the middle of last year, 46 Dutch companies had regional headquarters in the city and 68 had regional offices in Hong Kong. In addition, close to 3,000 Dutch nationals were residing in Hong Kong at the end of last year.