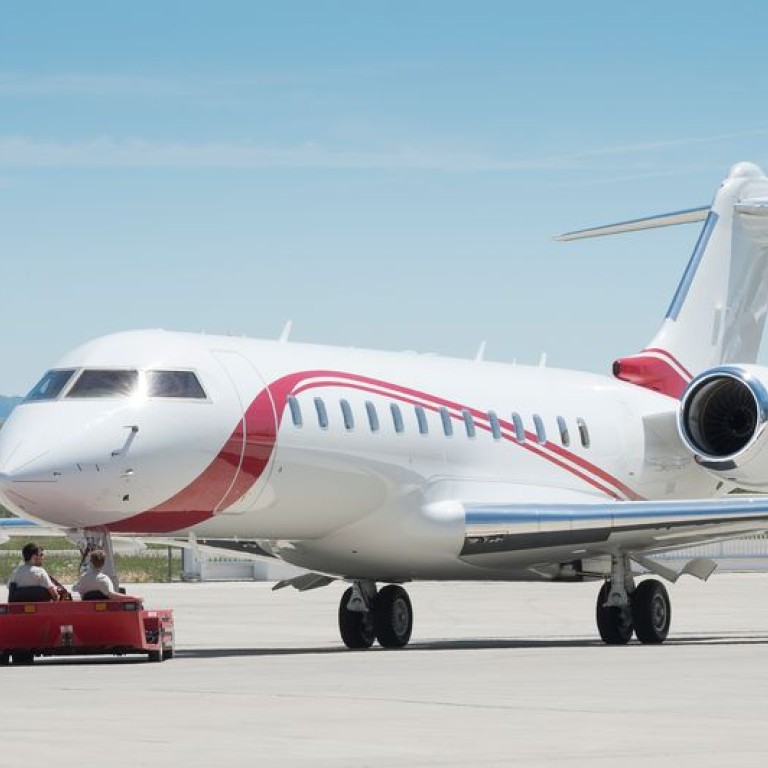 AMAC delivers bespoke private aviation for world's VVIPs
For VIPs and VVIPs who put a premium on exclusivity and luxury when jetting to their next business pursuit, there has been no better time to fly - whether on their customised aircraft or a chartered flight. Private aviation has become safer and more convenient than ever, and it has paved the way for the ultimate home, office and infotainment hub in the sky.
Supported by:
Discovery Reports
For VIPs and VVIPs who put a premium on exclusivity and luxury when jetting to their next business pursuit, there has been no better time to fly - whether on their customised aircraft or a chartered flight. Private aviation has become safer and more convenient than ever, and it has paved the way for the ultimate home, office and infotainment hub in the sky.
"Private aviation used to simply reduce airport waiting times, shorten routes and allow more flexible flight schedules for mainly heads of states and the royalty," says Kadri Muhiddin, group executive chairman and CEO at AMAC Aerospace Switzerland. "Today, it has evolved into a way of life for anyone who is money-rich but time-poor, including global businessmen who are now able to conduct close-door meetings in the air en route to another prospective client in China, the Middle East or anywhere else in the world." 
AMAC is largely responsible for elevating private aviation to a higher level - with the feel of luxury intact, yet with the functionality, comfort and connectivity of a professional home office furnished according to the owner's specifications. The world's largest privately owned company offering private, VIP and corporate aviation services, AMAC provides aircraft maintenance repair organisation (MRO), refurbishment and completion services, and aircraft management and charter services.
"We chose a name that could easily be associated with aircraft maintenance and completion and aircraft management and chartering, which cover all four areas of our business," Muhiddin says. "Today, the name stands for reliability and is associated with unparalleled quality."
Among AMAC's latest masterpieces is an Airbus ACJ319, which is under completion and expected to be re-delivered by Q2 this year to its first-ever client in Asia - where the company aims to bring the same expertise and workmanship it has established in Switzerland.
A showcase of what it can do for its potential customers in the region, the aircraft had undergone a complete nose-to-tail completion featuring designs by renowned Paris-based designer Alberto Pinto. 
The exterior livery features mother-of-pearl paint, floral patterns and simple yet elegant line designs. For the interior, the aircraft incorporates fung shui principles and uses high-grade silk and wool carpets, carbon fibre accents, metal inlays and delicate wood marquetry throughout the cabin. 
Equipped with 19x certified seats for Taxi, Take Off and Landing (TTOL), a night configuration for sleeping, two VIP lavatories, a VIP shower and a VIP aft galley, it also features earth-colour leathers, black lacquer side and top surfaces and Champagne-gold satin plating.
Underneath the deluxe furnishing are the latest and most advanced electronics that enable multimedia entertainment and communications, including a satellite communications system for ground-to-air and air-to-ground calls and internet connection. 
"It is our long-term vision to remain and excel as a key player in completion services, and a part of that is having our brand of excellence recognised in Asia," Muhiddin says. "We hope this privilege opens up more opportunities in the region, where we are eager to meet more like-minded, quality-conscious clients and show them what more we can do - and create with them the finest, most advanced private aircraft in the world."
No aircraft too ambitious; no two alike 
No two aircraft serviced by AMAC are ever identical. This is because the company takes great pride in delivering bespoke designs reflecting the owner's distinctive taste while representing the Swiss excellence in business aviation.
"Every aircraft that returns to service from AMAC joins an 'elite' category of aircraft globally," Muhiddin says. "No request is too ambitious. Our aim is to exceed our clients' expectations and consistently deliver on time and within budget."
To ensure that it produces only satisfactory results, AMAC makes certain that the client is involved in all aspects of the process and has a thorough understanding of all his choices.
"Let's say a global investor has the money to buy a jet but lacks the knowledge to choose the right one for his needs. One call to us, and we'd be able to start guiding him towards the smart decisions," says group chief operating officer Bernd Schramm.
For the average medium-range jet such as the Boeing 737 and/or Airbus ACJ, which are considered narrow-body, the process from the beginning to delivery then takes approximately 20 months, including contract negotiation, remodelling/design, production and installation. For most clients, however, the relationship with AMAC does not stop at the completion and delivery of the aircraft. Many prefer to source their pilots, flight attendants and crew from AMAC, which also offers maintenance services for clients seeking a turnkey solution. Other added services include continued airworthiness management organisation or CAMO.
"After five or six years, the same client would likely want to upgrade to a bigger aircraft such as the wide-body Boeing 747," Schramm says. "Not only can we assist him in finding and completing his next jet, we could also help sell his old one. That is the kind of full-spectrum service we provide." 
China, Asia on the horizon
As with commercial airlines, which expect more than a 30 per cent rise in passengers by 2017 according to International Air Transport Association, the private aviation sector anticipates demand to continue growing in the next few years.
The biggest growth driver in the commercial sector will be China, according to industry forecasts, which project that flights within and connected to the region will account for nearly a quarter of new passengers. While the numbers are not expected to be as astonishing for the private aviation segment, a similar upward trend of Chinese customers is already being seen by companies such as AMAC.
"Asia, particularly China, will definitely become a very important market for private aviation, especially with the latter's tight airspace restrictions gradually loosening," Schramm says. "In addition to serving clients from the region, we would love to build hangars there some day as we did here in Switzerland and in Turkey."
AMAC is also open to other business opportunities, including consultation on a diverse range of aviation topics such as aircraft ownership, hangar construction and aircraft management. It is likewise interested in broadening its presence in other key destinations in Asia, including Singapore, Hong Kong and Malaysia.
Rich experience behind young, state-of-the-art success
AMAC's impressive accomplishment since being founded in 2007 is anchored to the company's founders and capital shareholders, led by Muhiddin. He, together with the other partners, surrounds AMAC with equally esteemed aviation specialists to reinforce the company's commitment to excellence with a current workforce of about 750 specialised employees.
Muhiddin's extensive experience includes about four decades in aircraft and engine heavy maintenance, overhaul and modification. His vast knowledge in the field's technical, financial, commercial and legal aspects is complemented by a powerful network of associations.
"The biggest reason for AMAC's success is the trust that the founders and management team have earned from all its stakeholders: from banks that backed the company financially to the airports, aircraft makers and international clientele," Schramm says. "Being based in Switzerland means we may not have the lowest rates, but clients are assured they get outstanding quality, on-time delivery and excellent service for their 'elite' aircraft representing bespoke designed aircraft unparalled in any other ownership domain."
Schramm has spent more than 20 years specialising in MRO and VIP completions, while group chief financial officer Mauro Grossi brings more than 20 years of expertise in optimisation and organisational restructuring and operational and financial project management.
From its first hangar, AMAC has expanded to three state-of-the-art hangars at EuroAirport Basel-Mulhouse-Freiburg with a total workshop and office space of 31,325 sq m.
One wide-body hangar is dedicated to maintenance and another to completions and refurbishment services, fulfilling AMAC's business model of shared aviation business activities with a split of 40/60 respectively. Combined, the hangars can accommodate multiple narrow and wide-body aircraft, including Boeing B747s, B777s, B787s, Airbus A340s, A330s and A380s.
The third, smaller hangar can also house a range of aircraft combinations, such as Boeing Business Jets and/or Airbus A318, A319, A320 and A321 or Gulfstreams and select Bombardier jets, for simultaneous maintenance work. The strategic location and interlinking of the hangars and workshops ensure superior time management and manpower allocation.
Underscoring its commitment to its Middle Eastern clients, AMAC opened a hangar at Istanbul Atatürk Airport in Turkey in 2012. The 1,500 sq m facility offers line maintenance services for Dassault Falcon 900, Falcon 900EX EASy and Pilatus PC-12 NG, of which AMAC is also the exclusive sales distributor in the region. Further accreditations for maintenance services are also being made, with likely approvals for the Dassault Falcon 7X and the new Pilatus PC-24.
Construction is also already under way for AMAC's fourth hangar in its Basel facility, which is set to have an expanded apron area for increased security for parked aircraft. Slated for completion in autumn this year, the fourth hangar will increase the company's total facility area to more than 85,000 sq m.
"We are a company of 42 nationalities and our clientele platform is international," Muhiddin says. "Wherever the potential client comes from, we always encourage them to come, see and experience our daily operations at our facilities and make their own judgment of the quality and capability that AMAC is made of. AMAC takes great pride in meeting the people who wish to experience the best quality there is in the world, and we welcome the chance to entertain potential clients from Asia - for whom Swiss excellence in business aviation awaits.