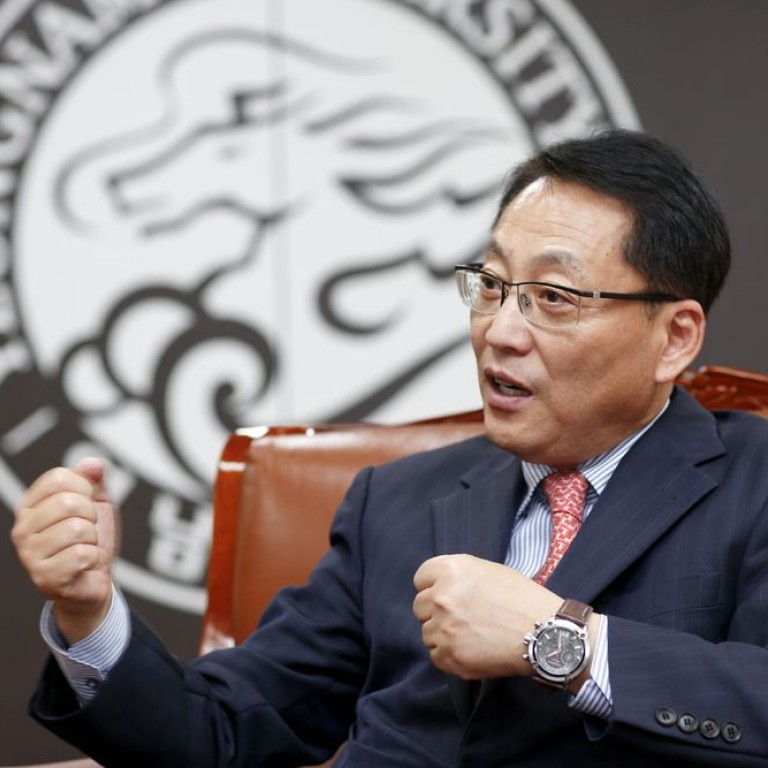 YU envisions being 'university of the world'
Supported by:
Discovery Reports
In the aftermath of the Korean War in the early 1960s, South Korea was among the world's poorest countries. Under the administration of former President Park Chung-hee, South Korea began a period of tremendous industrial and economic growth. 
Park helped transform a nation ensnared in poverty into one of Asia's tiger economies. Kindling the patriotic flame ignited by Park, Yeungnam University (YU) has taken up the mantle of nurturing next-generation students ready to shape an even better socio-economic future for South Korea and its neighbouring countries. 
A product of a merger authorised by Park, YU traces its roots to two educational institutions, Daegu College and Chunggu College. Aiming to become a university for the nation and the world, YU focuses on using education as a platform for nation-building.
"Our school philosophy is based on the principles of noblesse oblige and patriotism. We are established by individuals who are successful in society, and they have made it their responsibility to pass on the torch to the next generation," says Dr Noh Seok-kyun, president.
Situated in Gyeongsan and Daemyung, YU's two campuses are nestled against many historical sites and mountains. Strategically located near Daegu, YU's campuses are an hour away from Busan and an hour and a half away from Seoul via express train. 
The university prides itself for being the crucial launch pad to many successful careers across a range of fields. YU boasts 18 schools and offers a wide array of courses for students. YU's undergraduate programmes include liberal arts, sciences, engineering, law, political science and public administration, business and economics, medicine, pharmacy and natural resources. 
Students can also choose from programmes such as human ecology and kinesiology, education, design and art, music, biotechnology, architecture, international studies, basic studies and interdisciplinary studies. 
For students pursuing further studies, YU offers graduate and professional graduate programmes. YU has special graduate schools focused in the fields of clinical pharmacy and sports science, among others. 
One of the notable special graduate schools is the Park Chung Hee School of Policy and Saemaul (PSPS). It was established in November 2011 as a venue to showcase South Korea's socio-economic development to the world. Aiming to inspire underdeveloped countries, PSPS invites students from all over the world to educate them about the public policies and programmes that have made South Korea the 12th-largest economy in the world today. 
Students get an in-depth understanding of Park's policies and programmes in the 1960s and 1970s through PSPS. To equip students to make an impact in their home countries, the school instils the value of Saemaul Undong, a movement calling for a better life. 
"Through PSPS, YU becomes a stronghold for sharing South Korea's experiences and the hub for Saemaul studies," Noh says.
Since its inception, PSPS has schooled more than 200 students from 50 different countries. For PSPS, the eclectic mix of its student body is one of its key strengths, providing the students with a multicultural learning environment. 
There are five different majors under the master's degree programmes of PSPS: Saemaul Undong and community development, international development cooperation, public policy and leadership, forest resources and ecological restoration, and environmental management and policy.
Aside from theoretical learning, YU trains students in practical applications through its industry partnerships. Since 1993, YU has collaborated with 403 companies in 393 projects and has earned more than HK$125.8 million through the transfer of YU's technical know-how to related businesses. 
Instilling industry-relevant skills in students is a big priority for YU. The university partners with organisations such as the Korea International Trade Association (KITA) to develop a curriculum that will raise employability of students. By working together, YU and KITA can address manpower shortage, particularly in the trade industry. 
Internationalisation of YU
The growth momentum of South Korea takes it outside its own geographic borders and into the international scene. YU rises up to the challenge of equipping students and faculty with qualifications that make them globally competitive. 
"Young people know it is a globalised world, and that English is very important in searching for a job here and internationally," 
Noh says. "In an era of globalisation, it has become our main focus to guide students in their process of becoming future global leaders. A global leader must know how to understand and empathise with the world." 
YU continually works on improving the university to become one of the top 10 prestigious universities in South Korea. In line with this goal, YU prioritises student welfare and evaluates their needs to see where the university can invest on improvements. For professional growth, YU employs an incentive system to support publications and conference attendance among the faculty. 
"We are re-strengthening YU's foundation to be a distinguished university where professors strive for excellence in education and research, students in their studies, and university staff in providing administrative services," Noh says. 
The university drafted an outbound and inbound strategy in line with its internationalisation programme. For its outbound strategy, YU sends out 1,200 Korean students annually for different activities such as exchange student programmes with sister universities abroad. 
YU is able to achieve its internationalisation strategy through partnerships with 173 leading universities in Asia. It collaborates with the likes of Tsinghua University in China, Waseda University in Japan, University of Indonesia and Salahaddin University in Iraq. YU has signed additional memorandum of understanding (MOU) documents with nine national universities from Southeast Asia. 
Through YU's industry connections, students undergo international internships to enrich their educational experiences. The university sponsors backpacking trips under the Window to the World programme. Students learn about altruism as well through various volunteer programmes in underdeveloped countries. 
Another frontrunner in preparing students to the demands of a globalised economy and in effecting change for a better future is YU's School of International Studies (SIS). It employs faculty who have graduated from and lectured at some of the world's top universities, including Stanford, Harvard and Cornell. 
"SIS offers a unique curriculum that combines the cultivated tradition and the extensive educational assets of YU. The curriculum encompasses the most modern and comprehensive subject matters in international studies," Noh says. 
The integration of international students is an important component of YU's internationalisation. YU has designed a buddy programme, matching a Korean student with an international student, to help foreigners acclimatise faster. For the inbound programme, YU sponsors Window to Korea backpacking trips to the Korean peninsula. 
With strong support coming from the government, particularly the country's Ministry of Education (MOE), international students can easily adapt to university life. In September last year, a residential and support facility for exchange students studying in South Korea, dubbed the Gyeongbuk Global Exchange Center, was inaugurated at YU. With a total area of 5,169 sq m, the five-storey building has a dormitory that can house 240 students. It is equipped with facilities such as conference halls, lounges, seminar rooms and fitness centres. The MOE envisions that the facility will be a hub for the internationalisation of the local community and colleges in the area. 
The MOE recognises YU's internationalisation initiatives and has selected it as one of the regional leading universities for its university fostering programme. YU, the only private university chosen by the ministry among the nine other selected universities, will organise consortiums with nearby schools for five years. The 10 leading universities will function as central venues for academic cooperation through school credit exchange programmes. YU aims to strengthen the overall global competitiveness of its cluster by attracting more international students, particularly those coming from China. 
Importance of China
YU hosts 1,100 international students - about 5 per cent of its student population - annually. Of this number, 70 per cent are students from China. YU aims to attract more Chinese students to study at the university and at the same time attract other nationalities to add diversity in the student body.
Committed to creating stronger ties between South Korean and Chinese academe, YU has undertaken several measures to foster more partnerships. Noh has visited major universities and institutes in China to evaluate opportunities in research and personnel exchange. 
The school president visited the campus of long-time partner Capital University of Economics and Business (CUEB) to discuss ways of expanding their joint programmes. Working together since 2004, YU and CUEB are exploring the possibility of developing internationalisation programmes. During the visit, the two schools extended their MOU, which expires this year.
Aside from CUEB, Noh visited the China Technology Exchange, a facility designed for carrying out industrialisation of science and technology projects by the central and regional governments of China. Noh probed the prospects of constructing an industry-academic-research cooperation cluster where YU students can actively play a role in technology exchange between China and South Korea. 
YU values Chinese connections beyond the academe. The university sends about 120 students annually on a field trip to learn from leading Chinese companies. Students also visit the facilities of successful South Korean conglomerates in China such as Samsung and LG. 
"China is very important to us, not just in an inbound respect but also outbound. There are many good jobs available in China, and our students aspire to be as successful there as they are here," Noh says.