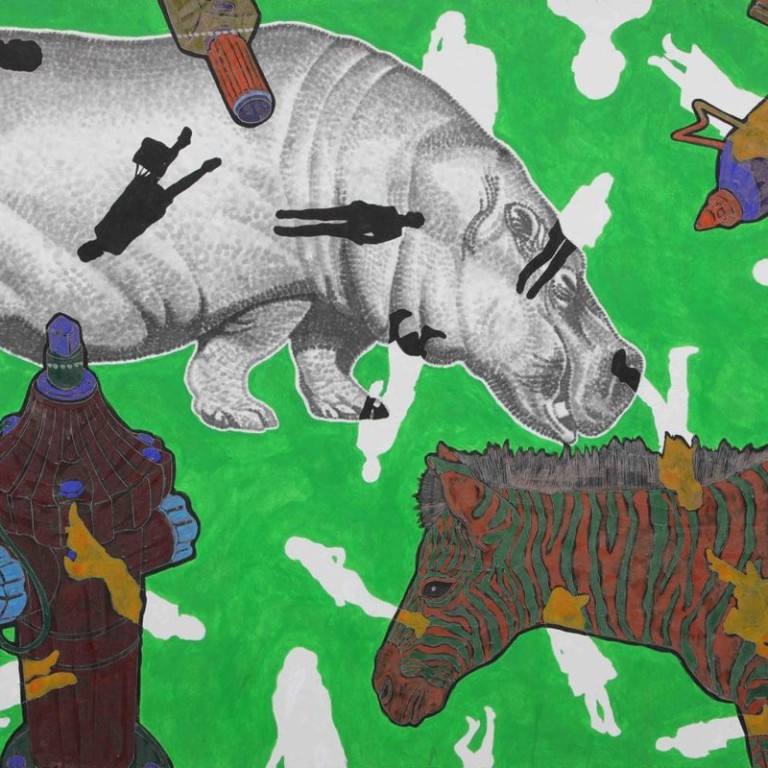 Gallery director says art can help city emulate creative Koreans
The K-pop beat and Gangnam style of South Korea's music stars may have taken Asia by storm, but that is not the only area in which the country is exporting its cultural influence. 
Supported by:
Discovery Reports
The K-pop beat and Gangnam style of South Korea's music stars may have taken Asia by storm, but that is not the only area in which the country is exporting its cultural influence. 
In Hong Kong, people may be most familiar with the well-crafted movies and cliff-hanger TV dramas on local screens. There is also an increasing fan base of collectors and connoisseurs drawn to the paintings and other works of the latest generation of Korean artists, and those who paved the way over the past half-century or so. 
A number of leading works were on display at the Art Basel event held in Hong Kong.
But for a more leisurely viewing of a much larger selection, one of the best places to start is Moon Gallery in Queen's Road West, which started to import and sell works by Korean artists in 2007. 
"We show mainly oil paintings, but also have sculptures and photography products," says gallery director Roger Lin, who describes Korea as a "core region" for the creation of distinctive art in Asia, alongside mainland China and Japan. "Korea is a very artistically vibrant place, where people are ready to try new ideas and experiment with different materials and challenging media concepts, but these are totally marketable as well." 
These days, Hong Kong buyers tend to be attracted by the typically bold use of colour and more abstract images. They are also intrigued by distinctive techniques such as the thick application of paint on a canvas - perhaps as much as two inches - which gives a virtual 3D effect. 
The subjects can range from street scenes to famous individuals and compositions which reference today's pop icons and flora and fauna which serve as metaphors for Korea's cultural history and national identity. 
Lin notes, the works of Kwon Hyun-jin have proved consistently popular in Hong Kong over the past few years - and demand is growing. She is recognised as a painter with crossover appeal, who has had a marked influence on fashion brands and aspects of interior design in South Korea. 
In January, an exhibition of her work at Harbour City in Tsim Sha Tsui - "Essence of Colour" - drew rave reviews and helped to inspire a new level of excitement and awareness. 
"In many ways, these are very exciting times for Korean artists," Lin says. "With so much going on, at our gallery we are very open to collaborating with different people who may not yet be well established. 
"We are always on the lookout for young artists with new ideas and alternative approaches. We are relatively well known to the art community in South Korea and can receive four or five contacts a week from new people keen to introduce themselves and their work." 
On the principle of offering something for everyone, the gallery sells some paintings in Hong Kong for HK$10,000 to HK$20,000. Others can go for HK$100,000 or more, and anything by Nam June Paik, a revered figure on the Korean art scene who worked with different media including video, is sure to interest aficionados and serious collectors, as well as the general public. 
"He has influenced Korean art a great deal since the 1970s and helped to develop things in terms of gaining international recognition in East Asia and beyond," 
Lin says. "In one way or another, almost everyone who came afterwards has looked to him or learned something from him." 
For Hong Kong to emulate South Korea and make strides towards being a centre of creativity and the production of interesting, high-quality artworks - not just a venue for auctions and exhibitions - Lin believes there are two essential steps.
"We have not really established what 'Hong Kong art' is, as a distinctive or representative genre," he says. "We need to develop that concept. At the big fairs like Art Basel, you see the big-name Western and international artists, but few people go - or expect - to see specifically Hong Kong artists, so it is important for us to change that." 
To do this, he notes, it would help to have many smaller exhibitions throughout the year. These can easily be held at museums, galleries and other public venues and could play a significant part in generating widescale interest and appreciation. 
"We need to build up the local audience, which includes things like arranging talks and visits for schools and students," Lin says. "Knowing there is a receptive audience obviously helps to encourage artists and inspire their creative efforts. Nowadays, it is a lot easier to promote art and artists compared to 20 years ago, but there is no reason not to do more."