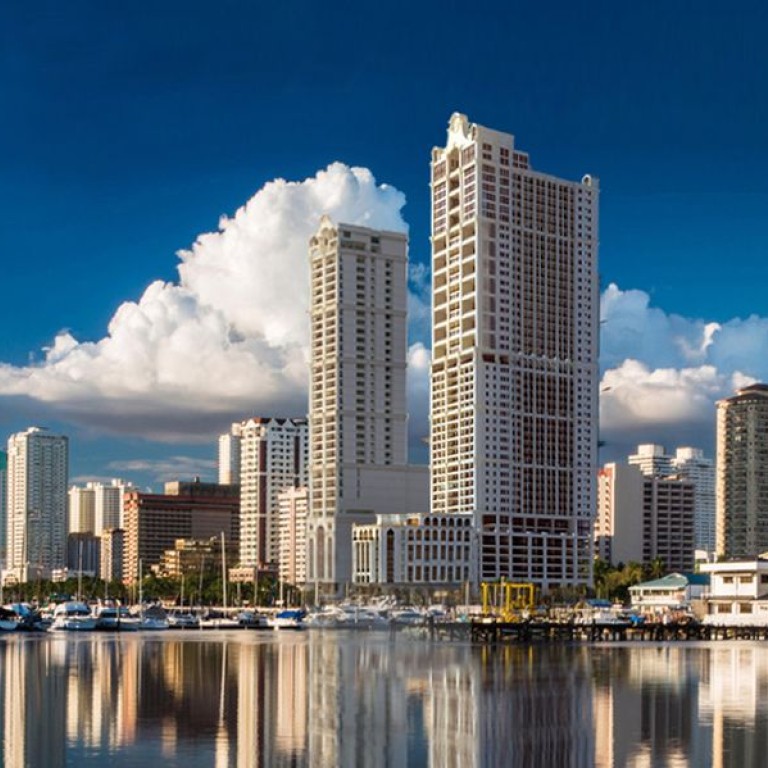 Anchor Land surges ahead with upscale property projects
Brimming with the right fundamentals, the Philippines' property market sits on a sweet spot. The country is among Southeast Asia's fastest-growing economies with a forecast growth of 6.3 per cent this year, making it a favoured location for multinationals and outsourcing companies. 
Supported by:
Discovery Reports
Brimming with the right fundamentals, the Philippines' property market sits on a sweet spot. The country is among Southeast Asia's fastest-growing economies with a forecast growth of 6.3 per cent this year, making it a favoured location for multinationals and outsourcing companies. 
In Asia, it has the lowest rental rate and the highest prime office yields averaging at 10 per cent. In this year's Emerging Trends in Real Estate Asia-Pacific survey published by the Urban Land Institute and PwC, the Philippines' capital region of Metro Manila ranks eighth out of 22 regional markets for investment and development prospects. 
Among the country's prime real estate locations is Binondo, a bustling commercial enclave and home to wholesale and retail suppliers in the city of Manila. Behind its Arch of Goodwill that heralds arriving visitors, a trove of historic buildings, commercial sites and modern structures line its busy streets. Many major establishments run by Filipino-Chinese magnates trace their humble beginnings to Binondo, which also serves as a gateway for overseas Chinese seeking business opportunities in the country and the epicentre of China's link to the Philippines.
Anchor Land (ALHI), one of the foremost real estate developers in the Philippines, carries on its mission of transforming Binondo's cityscape. With a discerning eye for fresh opportunities, the company foresaw an imminent demand for luxury condominiums in Binondo when it still had predominantly low- and medium-rise apartments. "When we started, most of the developers were concentrated on key business districts. To us, Binondo is an untapped market with a strong financial background," says Steve Li, CEO. "While everyone stepped back, we stepped forward."
Anchored by 100 per cent commitment
A fast-growing industry player, ALHI is a publicly-listed company specialising in the development of high-end residential condominiums. It mainly serves the Filipino-Chinese business elite, with a growing clientele of foreign investors. ALHI promises 100 per cent hands-on involvement and a commitment to quality every step of the way. 
The company attributes its success to a steady stream of client referrals. "We have established a solid reputation among our Filipino-Chinese clients who are mostly repeat customers, and they help us develop and expand our market network through their recommendations," Li says. 
Invigorating Binondo, the world's oldest Chinatown
For its maiden project, the company built the 33-storey Lee Tower Condominium in 2004, the first of its kind in the local Chinatown. 
"In the past, Filipino-Chinese business owners were combining their residence with their office or warehouse. With Lee Tower, we were able to meet our clients' need to separate work from home," Li says. The company introduced the concept of high-rise, high-quality housing in Binondo that allowed people to enjoy the perks and benefits of condo living. 
ALHI maintains a thorough understanding of its niche market. "Chinese buyers consider the company's background and reputation before investing, including the buyers' credit records," Li says. "In the Philippines, we were the first to offer a five-year payment scheme at zero per cent interest, a quick payment option from the standard 20- or 30-year home mortgage."
Following the success of its initial venture, ALHI built Mandarin Square, which boasts two loft-style units with a garden. To meet the continuous demand for high-quality condominiums in Manila, the company established the 39-storey Wharton Parksuites located at the centre of the Chinese school belt and key commercial districts. 
ALHI topped its own record with bigger and improved luxury condominiums. Standing stately, the 56-storey Anchor Skysuites is considered to be the tallest residential structure in all Chinatowns around the world. It symbolises the pinnacle of success that the Filipino-Chinese entrepreneurs have achieved, who worked their way up and became movers and shakers of Philippine business. Residents of Anchor Skysuites bask in its hotel-like amenities, which include a 25-metre lap pool, sports facilities, a floating lounge and a Zen-themed sky garden. 
Right across Wharton Parksuites is the 39-storey Oxford Parksuites, which was conceptualised to promote learning and development of school-aged children in Chinatown. For upscale yet more affordable units, the company developed Princeview Parksuites - ideal for young families or for those in search of a second home close to the business area.
Creating a ripple effect
Outside Binondo, ALHI is making waves in Manila's reclaimed Bay City area, an emerging business and tourism district. Also known as Asia's sunset strip, the Bay City is groomed to become the hub of leisure, gaming and entertainment in the Philippines with the rising of the state-owned Entertainment City, which features high-end retail shops, hotel-casinos and resort complexes. 
"Many of our expatriate clients want a piece of the Bay City action, which is touted as another little Las Vegas complex in Asia," Li says. "For our clients, being surrounded by the Bay City's lush greenery and open spaces, with the grandiose Manila Bay on the background, is like getting shielded from the hustle of urban living, but still being at the centre of city life."
Prior to the city's planned development, the company had already launched Phase 1 of the SoleMare Parksuites, while Phase 2 was completed last year. 
Situated at the Bay City's Aseana Business Park, SoleMare Parksuites is a Venetian-inspired, 18-storey, twin-tower residential condominium. It allows up to four-unit combinations, giving buyers the flexibility to configure their floor space and bedroom layout to suit family size and other preferences. 
ALHI's biggest residential project in the Bay City is Monarch Parksuites, a 17-storey, four-tower development housing 1,500 units. Designed in Dutch baroque architecture, Monarch Parksuites gives residents a glimpse of the royal life. Its first-class amenities cover an expanse of 8,000 square metres, including two 50-metre lap pools, a gourmet dining suite, an elegant function room, sports and leisure facilities, and a landscaped parterre. 
Another colossal project in Manila Bay area is the Admiral Baysuites, a 53-storey residential condominium and the country's first five-star boutique hotel under M Gallery of Accor in the Philippines. Located along the premier side of the unreclaimed Roxas Boulevard, Admiral Baysuites provides an unobstructed view of the bay sunset. 
Decked with old Spanish interiors, Admiral Baysuites assures its residents a six-star, white-glove, hotel-grade service. Each premium unit comes with a private pool, and clients looking into spacious dwellings will benefit from its 800-square-metre units. Admiral Baysuites was voted as the Best Luxury Condo Development (Manila) in last year's Philippines Property Awards.
"Prospective buyers of our residential units are enjoying increased turnovers year-on-year," Li says. "We are not here to maximise our returns - we are also about passion, and we help clients optimise the value of their investments." The company's leasing and property management group, Anchor 100, provides a full suite of after-sales support activities including sourcing out prospective tenants, legal documentation, and building maintenance and administration.
Strengthening recurring revenues 
For its recurring income segment, the company has forayed into commercial space developments. Its initial venture, One Shopping Center, was patterned after the wholesale mall concept. Soon after, ALHI built Two Shopping Center, a mixed-use development comprised of wholesale and retail shopping centres and a residential area. 
To serve the small- and medium-scale businesses, the company has two current projects - the 15-storey One Logistics Center in the Baclaran commercial area, and the 12-storey One Soler, which will provide warehousing facilities in Divisoria, Manila's wholesale hub. 
A lifestyle and investment partner
The company continues to reap national and international accolades for its world-class branding strategy. In December last year, ALHI was the only real estate company in the Philippines to receive the Asia Excellence Brand Award presented by Chinese newsweekly magazine Yazhou Zhoukan.
ALHI is set to break new ground with two high-end residential projects that are about to launch this year. 
The 42-storey Admiral Grandsuites along Roxas Boulevard will offer only two premier residential units per floor. The 63-storey Anchor Grandsuites in Binondo will have 400 units with sizes ranging from 100 to 300 square metres. 
"When we develop a project concept, we always get inputs from our previous or existing buyers to better understand their needs, their interests and preferences, and come up with something that we have not yet done before," Li says. "This is how we keep on improving ourselves." 
Keen on converting untapped market potentials into opportunities, the company invites strategic partners with the same passion for excellence. 
"Creating strong, viable partnerships requires careful consideration. More than the transfer of knowledge, partners should create synergy to achieve a common goal," Li says. "At ALHI, we do not just build ordinary buildings and iconic structures. We are building the landmarks of tomorrow."