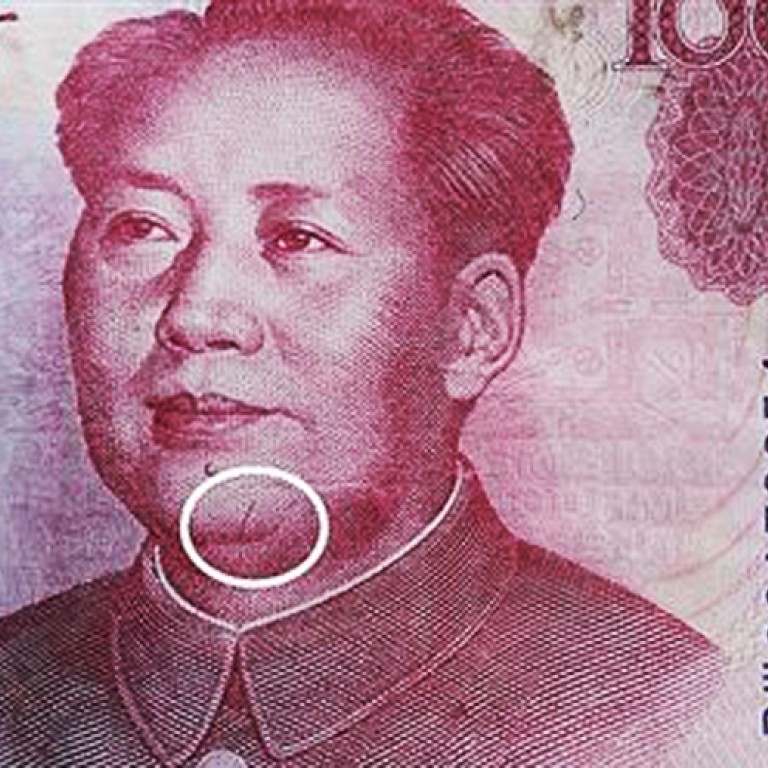 Chinese worker 'surprised' to be offered a million yuan for faulty 100-yuan note
Well-healed mainland numismatists – collectors of paper currency – are offering up to one million yuan for a super-rare 100-yuan RMB note with a printing flaw, much to the surprise of its owner, a Chongqing resident who received it in his wages pack.
The note features a mistakenly printed extra line, right on the portrait of the late chairman Mao Zedong, the Chongqing Evening News reported.
The line is about 3mm long and appears on Mao's chin. The note has been verified as authentic.
The owner, surnamed Zheng, said he found the note in his monthly pay three years ago. He thought it was a bit weird and has kept the note in his wallet ever since.
After reading a recent news item that flawed Renminbi notes could be worth up to a million yuan to collectors, Zheng took a photo of his note and posted it online. To his surprise, he soon received many requests to buy it. An auction house even priced the note at 1.5 million yuan (HK$1.9 million).
However, another auction house said that because the note was printed in 1999, and was relatively new, it might be overpriced.