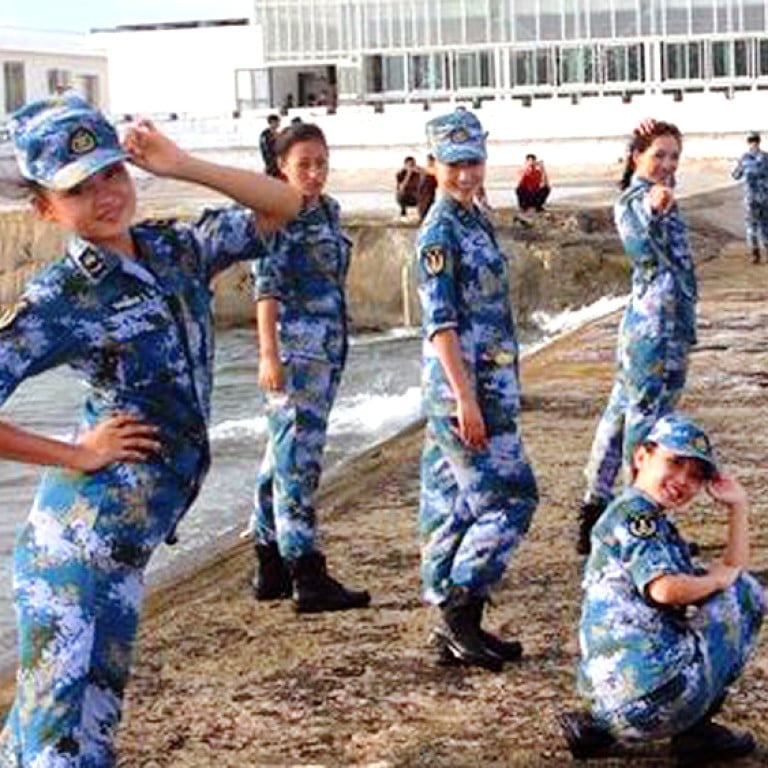 What dispute? Fresh-faced Chinese troops strike a pose on reef at centre of wrangle with US, SE Asia
Chinese website publishes photographs from one of the bases China is developing in contested waters, amid tensions over the policy with neighbouring countries and the US
A Chinese website has published photographs from one of the reefs under China's control in the disputed South China Sea showing female sailors posing on ocean breakwalls, vegetable gardens being watered and even pigs in a pen.
The slideshow of 17 photographs from Fiery Cross Reef shows how quickly China is developing facilities to support its troops on the newly formed island following major land reclamation.
Sina, one of China's biggest web portals, put the slideshow online under the headline "Gratifying results on China's Yongshu Reef: building vegetable greenhouses and growing fruit trees".
Fiery Cross is among seven Chinese-held reefs in the Spratly chain of the South China Sea that are being transformed into artificial islands despite alarm from other claimants to the strategic waterway and growing criticism from Washington.
Sina did not say when the pictures were taken or by whom, although they appear to have been taken from various other websites, including state radio and at least one celebrity gossip site. The pictures had no captions.
In one photograph, six female sailors in camouflaged uniforms pose on a breakwall with a greenhouse in the background. Another picture shows a female sailor, or naval officer, standing by a stone plinth reading Awe-inspiring South China Sea.
The greenhouse is a particular focus of the slideshow, with its aubergines and tomato plants growing in neat lines. A dozen plump pigs in a sty appear in one photo.
What is not shown are the reef's military facilities, such as a 3,000-metre runway and airborne early warning radar systems that are visible on commercial satellite images.
Neither is there any sign of dredgers or other equipment used to reclaim land.
China said this week that some of its reclamation work in the Spratlys would be completed soon but that it would continue to build facilities.
It says the outposts will have undefined military purposes as well as help with maritime search and rescue, disaster relief, environmental protection and navigation.
There have been recent tensions between the Chinese navy and the US military around the Spratlys.