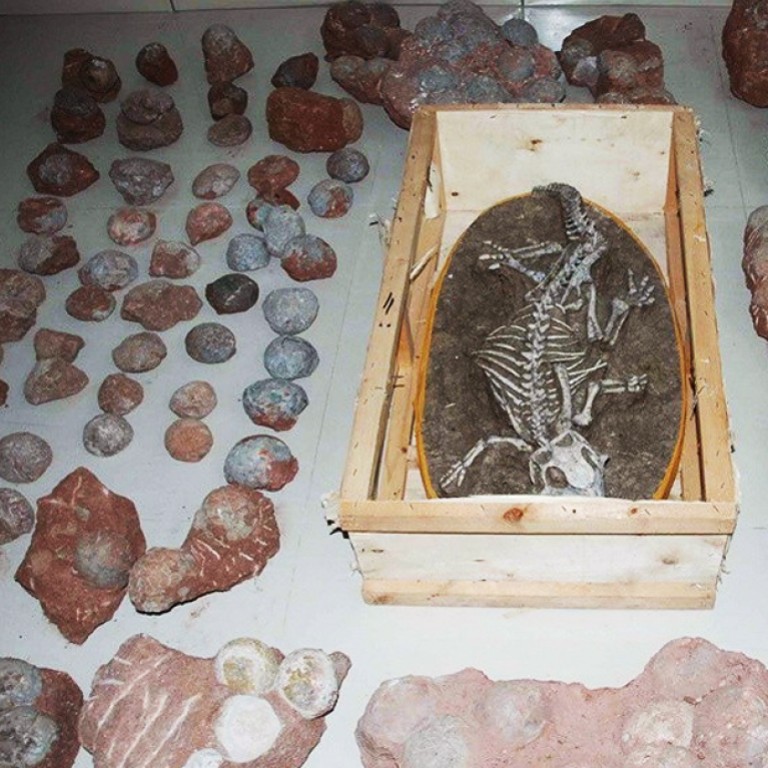 Chinese police find stolen dinosaur skeleton and 213 fossilised eggs hidden in village house
Workers had unearthed dinosaur eggs at construction site in Guangdong province in June and late July, but most were stolen before scientists arrived
Police have retrieved 213 stolen dinosaur eggs and a complete dinosaur skeleton after raiding a home in southern China, mainland media reported.
Workers unearthed the fossilised eggs at a construction site in the city of Heyuan, in Guangdong province, in June and late July, but most of them were stolen by villagers living in the area before researchers and scientists could arrive at the scene, China News Service reported.
Police are still investigating whether the eggs stolen from the construction site are the same ones that were found during the police raid on July 30. 
Photographs published with the report showed the fossilised eggs had been stacked up under a staircase inside the home of a villager. But the report did not say whether anyone had been detained.
The Heyuan Museum, which houses the city's dinosaur egg collection, identified the eggs as ones that have often been found in the area, but said it was unable to say whether they were the same eggs that had been removed from the construction site. 
The skeleton, which was unearthed in northeastern Liaoning province, was identified as belonging to a Psittacosaurus  – a plant-eating dinosaur that grew to about two metres in length, which roamed the earth at least 65 million years ago during the Cretaceous period.
The report did not say how the skeleton had come to be inside the house in Heyuan.
Heyuan, which calls itself the "Home of Dinosaurs", boasts the world's largest collection of dinosaur eggs.
The city's authorities say that 17,000 fragments of fossilised dinosaur eggs have been found in the area since the first discovery was made on a river bank in 1996.
Police have formed an investigation team to retrieve the stolen dinosaur eggs after rampant looting occurred at the construction site.