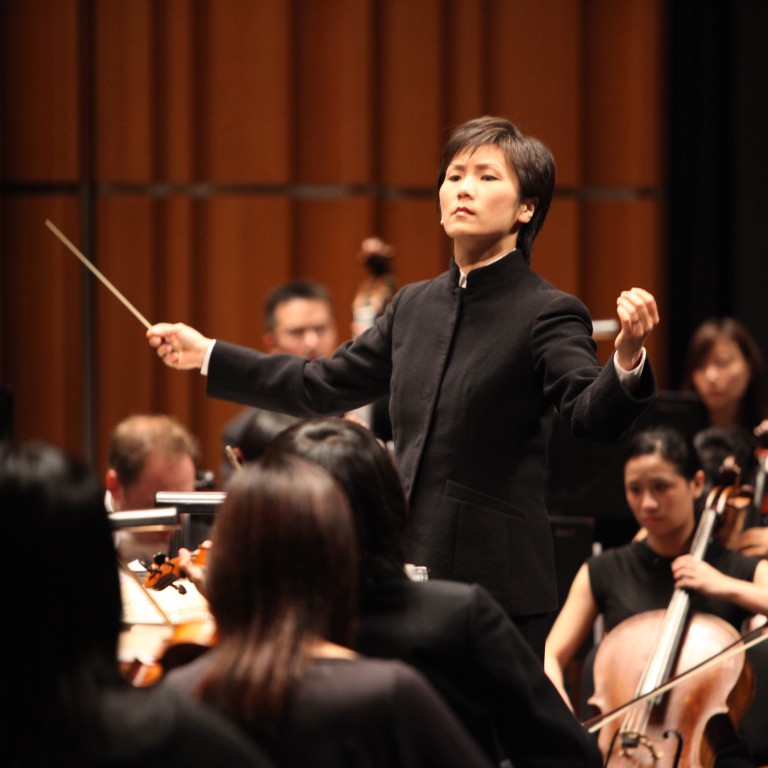 Yip Wing-sie - Music director, Hong Kong Sinfonietta
If Yip Wing-sie had doubts about making it as a conductor, she knew other options were always available - as a violinist, piano teacher or perhaps going into concert promotion after taking an MBA.
One thing though was sure: her life and career were destined to revolve around music. Born to parents who met as students learning composition at the Central Conservatory in Beijing, she grew up in Hong Kong practising, singing in her father's children's choir and generally surrounded by the sounds of the Western classical tradition.
'My dad influenced and inspired me to become a conductor and gave me the chance to work with the choir,' says Yip, who has been music director of the Hong Kong Sinfonietta since 2002 and was resident conductor of the Hong Kong Philharmonic Orchestra for 14 years from 1986. 'As a teenager ... you will soon find that the experience of working with a group of people is very rewarding. When everyone listens, there is a feeling you have achieved something.'
Attending London's Royal College of Music, Yip was a violin major, in part because she realised the importance of a solid grounding in performance, music theory, history, orchestration and composition. It was after going to Indiana University in Bloomington that her focus turned more to conducting, which led to fellowships and special attention from maestros Leonard Bernstein, Norman Del Mar, Seiji Ozawa and Gustav Meier.
'I never felt the same passion for playing the violin as I do for conducting,' says Yip, who is one of a handful of successful female conductors in Asia. 'What I most enjoy is that you [are] 'playing' many instruments, not just one, and getting to transform what the composer had in mind into real sound. Besides the technique, you also have to develop a certain skill in communicating with people so that they do things your way. All of this makes for an endless process of learning, but is also very fulfilling.'
Yip seeks to inspire the sense of interest and excitement she feels in as wide an audience as possible. 'Education and outreach programmes are an important part of my work,' she says. 'We want to expand our audience, so that classical music becomes part of everyone's life in Hong Kong. We need to come up with different ideas and approaches and speak the right language to get more people - kids, Chinese, 60-year-olds - in the habit of attending performances.'
The orchestra performs about 90 concerts a year that, together with rehearsals, overseas tours and administrative duties - not to mention family commitments - make for a packed schedule. Yip insists, though, with additional funding, it would be possible to do up to 120 shows a year. This would give the chance to introduce to the repertoire more pieces written in the 20th century and even new works.
'While we enjoy doing music written in the 18th or 19th century, we can't always live in the past,' she says. 'We also need to encourage more creativity among composers of our own generation.' The key to conducting is to be true to oneself, regardless of the programme.
'Whatever gesture you use should come from the heart - not choreographed, not for the audience,' Yip says. 'If it is not from the heart, it doesn't mean anything.'