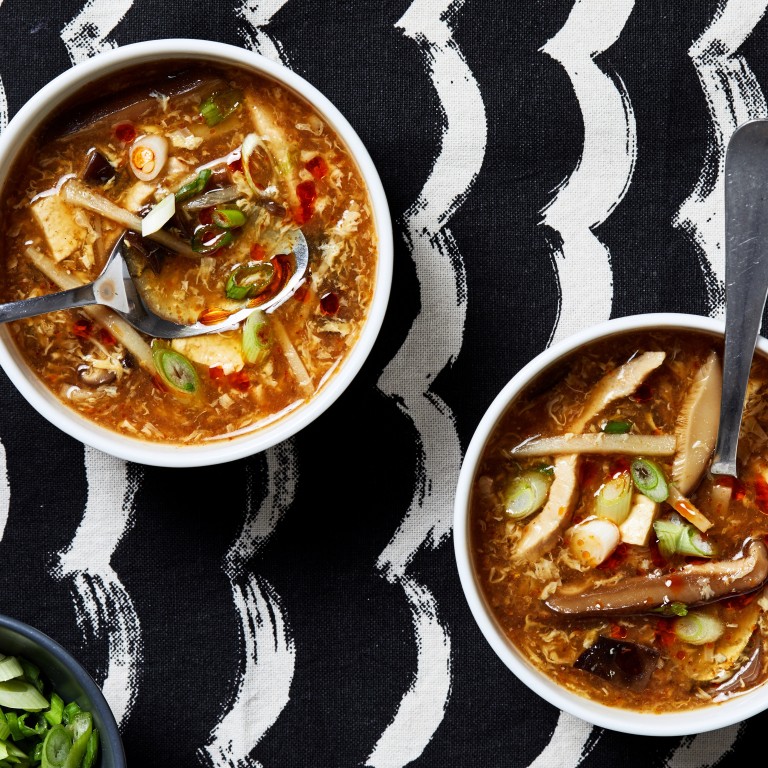 Easy hot-and-sour soup for days when the cold (or a cold) gets you down
An easy recipe for that Chinese takeaway favourite, and liquid gold
On days when you need something full of flavour, or full of cold-busting goodness, this better-than-Deliveroo soup is ideal.
Takeout-style hot-and-sour soup
Ingredients (4 to 6 servings)
15g dried shiitake mushrooms (about 6)
15g dried wood ear mushrooms (about 3)
2 cups warm water, plus 4 cups cool water
250g boneless pork loin, cut into thin strips
1 1/2 tsp Shaoxing wine (Chinese rice wine; may substitute dry sherry)
3 tbsp cornstarch combined with ¼ cup water, plus 1 1/2 teaspoons cornstarch
1 ¼ tsp salt
5 tbsp Chinkiang black vinegar (see headnote), or more as needed
2 tsp chili oil, plus more for optional garnish
1 tsp ground white pepper
10 thin slices fresh ginger
2 tbsp regular or low-sodium soy sauce
¼ cup canned bamboo shoots, drained and cut into matchsticks
250g firm tofu, cut into 1cm cubes
2 large eggs, lightly beaten
2 to 3 spring onions, thinly sliced
Steps
1 Gently rinse the dried shiitake and dried wood ear mushrooms with tap water. In a medium bowl, soak the mushrooms in the 2 cups warm water until softened, about 20 minutes. Squeeze the excess water out of the mushrooms and reserve the water. (Strain the mushroom water through a fine-mesh strainer if it looks too gritty.)
2 Discard the stems from the shiitake mushrooms and slice the caps into strips. Discard the tough ends of the wood ear mushrooms before chopping into bite-size pieces.
3 In a medium bowl, combine the pork, Shaoxing wine, 1 ½ tsp cornstarch and ¼ tsp salt. Mix until the pork is evenly coated, and let it marinate on the counter for 10 to 15 minutes.
4 In a small bowl, stir together the black vinegar, chili oil and pepper.
5 In a medium saucepan over medium-high heat, combine the mushroom water, 4 cups cool water and sliced ginger and bring to a boil. Cook for 2 to 3 minutes, then, using a slotted spoon, remove and discard the ginger.
6 Add the soy sauce, followed by the rehydrated mushrooms and bamboo shoots, and simmer for 5 minutes. Give the cornstarch mixture a quick stir to recombine and gradually stir into the soup. The soup will become slightly thickened.
7 Add the pork, including the marinade, to the soup, stirring to separate any pieces that stick together. Continue to simmer until the pork is no longer pink, about 2 minutes. Carefully add the tofu, so the broth does not splash. Stir in the remaining 1 teaspoon salt.
8 Slowly pour the eggs into the soup in a steady stream while stirring continuously with a long spoon or chopstick. The eggs should cook immediately and look like long yellowish-white strands. Turn off the heat once you see the strands, so the eggs do not overcook, and stir in the black vinegar mixture.
9 Serve hot, garnished with scallions and additional chili oil, if desired.
Notes:
Make it veggie by replacing the pork with more tofu.
If you like your soup particularly hot or sour, add more chili oil or vinegar to taste.
The soup will keep in the fridge for up to three days.
This article was curated by Young Post. Better Life is the ultimate resource for enhancing your personal and professional life.