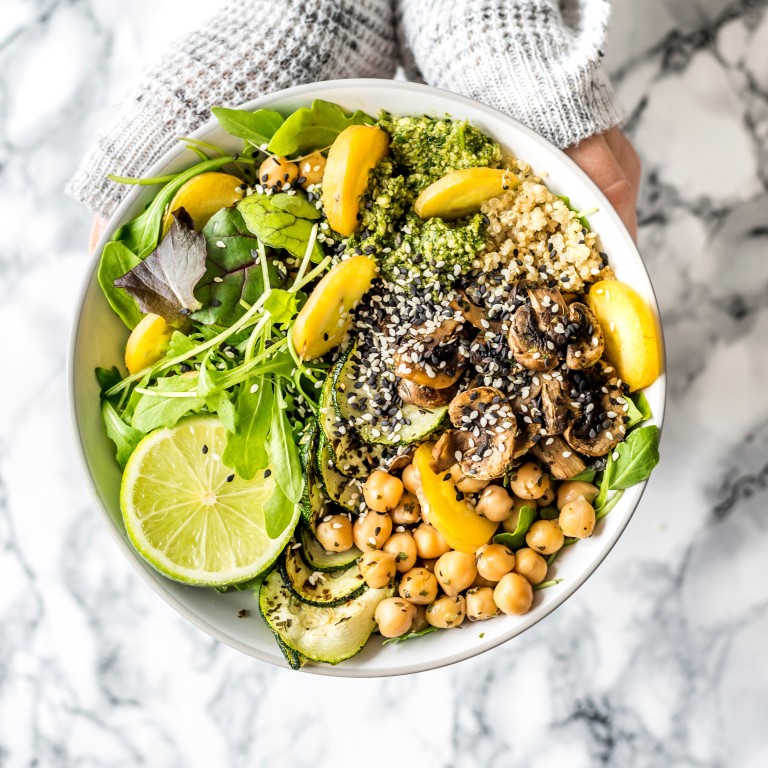 6 easy steps to the perfect salad
If you're staying in due to the coronavirus pandemic, make the most of your time and learn how to make healthier meals
Beat the quarantine 15 and boost your immunity with these simple ideas
With lockdown and self-isolation, it's all too easy to order Deliveroo instead of making nutritious, balanced meal. Isolation weight gain is real! But you can kick-start your health without too much effort: eat salad.
We're not talking limp lettuce and a couple of squishy tomatoes. A good salad is a perfect balance of crisp, fresh ingredients, muscle-repairing protein, energy-giving carbs and a dressing that ties everything together.
Plus, taking the time to plate it up beautifully is soothing and aesthetically pleasing – and great IG feed fodder!
Here's our guide to building a perfect summer salad. Whether you plate it or make a Buddha bowl is up to you. Just enjoy the building process, and feel proud that you're taking care of your body.
1 Start with the leaves
Leafy greens are incredibly nutritious. They're packed with vitamins A, C and K, tend to contain minerals like potassium and magnesium, and the darker green leaves are often high in calcium.
What's more, greens are high in fibre, to help you ... "go" regularly.*
Choose something hardy like spinach, romaine, cabbage or kale if you want the leaves to act as a structural foundation for your salad; for something more delicate, try rocket or watercress. (And don't knock the humble butter or iceberg lettuce! They're delicious, too!)
2 Add colour!
This is the really fun part. By adding a range of veg to your dish, you can create a work of art on your plate.
You can use fresh vegetables – baby bell peppers, sliced cucumbers, raw broccoli, shaved carrots, cherry tomatoes, avocado. OK, we know the last two are fruit, but these also work well in salads: try a handful of your favourite berries, a sliced apple or peach, citrus segments, chunks of pineapple, or dried fruit.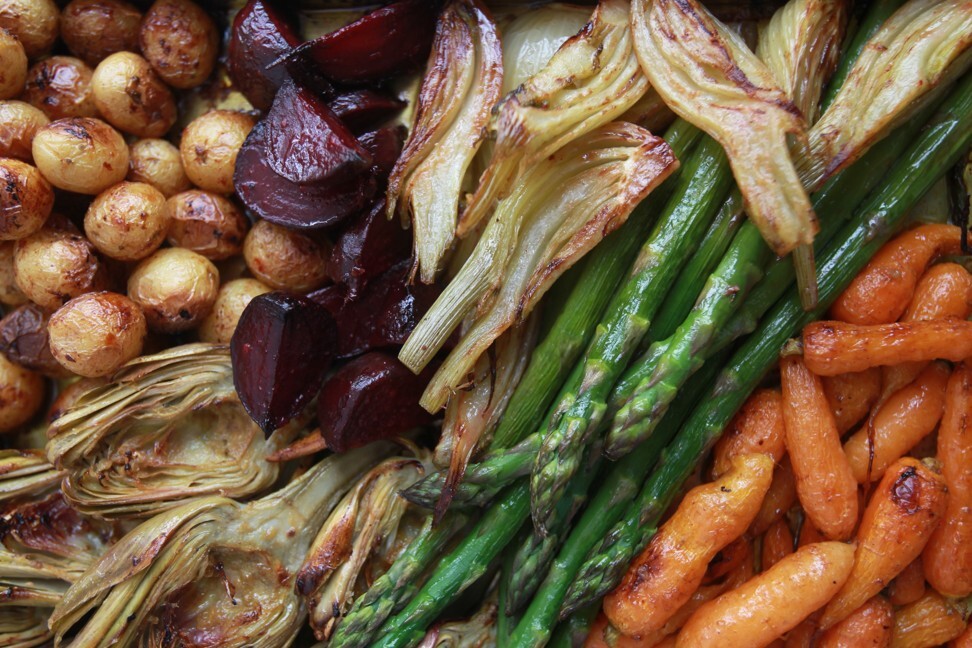 Lightly steamed options, either chilled or still warm, add a different texture: think podded edamame, asparagus, sweetcorn and peas.
And if you have an oven and are the sort of prep-ahead person who always has food in the fridge, whip up a tray of roasted or grilled veggies, with or without seasoning, works wonders. We love roasting aubergines, cauliflower, carrots, corn, beetroot, onions ... we'll roast anything, really. If you let them char a little, you also add a really lovely umami note to your finished salad.
3 Carbo load
You don't need carbs in a salad – sometimes you want to eat something light. But they're very much at home there, especially if you serve your salad in a bowl, with the carbs on the bottom.
Think roast potatoes (sweet or baby work especially well), bulgar wheat, pasta bows, couscous or quinoa. Or, of course, just serve a slice of your favourite bread on the side!
4 And flex
Salads are a great way for vegetarians to get a balanced meal, because it's so easy to add protein without any effort. Say it with me: beans are my friends!
There are so many canned bean and pulses options to save you time – just drain, rinse, and drain – but if you enjoy spending time in the kitchen, it's worth learning to cook them from dried. Chick peas, lentils, kidney, butter, cannellini, black beans ... there are so many options.
You could also add some cheese, for a boost of calcium alongside that protein. Mozzarella and feta are classics, but you could also crumble blue cheese or cheddar, or shave some parmesan over the top.
Omnivores, don't feel limited. Sliced, grilled chicken breast, stir-fried beef slices, crispy bacon, grilled or tinned fish all work brilliantly. As does an egg: poached, boiled or fried.
5 Get it dressed
You can eat a salad without dressing, but a well-seasoned sauce really brings all the separate elements together into one delicious experience. Basically you want a nice balance of acid and oil, with a little salt – you can use olive oil and citrus juice, or blend sesame oil, yuzu or lime, and soy sauce for a more Asian vibe.
6 Crunch crunch
Once you've assembled your salad, top it all off with a handful of chopped nuts, croutons or seeds, and dig in!
*Yes, we mean poop.
This article was curated by Young Post. Better Life is the ultimate resource for enhancing your personal and professional life.