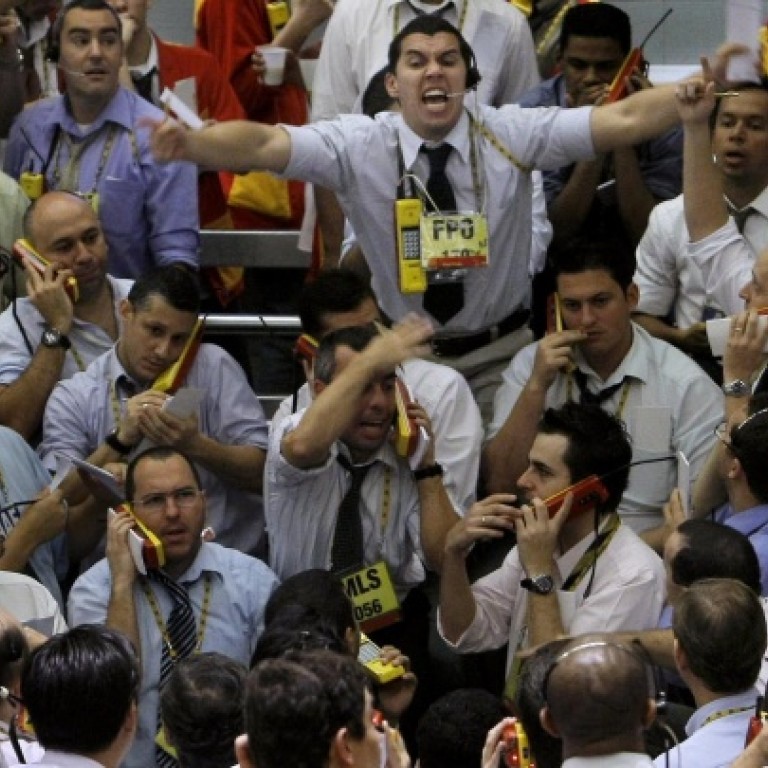 Hong Kong investors uninterested in BRICS cross index futures
Bid to develop cross-border trading proves a flop as HK investors show little interest
With many investors interested in emerging markets, it sounded like a great idea when the BRICS Exchanges Alliance was formed 19 months ago.
But it now appears the alliance has been a flop. It has achieved little and its grand idea of cross-border trading of futures contracts across exchanges has fizzled.
The emerging markets of Brazil, Russia, India, China and South Africa formed the alliance in October 2011, with Hong Kong Exchanges and Clearing representing China.
At the time of the establishment of the alliance, the five exchanges had a combined 9,481 companies listed, with a market capitalisation of US$9.02 trillion. Their combined monthly turnover was US$422 billion, representing 18 per cent of all listed derivative trading worldwide.
The aim of the alliance was to develop cross-border trading of products, and to work together to develop other projects.
There has been 15 months of cross-border trading. Yet little progress has been made so far.
The only achievement has been the cross listing of each other's benchmark equity index futures in March last year.
Figures show Hong Kong investors have little interest in the products.
In the first four months of the year, there was no trading at all in the other four markets' index futures - India's Sensex, Brazil's Ibovespa, Russia's Micex and South Africa's FTSE/JSE Top 40.
In fact, there has been no trading at all in the FTSE/JSE Top 40 futures.
Brazil's Ibovespa futures had only seven contracts traded last year, while Russia's Micex Index futures had eight. India so far is the most popular contract among the four overseas exchanges, with its Sensex futures recording 190 traded last year.
The results show Hong Kong investors are not that interested in cross-listed futures trading. That is not surprising.
Many of them focus on mainland Chinese stocks and pay attention to mainland economic data.
Analysts based in Hong Kong also focus on mainland or Hong Kong stocks.
Moreover, the other four markets are not popular destinations for Hong Kong holidaymakers. Investors know far too little about what is happening in their economies and stock markets, and few analysts write reports about them.
All this has a familiar ring to it. The seven Nasdaq-listed stocks that have been cross traded on the HKEx since 2000 - technology firms Microsoft, Intel, Dell, Cisco Systems and Applied Materials, along with Starbucks and biochemical firm Amgen - also see only modest turnover in Hong Kong. BRICS Alliance cross futures products have proved to be a failure.
The HKEx would be better off focusing on mainland Chinese stocks and products. They are what local investors are interested in.
This article appeared in the South China Morning Post print edition as: BRICS cross index futures hit a wall