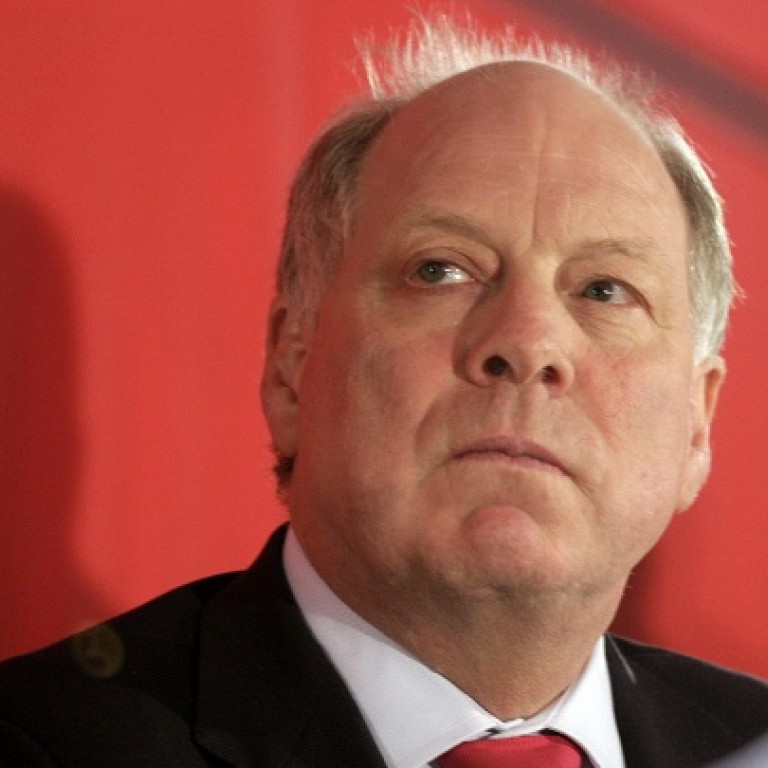 Art Basel brings out the beautiful people
Art Basel Hong Kong, as the Hong Kong Art Fair is now known, opened its doors yesterday to the press and "VIPs". It was hard for to decide which was the more absorbing, the art on display or the beautiful people that flocked to the show.
Unusually, it was mostly the men that stood out for their distinctive plumage, rather than the women. We particularly liked the attire of one gentleman: gleaming silver loafers, bright green trousers, blue and white checked shirt, with a dark blue jacket. Then there were the fortyish types in their skin-tight trousers, pointed shoes and tight jackets. Lots of suits and no ties, mingling with more conservatively, though immaculately dressed, well-heeled Euro-types.
"It's all a bit silly, really," one connoisseur of these events confided to us, "but it adds to the fun."
During our tour of the galleries we espied David Tang loudly pontificating to his entourage, which seemed to include the vivacious Kate Moss. As for the art: well-displayed and interesting, particularly as about half of it was produced by Asian artists. We'll leave the finer points to the experts. But definitely a fun event.
To the Asia Mining Club (HK) dinner to hear the thoughts of Andrew Michelmore on the state of the industry. He is executive director and chief executive of the Melbourne-based but Hong Kong-listed MMG.
MMG is a mid-tier global resources company which is effectively based on the assets of OZ Minerals, which were acquired by its parent, China Minmetals Corp in 2009. MMG mines, explores and develops base metal projects around the world.
Michelmore is an industry veteran of some 28 years, which has included a spell as chief executive of OZ Minerals and two years working for the Russian oligarch Oleg Deripaska as chief executive of En+ group. Unusually for a mining executive, Michelmore's academic qualifications include an MA from Oxford University in philosophy, politics and economics.
He views the medium to long-term demand horizon with some optimism, and said: "The growth of China and increasingly India has and will continue to be the defining economic themes of our generation." There were words of praise for the mainland's long-term strategic outlook, which he contrasted with the rhetoric of Western economists, which was "entrenched in a boom-and-bust paradigm".
Michelmore said the move from a low wage, export-driven model to domestic consumption had "huge implications" for the metals sector. "We will see a steady transition from raw steel and its iron ore and coking coal inputs to base metals, such as copper, zinc, aluminium, and later cycle specialty metals such as nickel and platinum group metals."
Answering questions, Michelmore could not resist what is now becoming a stock joke among Australian miners. He was asked, since MMG has operations in the Democratic Republic of the Congo, if he was worried about the political risks of operating in the country. He replied: "Much less so than the risks in Australia." The mining industry is still fuming over what it sees as ill-conceived government taxation of the industry.
This is probably not what our new leaders in Beijing had in mind with their talk of extending China's soft power. In doing our bit for the cause, we feel it should be more widely known that Chinese stir-fry has now replaced chicken tikka masala as Britain's favourite dish, according to a recent survey.
It is now the most frequently cooked meal in Britain, according to Food Network UK, which surveyed about 2,000 people. One in five Britons eat stir-fry at least once a week. More than two-thirds said a large part of its appeal is that it is far easier to prepare than traditional British cuisine.
Asian food has become increasingly popular in the country in recent years, with families opting for international cuisine over British dishes three nights of the week. Nine out of 10 people in Britain say that their favourite international meals are Asian. Chicken tikka masala is now the second most popular dish in Britain, followed by sweet and sour chicken. Whatever happened to steak followed by Black Forest gateau?