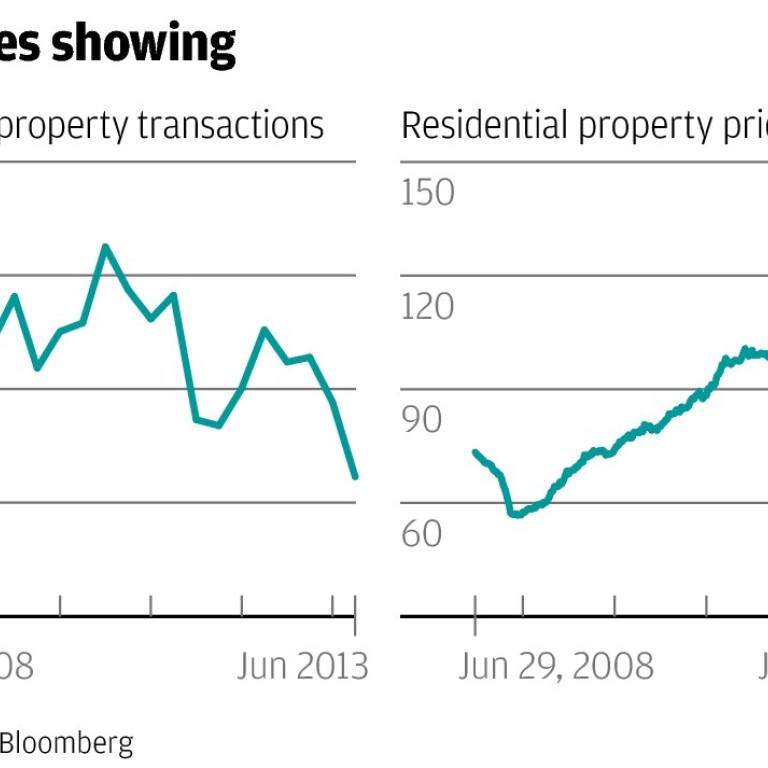 Hong Kong's housing supply to soar just as mortgage rates double
And when currently unoccupied homes are put up for sale, prices can only fall. Then you will see just how unhappy property agents can get
It is doubtful the thousands of estate agents who took to Hong Kong's streets yesterday in protest against the government's property market policies won much sympathy.
Since February, when the government doubled stamp duties, property transaction volumes have collapsed.
Between April and June, the value of residential sales slumped to HK$61 billion. That is down 50 per cent from the same period last year and the lowest quarterly figure since the depths of the financial crisis.
With their commissions evaporating, it is hardly surprising that property agents are upset.
Even so, their grievances are falling on deaf ears. Although the government's cooling measures have hammered turnover, prices are proving remarkably resilient.
After the authorities jacked up stamp duties, home prices initially responded by slipping some 4 per cent. Since then, however, they have rebounded.
As a result, government officials are talking tough, vowing they will not reverse their stamp duty rises and pledging to step up the construction of new housing projects.
Last week, they announced the government will build more than 60,000 public housing flats in the northern New Territories.
Coming on top of existing plans to ramp up construction of both public and private housing, this represents a major escalation of building work. Altogether, according to one count, Hong Kong plans to build 450,000 new homes over the next 10 years, compared with an average of about only 25,000 a year over the past few years.
Even if the government steps up the rate at which old housing is demolished, the net increase in Hong Kong's housing stock over the next 10 years will be enough to house an additional 400,000 families.
This makes you wonder who is going to live in all these new homes. In recent years, Hong Kong's rate of household formation has averaged 1.2 per cent a year, which implies that over the next 10 years the city will only need to house an additional 335,000 families.
In other words, current building plans will leave us with a significant housing surplus.
On top of that, according to government figures, there are currently anywhere between 48,000 and 259,000 homes in Hong Kong sitting empty.
Many of those have been bought as stores of value, with buyers taking advantage of record low mortgage rates to play fast-rising prices.
At some point over the next 18 months, however, it is likely the US Federal Reserve will begin raising its benchmark interest rates once again, and because of Hong Kong's currency peg to the US dollar, local mortgage rates will inevitably follow.
According to Fed watcher Paul Dales at independent consultancy Capital Economics, the Fed is likely to start raising interest rates early in 2015 in an attempt gradually to restore them to equilibrium levels.
With the neutral level for short-term rates reckoned to be America's potential growth rate plus the Fed's inflation target - or about 4 per cent - Dales warns that short-term interest rates could rise by 3.75 percentage points over the next 4½ years.
As a result, his projection implies that the interest rate on a typical Hong Kong mortgage will more than double from 3 per cent today to hit 6.75 per cent at just about the same time the government's home building programme peaks at some 55,000 new completions a year.
Such a sharp increase in funding costs is likely to prompt many of those owners currently sitting on empty properties to put them on the market.
The confluence of these three factors - massive new supply, a sharp rise in mortgage rates, and a spate of attempted sales by property investors - is likely to trigger a major collapse in the market. Bitter experience suggests prices could easily fall by 30 per cent or more.
Now that will really give the city's estate agents something to complain about.
This article appeared in the South China Morning Post print edition as: HK's housing supply to soar just as mortgage rates double