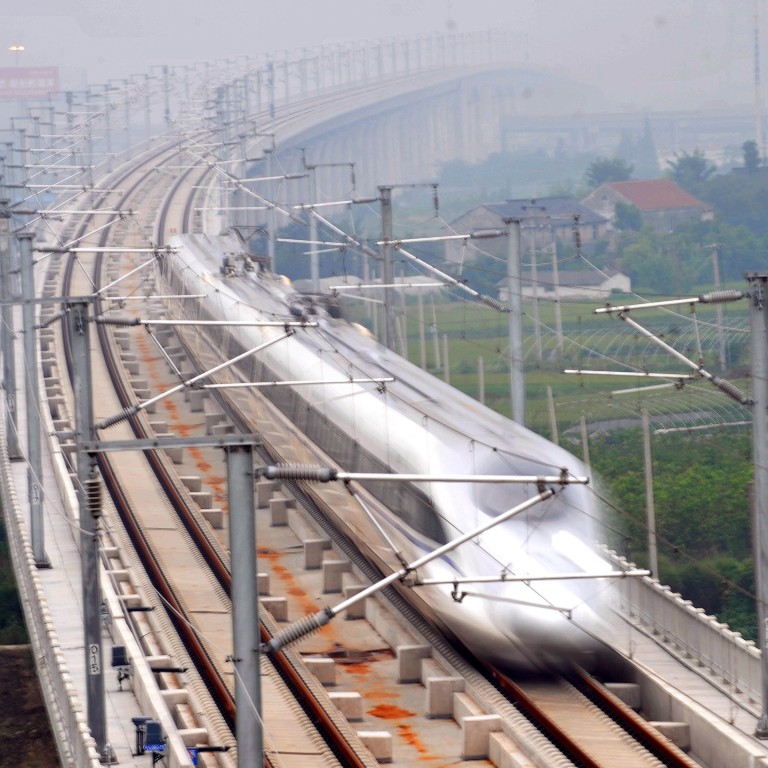 Opinion
Jake's View
by Jake Van Der Kamp
Jake's View
by Jake Van Der Kamp
Cross-border stock trading scheme is not a through train but a milk train
The new direct share trading agreement and wide restrictions will only increase inefficiency
They call it a through train but this latest scheme to allow limited ownership of Hong Kong shares in the mainland, and vice versa, is like no through train on which I have ever ridden.
On a real through train from Shanghai, you would get on at the Shanghai station, having already passed Hong Kong border checks there, and then zip straight through to the Hung Hom station. You would then wonder why you had bothered when, with the traffic jams these days, the short ride home from Hung Hom would take you as long again.
With this new direct share trading arrangement, however, what you get is the milk train, the one that stops at every farmers' village and makes you wonder why anyone ever thought the train was an improvement on the horse.
The proper use of a through train metaphor in economic reform is in reform that takes you all way you want to go in one non-stop move. For stock markets it would mean opening the Shanghai market to all investors around the world without restriction and permitting Chinese nationals to invest anywhere in the world.
But the supposed reform we now have applies to only two exchanges, severely limits the investable amount, both in total and in daily trading quotas, limits the number of stocks in the scheme and limits the agencies through which trading can be conducted. It's a milk train. It stops everywhere.
Our Securities and Futures Commission will also restrict investors coming through Shanghai to institutions and individuals with at least 500,000 yuan in their trading accounts.
This is ironic as such people can, metaphorically speaking, already fly here directly and ignore any train. If they have the money, someone in Hong Kong will always be happy to make them a market in Hong Kong stocks. It is what stockbrokers do. Money dissolves capital flow restrictions.
And as to people from Hong Kong investing in Shanghai stocks, the through train will run empty. Who really wants to stick money into that dysfunctional market except for the occasional piece of arbitrage or insider deal?
Assuming that there were truly interest, ha-ha (Hey, David Letterman, I got one for you), we would soon have not reform but the opposite of reform. Things would be made needlessly more complicated as soon as the quota limits are reached. A two-tier market would become a four-tier market.
What would happen is that a company with an A-share listing in Shanghai and an H-share listing in Hong Kong would also need a separate direct trade quota listing in Shanghai and a separate direct trade quota listing in Hong Kong. Instead of two prices for the same stock, we would have four. Real reform would reduce it to one price.
Of course the exchanges would probably not set up these separate direct trade boards. They would just leave it to the brokers to do the job privately. The spreads would then go even wider. What fine definitions we have of reform.
It is my belief that this is inevitably the fate of piecemeal reform when a command economy tries to change itself into a market economy. There comes a time in this journey when a deep chasm presents itself on the way forward. Crawling along will then only make you tumble in. You have to run and jump if you are to get to the other side.
Crawling along means making pointless changes that look like reform but, in fact, only make things more inefficient. They multiply the opportunities for corruption and worsen the income polarity of the society. It is what we have with this misnamed through train.
And then it becomes increasingly likely that, as in Russia 25 years ago, the authorities will lose control of the process and the final jump to real reform will be made by criminal elements who steal all the economy's resources.
Our financial services minister, however, will still be trying to make his toy train work.
This article appeared in the South China Morning Post print edition as: Through train of reform is actually just a milk train