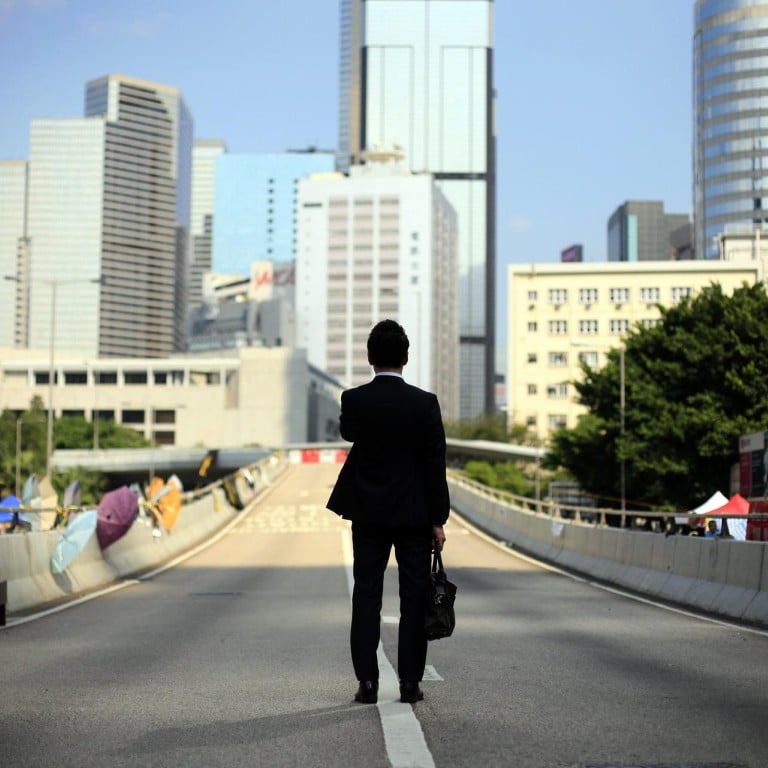 Occupy vs tycoons may be up next
Confronting the tycoons and their monopolies would revive and sustain Occupy, and introduce an indefinite discount into Hong Kong stocks
Until they become conscious, they will never rebel, and until after they have rebelled, they cannot become conscious." For the young people who supported Occupy, George Orwell did more than inspire Mac commercials. He understood how political movements were formed and suppressed. To Hong Kong youth, they have made and witnessed extraordinarily vivid history. And now that people have been politically awakened, investors need to understand how Hong Kong Occupy will affect them.
The current confusion over who leads Occupy is a sign that the movement needs to evolve into an institution that isn't a political party. Occupy is stronger and more flexible as an effectively organised movement. Parties are loyal to their own power regardless of policy agenda. Movements are loyal to their own policy agenda regardless of which party champions it.
Although power corrupts, what is equally true, but rarely observed, is that power always reveals. As a movement achieves more power, events reveal whether or not it will become an institution or merely be remembered as a peaceful protest.
A movement only lasts as long as its cause exists. Although democracy in Hong Kong is a difficult and uncertain cause, the more immediate and achievable ones encompass quality of living issues. And at the heart of that problem are the very rich in Hong Kong, whose cartels control our properties, utilities, and groceries. By directing their energies to these more tangible issues, Occupy threatens to become the champion of the average man, woman and child.
The risk for Occupy is that when it transforms itself from a movement and into an institution, it spawns a number of people whose well-being, financially or psychologically, is dependent on the survival of the organisation, rather than its success. So it needs a tangible and immediate adversary to sustain the cause. And nothing represents economic oppression in Hong Kong like our tycoons.
Hong Kong's worst scenario is if Occupy shifts its attention and directs its protests towards the tycoons and their businesses. It would defuse the opposition levelled against Beijing and the Hong Kong governments. Confronting Hong Kong's tycoons and their monopolistic dominance of the economy would revive and sustain Occupy.
This will introduce an indefinite discount and risk factor into Hong Kong stocks. Permanent, political and civil strife may not debilitate, but they are enough to threaten Hong Kong's position as a financial centre.
Analysts who are examining which stocks could be hit the worst usually turn their attention to landlords of luxury shopping malls in Central, Causeway Bay and Admiralty. However, investors should pay attention to companies which are ill prepared to handle a public relations crisis and public protest because they are engaged in contentious activities. They could suffer the most if Occupy protests for social justice.
Hopewell Holdings is particularly vulnerable to this scenario. In the 1980s, its chairman, Gordon Wu Ying-sheung was widely regarded as an infrastructure visionary. He conceived of a Shenzhen superhighway into the mainland before any other developer. Today, Hopewell's main asset on Hong Kong Island is Hopewell Centre in Wan Chai. Its main prospect for expanding its earnings is through a massive development, Hopewell Centre II, next to the original Hopewell Centre. However, the development is in the middle of a historic district and densely populated, middle class neighbourhood. So it is no surprise that it is engaged in a bitter struggle with residents.
Hopewell struck a development deal with the government in 2012, but organised residents accuse the company of trying to build beyond its original plan without consulting them. The resulting structure would be a convention centre and hotel, one of the largest in Hong Kong. Besides the horrendous traffic problems without widened roads, the scale of environmental degradation inflicted by the construction activity in a historically important and densely populated area shows the city's property oligarchy at its worst.
It is demonstrating the kind of corporate behaviour that is wildly inconsistent with the sprawling corporate sustainability code proclaimed on its website. Hopewell is engaging in a kind of predatory development behaviour that shows little regard for its surrounding environment and community. And it could become a symbol of Occupy's next target.
This article appeared in the South China Morning Post print edition as: Occupy vs tycoons may be up next