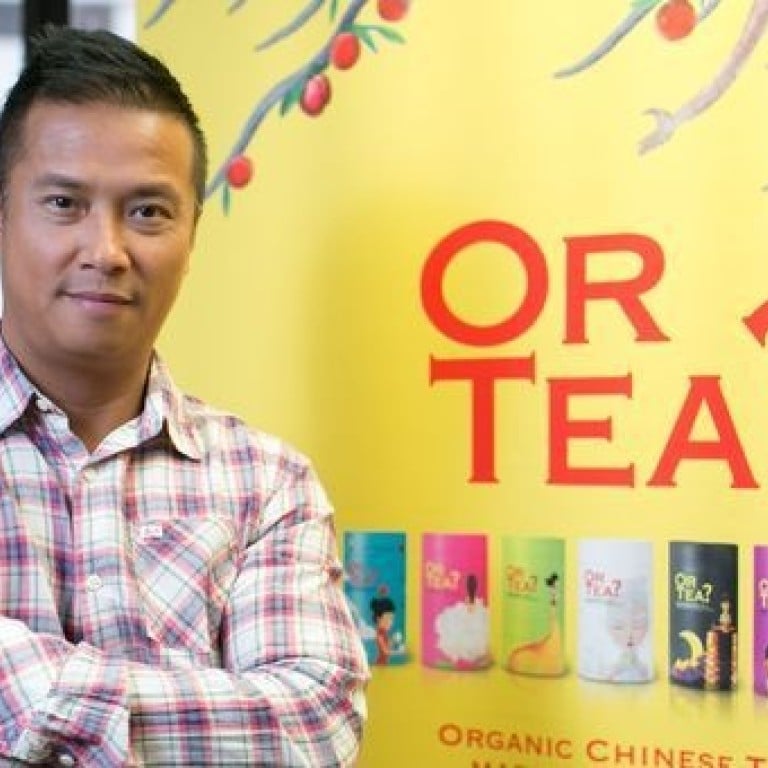 A Business Mind: Allen Wong, founder, Or Tea
Allen Wong, founder of tea company Or Tea, came up with the name from the popular phrase coffee or tea, but owning such a business was never part of his original career plans. After studying hospitality in Switzerland, he retuned to Hong Kong aiming to make his way in that sector. He soon discovered, though, that owning a business had real appeal and he took that path after first working in advertising and branding.
How did you get into the tea business?
After deciding not to pursue a career in hospitality, I joined my friend's web design company. That was way back in 1995, when not many people knew about the Internet or online marketing. In fact, I knew nothing about technology and became a self-taught web designer simply by reading books. That was my first encounter with start-ups.
After four years there, I was recruited by an international advertising firm to work in their interactive department, but I left after a year because I didn't think life as a corporate employee really suited me.  
In 2001, I started my own advertising firm. We were creative and the company did well, securing a number of big-name clients and picking up several industry awards. However, the issue with advertising is that a creative idea can only be sold to one client for one occasion or campaign. For every new project, you once again have to come up with something original and, after a while, that can become really tough. So, I started to think about developing my own brand.
The chance came in 2009, when my family decided to move to the Netherlands and I was splitting my time between Hong Kong and Amsterdam. After some research, I found that Chinese tea was quite a popular product in Europe. I was no expert, but as a Hongkonger I like to "yum cha" regularly and I did have more than basic knowledge about tea.
My next step was to go to a tea expo in Shanghai where I found that there are around 7,000 brands of Chinese tea, but none of them were on the international market. I saw the chance to launch a business and Or Tea is my third start-up so far.  
My goal is to make Or Tea Hong Kong's global tea brand
What were the main challenges?
My initial plan was to use my knowledge and experience in branding and advertising to build my own brand, but that turned out to be the wrong approach. In practice, I could only apply about 10 per cent of what I learned in those areas. There were many things I had to learn from scratch, for instance about distribution channels, logistics and customs regulations.  
Another challenge was time management. I had to continue to run my advertising business to make ends meet, at the same time as starting the business. It was not until last year that I decided to focus fully on Or Tea.
How do you stand out from competition? 
I believe the design concept for our packaging is outstanding. We make use of contemporary Chinese art and I make it a priority to have a different design for every flavour. The chosen design tells something of the story behind every flavour. It is not always easy to come up with new designs considering the growing number of flavours we now have, but I think this helps the brand stand out.  
What is your management philosophy?
In Hong Kong, I have a team of 10 who work on marketing, design and branding. I also have business development people in Belgium and Paris. 
I want the company to have a flat structure, so every colleague can get involved in different aspects of the business. For example, I encourage design staff to visit tea expos to learn about the product and sales staff to put forward design ideas. I believe that staff can develop a sense of belonging if they have this kind of broader involvement.
I am also very aware of the need for a work-life balance for, so every two weeks staff work 4.5 days instead of the regular five days per working week.
What are your plans for the company?
Most of our clients are retailers or restaurants in Europe. It is difficult for restaurants to serve only Chinese tea, so I am actively planning to have other flavours like mint, Earl Grey and flower tea. We currently have 16 flavours and plan to add six to 12 more next year, increasing to as many as 60 in the following two to three years.  
My goal is to make Or Tea Hong Kong's global tea brand. Competition will be tough because there are local brands everywhere and many of them are long established with a significant market share. However, with our innovative approach to marketing, I think we can compete with them.