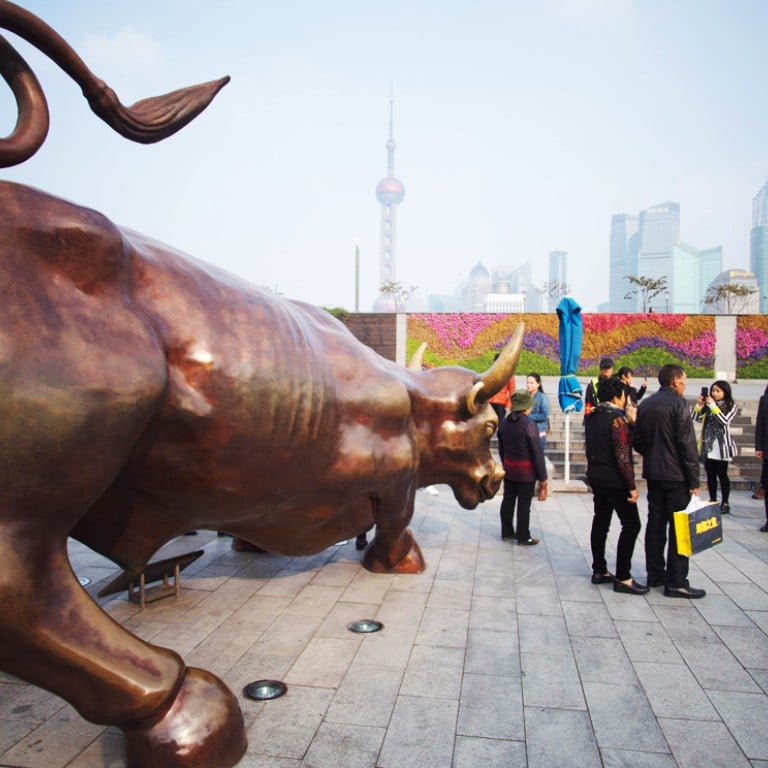 Lack of price convergence highlights stock scheme disconnect
Hong Kong shares in dual-listed mainland firms are trading at deep discounts to their onshore versions, despite the recent launch of the Hong Kong-Shanghai stock connect scheme that channels cross-border stock investment between the two markets.
The lack of price convergence has confounded fund managers and revealed shortcomings in the stock connect's design because shares are not fungible between exchanges.
Theoretically, because the stock connect enables two-way investment flows, prices should converge as investors arbitrage away the differential.
That has not happened. The A-H share premium index , which measures price differences for dual-listed companies in both markets, has risen sharply since the stock connect launched in the middle of last month.
A value over 100 indicates that shares in dual-listed companies are cheaper in Hong Kong than in Shanghai. On Tuesday it stood at 111.94, its deepest discount since July last year.
Bank of Communications , one of the mainland's five largest banks, closed at 5.96 yuan (HK$7.52) in Shanghai on Tuesday, but in Hong Kong it traded at HK$6.58 (5.2177 yuan) – a 12 per cent discount.
Tianjin Capital Environmental Protection Group's Hong Kong shares traded at half its price on the Shanghai bourse.
Olivier D'Assier, Asia-Pacific managing director for Axioma, a risk management company that helps design stock indices in China and elsewhere, blamed speculators.
He said the chasm between the indices narrowed dramatically in the run-up to the stock-connect's launch, but quickly reappeared once trading began.
"The gap narrowed because speculators thought people are going to jump on this, but they didn't, so now [the speculators] are selling back," he said.
D'Assier was referring to the weak take-up of the programme's investment quota. Southbound flows from mainland investors have been anaemic – unsurprising considering the paperwork and capital requirements – and foreign inbound flows have been slacker than expected due to technical and legal concerns.
"Just opening the door a little crack and not changing any of the policies wasn't going to be enough," D'Assier said.
Unfortunately for traders, there is no easy way to profit from the distortion because the shares are not fungible – mutually interchangeable.
"Keep in mind that true arbitrage is not possible through stock connect; that is, you can't buy through stock connect and sell onshore and vice versa," said Nick Ronalds, head of equities at industry association ASIFMA in Hong Kong.
A huge rally on the mainland has added to the disconnect. The Shanghai Composite Index has gained more than 16 per cent since the scheme's launch date was announced on November 10, and is up about 30 per cent so far this year, far outperforming Hong Kong's miserly 1.5 per cent gain this year.
"H shares aren't at the centre of attention in China, the Chinese government and people are still focused on A-shares," said Xiong Yepeng, a sales associate at China Securities.
But some view the discount as a buying opportunity, betting that future reforms to mainland markets will sustain the rally and encourage convergence.
Indeed, some point to mainland retail investors' new interest in blue-chip financial stocks, which they had scorned for years, arguing the pilot programme had already had a synchronising effect.
"There might still be price gap between the two markets, but the price movement will become more and more correlated, while A shares will definitely take the lead position," said Raymond Chen, portfolio manager at Keywise Capital in Beijing, adding that A shares would generally react more quickly to domestic developments as they are "closer to information".
While that is a long-term view, price movements suggests there is considerable short-term risk in that bet. While mainland markets charge ahead, foreign investors seem to be looking for a place to cash out and go short. Short interest in Hong Kong peaked on Tuesday even as mainland exchanges saw record turnover.