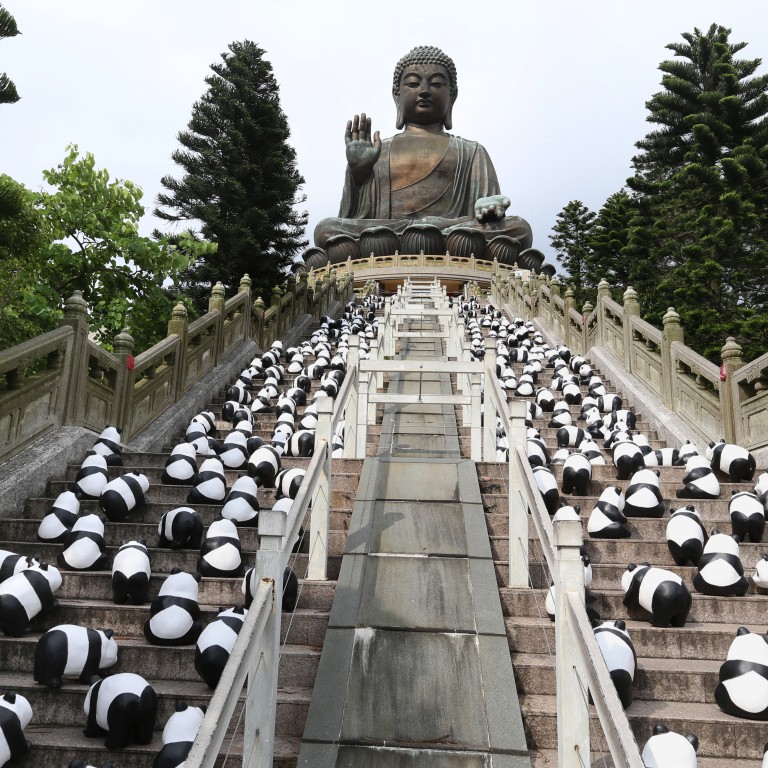 Opinion
Jake's View
by Jake Van Der Kamp
Jake's View
by Jake Van Der Kamp
Hong Kong airport boss sees nothing for visitors but Disney and Ocean Park
Nothing but Disney and Ocean Park? I take it then that what your friends really like is to stand in long lines in the heat, shuffling slowly forward to a chance on getting suddenly very sick.
Got news for you, Jack. You may be one of the government's preferred chairmen for official bodies and commissions but I think you just closed the door in your own face on any job at the tourism board.
Nothing but Disney and Ocean Park? I take it then that what your friends really like is to stand in long lines in the heat, shuffling slowly forward to a chance on getting suddenly very sick.
I almost did the upchuck the one time I tried Space Mountain at Disney, and every time I have been talked into riding the Dragon at Ocean Park I have afterwards felt the need to sit very still and quiet for 10 minutes.
Don't get me wrong. Ocean Park was a wonderful Saturday afternoon out when the kids were young and mainland tourists as rare as snowfall. But it's not the same place any longer.
As to Disney, the boat on one ride got stuck halfway between Peru and Portugal amidst hundreds of grinning, gyrating dolls chanting, "It's a small, small world." Another 10 minutes of that and the boys from Siu Lam would have been told to bring along a straightjacket when they answered the call.
Why was there no mention by Mr So of that glorious walk around the Peak and the Peak tram ride up and down?
There is a point up there where the vista suddenly opens. Every visitor I have taken there has had that same jaw-dropping reaction to the sight of the busy city below.
What about the Ngong Ping 360 cable car ride up the hill to the Po Lin Monastery and the Big Buddha with a temple vegetarian lunch to follow? It's grand.
What about the ferry ride to Cheung Chau and an amble around the winding village streets where there are no cars. The bun towers at the Pak Tai Temple may be down but the temple itself is worth a visit. A bar overlooking the bay on the other side is where Lee Lai-san once helped her uncle serve us beer before she won a windsurfing gold at the 1996 Olympics.
In town, what about the Hong Kong history museum? I shall grant you that this museum's counterpart in Macau is easily a match for it, but that's only a reason to take a side trip to Macau on a visit to Hong Kong. Check for the occasional displays. They can be very good.
What about some of the offbeat museums like the Coastal Defence at Lye Mun Gap - which is a place from another world - or the Police Museum (how to cook heroin) and the Prison Museum (what your well-dressed rioter wears)?
What about the Wetland Park, the Botanical Gardens, the street markets, all the temples, seafood gluttony at Sok Kwu Wan or Po Toi with a scenic boat ride back to town on the chug-chug ferry?
Most of all, what about our magnificent country parks with hundreds of kilometres of superb hill walking and catchwater trails that wind you in and out of the hills under the shade of the acacias? They're nothing less than magic on a clear winter day.
And now we are told that grim-grey Taipei, plastic Singapore and antiseptic Tokyo are hot competition to all of this.
Jack, where have you been?
In Tuesday's column I treated Far East Consortium's bid to privatise its Dorsett hotel arm at a 75 per cent discount from net asset value as pretty much a done deal.
You know better, says that noted critic of corporate affairs, David Webb. It is being done through a scheme of arrangement, which means the deal cannot go ahead if only 10 per cent of the outside shareholders vote against it.
This would come to only about 2.6 per cent of the outstanding shares and buying that much on the market would cost only about HK$90 million at the present share price range.
The grab can easily be stopped and will be if anyone cares to do it.
Point taken, David.
This article appeared in the South China Morning Post print edition as: Nothing here for visitors but Disney, Ocean Park?