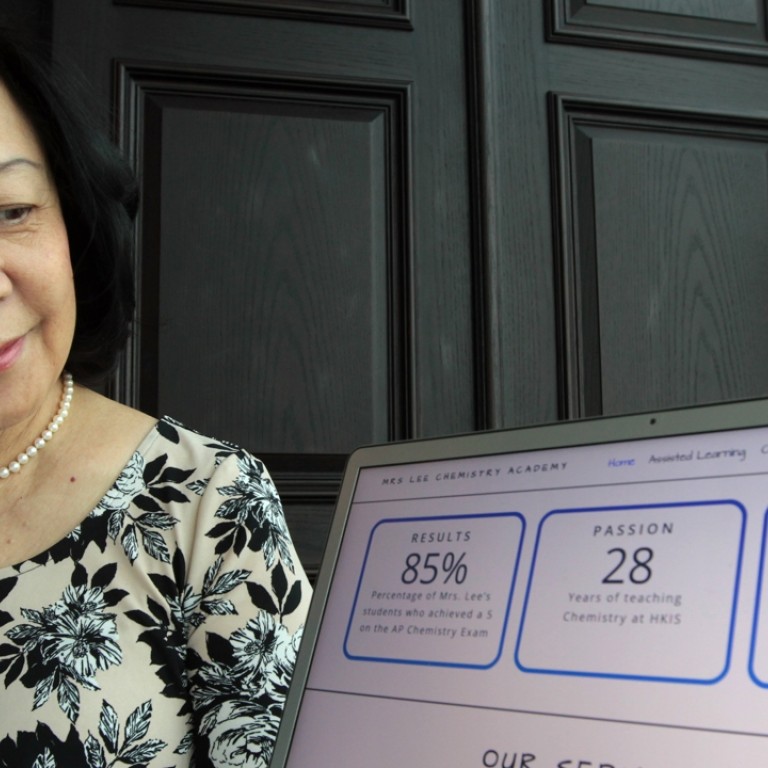 New

|
For retired Hong Kong chemistry teacher, never too late to start a new business
Dora Yapp Lee has taught over 2,500 students in a career spanning 28 years
Dora Yapp Lee may have reached retirement age but she has no plan to stop working, having just set up her online education business.
"I always like teaching and I do not want to stop just because of my age," Lee said in an interview with the South China Morning Post.
The former chemistry teacher in Hong Kong International School, where she taught for 28 years, retired last year.
"I do not think retirement from Hong Kong International School means the end of my teaching career. I wanted to continue my work and contribute my knowledge and experience with a different approach."
She has taught over 2,500 students over nearly three decades and for those who took the AP Chemistry Exam, 85 per cent of her students received top scores of 5 compared with the global average of 10 per cent.
"AP Chemistry is equivalent to first-year university level chemistry. AP Scores of 5 are viewed favourably by US university admissions, and students often receive university credits," Lee said.
She demurred on saying how old she is because that is a woman's biggest secret, but she opens up when talking about her business plan.
The company is called the Mrs Lee Chemistry Academy. It was set up two months ago with her son Alex, daughter Pamela, and other two partners, Michael Ho and Cord Krohn.
The online education platform allows Lee to give pre-recorded video chemistry lessons and group online classes.Two months on, she has gained a lot of students from Hong Kong, mainland China and the US.
"I need to thank my team who is young and technology savvy, enabling me to reach out to students online. This allows me to teach students who are in Hong Kong, mainland China or overseas," she said.
Her son Alex Lee is a former banker who is familiar with business strategy and finding investors. Michael Ho is a former consultant and handles operations while Cord Krohn has a background in multimedia and handles technical matters.
"Having embarked on this venture has helped me stay focused and continue to grow. I'm learning from my team about the intricacies of online teaching," she said.
Alex Lee said the online education platform would have huge business opportunities and he said the company plans to expand into other AP subjects in Math, Science, and Economics in the coming years.
"The Chinese take education very seriously. A 2009 survey on over 898 secondary school students found that 72.5 per cent of them had received tutoring," he said. "Online education is also a good business model as it does not require physical facilities and does not need a high start-up cost. Hong Kong is a good place to set up an online business for its sound internet infrastructure and its proximity to China."
CLSA analyst Mariana Kou wrote in a research note that China's rich "tiger parents" are becoming money-spinners for the country's private education providers, particularly international school operators that pave the way for their children to top Western universities. It is an industry hardly touched by the economic downturn.
Last year, 177,400 students were enrolled in international schools in the country. The proliferation, according to Kou, is largely thanks to Chinese parents' desire to send their children overseas, which has also proved to be a boon for the country's online and after-school tutorial businesses.
According to a Hurun study, the wealthy in China tend to allocate 20 to 25 per cent of their annual expenditure for education. A separate study by China Reality Research shows middle class households set aside an average of 12 per cent of their savings for schooling.
For Dora, her teaching principle has not changed even though her classroom has now moved online.
"My mission is to teach all students. I do not only focus on the high achievers, but also reach out to those who are struggling and need help. No students are left behind," she said.