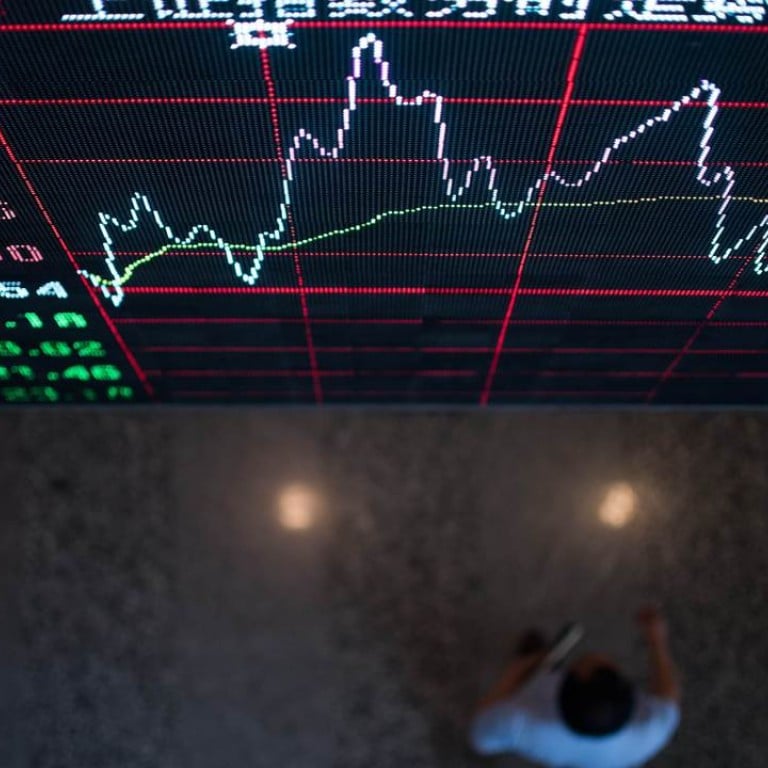 New
Chinese markets end little changed after release of China Q3 GDP number, HK also flat
Mainland and Hong Kong stocks kick off the week in a holding pattern following data showing consumer spending and GDP growth a little higher than expected
Mainland and Hong Kong shares ended little changed Monday after Chinese economic data came in largely on target while retail sales data showed consumer spending remains resilient.
The Hang Seng Index ended fractional higher, tacking on 0.04 per cent to 23.076. The mainland-Chinese tracking H-share index advanced by 0.5 per cent to 10,688. The Shanghai Composite fell 0.1 per cent to 3,387, while the Shenzhen Composite edged up 0.1 per cent to 11,391.
China's statistics bureau said on Monday that gross domestic product rose by 6.9 per cent in the third quarter on year, in inflation-adjusted terms, easing from 7 per cent growth on year in the first half and 7.3 per cent in the same period in 2014. The result was the slowest quarterly growth rate since the first quarter of 2009.
"This was slightly stronger than expected (both the Bloomberg median and our forecast were 6.8 per cent). In seasonally adjusted quarter-on-quarter terms, growth edged up from 1.7% in the second quarter to 1.8% last quarter," Julian Evans-Pritchard, China Economist, Capital Economics said in a note following the data release.
Director of VC Brokerage Louis Tse Ming-kwong said the market welcomed the GDP data, even as the milder figures pointed to a slower-growth era for the world's second-largest economy.
"Last time the GDP figure came in, it went down more than expected… and the market went down to lower levels but not this time," he said.
Tse added that the nuclear sector was also in the spotlight amid expectations of a formal tie up between Chinese and British power companies during Chinese President Xi Jinping's five-day official visit to the U.K, which kicked off Monday.
Reuters reported that Xi spoke out against an anti-Chinese bias when addressing opposition to investment by Chinese government-linked companies into strategic industries, saying that business not politics should be the deciding factor in approving foreign investment.
"The UK has stated that it will be the Western country most open to China. This is a visionary and strategic choice that fully meets Britain's own long-term interest," Xi said.
In Monday's trading in Shanghai, China National Nuclear Power's shares gained 3.7 per cent to 11.30 yuan.
The company, along with fellow state-owned enterprise China General Nuclear, are expected to finalise a deal in coming days that could see the combined entity purchase a 30 to 40 per cent stake in the UK's Hinkley Point nuclear power plant.
In other China market action, Great Wall Motor shares climbed 4.8 per cent to 12.64 yuan and Anhui Xinhua Media gained 7.8 per cent to 32.08 yuan, helped by data showing stronger-than-expected retail sales growth in September.
Data for the month shows China's consumer spending grew 10.9 per cent on year, beating Bloomberg expectations for 10.8 per cent growth.
Meanwhile, industrial output for September and fixed asset investment for the first nine months of the year, were also on the softer side, weighing on oils and the large industrial stocks. Industrial output rose 5.7 per cent on year, while fixed asset investment was up 10.3 per cent, compared to a Bloomberg poll showing median expectations of 6 per cent and 10.8 per cent growth respectively.
PetroChina shares in Shanghai were down 0.6 per cent while the Hong Kong-listed ones fell 0.2 per cent. Avic Aviation Engine's shares in Shanghai fell 5.6 per cent to 48.62 yuan.
Jun Yang Securities chief executive Kenny Tang Sing-hing said auto-sector and home-appliance stocks were lifted by hopes for more stimulus to shore up consumer confidence at the Communist Party's 13th Plenum, which is slated to get underway October 26.
"The market expects there will be some more stimulus measures at the end of October, after the Communist Party conference," he said.
In other trading, shares of electric vehicle maker BYD gained 2.4 per cent in Hong Kong and were limit up 10 per cent in Shenzhen on reports the company is planning to build a new European factory to meet rising demand.
Macau casinos Galaxy Entertainment and Sands China both retreated, falling 4.8 per cent to HK$26.75 and 6.4 per cent to HK$ 28.60 respectively, on profit taking following sharp gains late last week.
Additional reporting by Ben Westcott