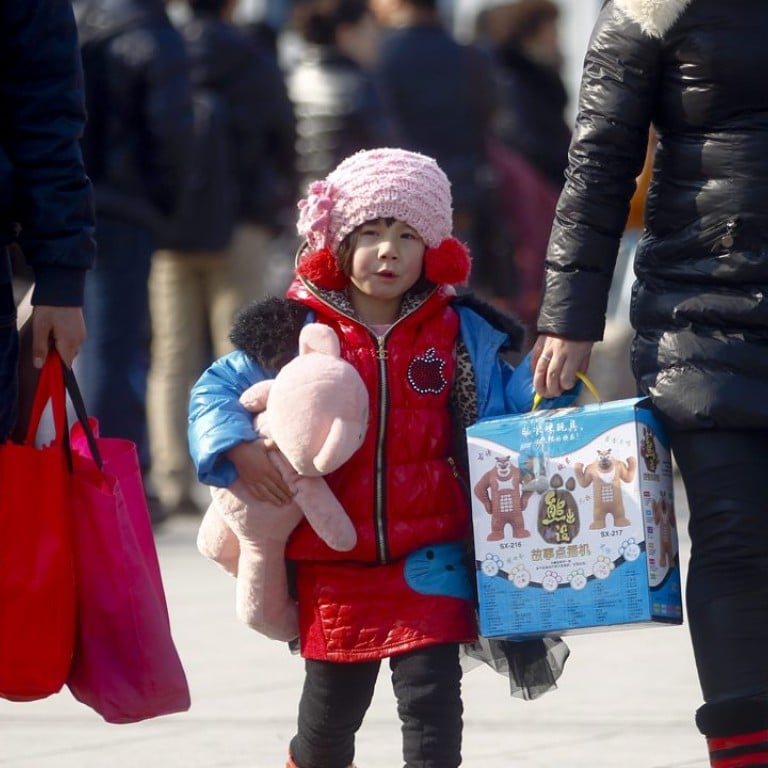 Update
Baby formula and diaper sales likely winners in expected retail consumption boom as China drops one-child policy, says Credit Suisse
In the wake of child policy change, Credit Suisse's forecast assumes 'application rate' of 5 to 10 per cent for 60 million mainland couples, resulting in as many as 6 million new births annually from 2017
A lot of foreign friends asked me during the weekend if I was considering having two kids in future given China eased the population control policy. My answer was that, well, considering the cost and pressure of raising kids in today's China, I prefer having none.
Many Chinese young people are holding a similar opinion to me, as the Fifth Plenum of the China Communist Party's Central Committee closed on October 29 officially abandoned the 35-year-old one-child policy. In fact, this policy was softened in late 2013 as couples were allowed to have two children should one of the parents be from a household without siblings.
Many analysts said this policy reversal is too late to avert China's ageing demographic problem in coming years, but they remain divided on how large the demographic headwind will impact the macro economy.
Credit Suisse said in a report issued Friday that the relaxation means 3 to 6 million additional babies per year in the next five years from 2017, assuming an annual "application rate" of 5-10 per cent on the currently eligible 60 million couples.
This means a population boost of 17-33 per cent from the current 16.5 million new-born babies per year, bringing the annual stock of new borns back to the 1990s level.
"This population boost will lead to a demand increase in the most directly-related sectors including baby formula, diapers, medication, kids wear, and appliances. Assuming cost of raising at 40,000 yuan per year, additional consumption will be 120-240 billion yuan per year from 2017, translating into 4-9 per cent of total retail sales," the report said.
"It will be interesting to see whether it makes much difference to birth rates in light of weak take-up of options to have a second child under the current system," Colquhoun said.
The working-age share of China's population is forecast to fall to 65 per cent in 2035 from 73 per cent this year, according to United Nation's data.
ING said in a report Friday that even if the policy shift helped to push the fertility rate above 2, reversing a slide that saw the rate drop to 1.7 in 2013, the impact won't be enough to prevent China from reaching the Lewis Turning Point, when the pool of surplus rural labour falls to zero.
Essentially, this adds up to a looming labour shortage, which means wages for agricultural and unskilled industrial workers will begin to rise.
In fact, China already reached the Lewis turning point in 2010, according to one study that found mainland Chinese wages have been accelerating since 2003. The study, published by the International Food Policy Research Institute in May 2010, concluded that "The acceleration of real wages even in slack seasons indicates that the era of surplus labour is over."
However, other researchers say the Lewis turning point is some ways off. The IMF estimates it will be in the early 2020s.
"On the extreme assumption that it induced all women of child-bearing age, 15-49, to have another child, the shift to the two-child policy could ameliorate the other demographic headwind, a rising dependency ratio – the ratio of old people to the working age population," the ING report said.
"By the early 2030s when we estimate China would be transitioning to high-income status from middle-income status, its dependency ratio would over 20 per cent more than double Japan's and Korea's ratios when they cleared the high-income threshold in 1965 and 1995 respectively."
Meanwhile, HSBC economists believe there's little reason for alarm in China's population numbers.
"Our view this issue has always been more benign. First of all, although the growth rate in working age population is declining, the pace will be mild in the near term. Secondly, demographics as a driver of growth is far less important compared with capital accumulation and productivity growth. For this reason the growth impact is marginal at best," chief China economist Qu Hongbin and his colleagues said in a note on Friday.