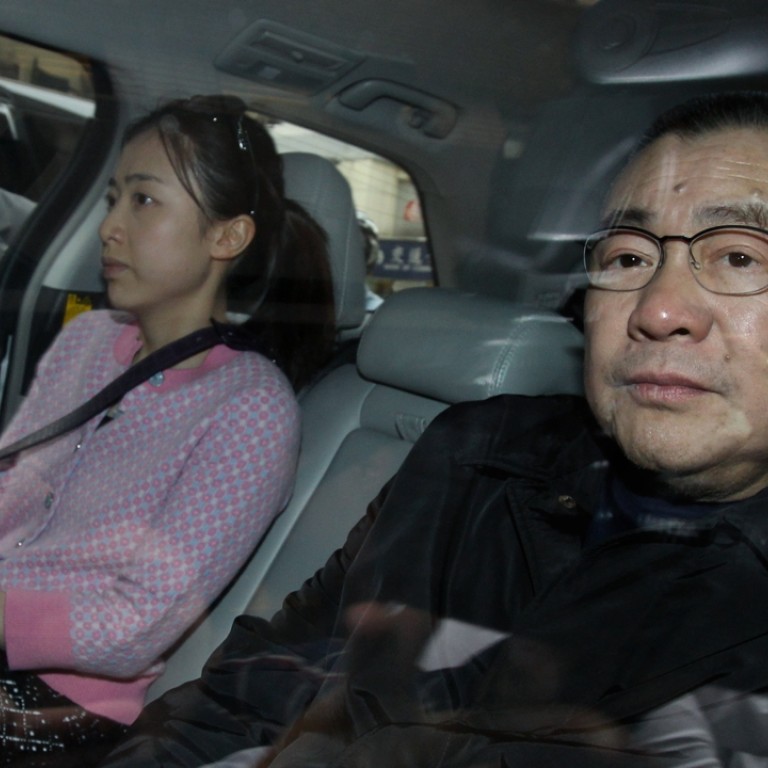 Opinion
Money Matters
by Shirley Yam
Money Matters
by Shirley Yam
Hit or stand? Fugitive Joseph Lau can play his next hand or cash in, but Chinese Estates and Evergrande are linked by more than cards
Rather than quitting, Lau "the sniper" is more likely to snap up some prime asset from the listed company
Why is Evergrande Real Estate Group buying a Hong Kong office tower from Chinese Estates for record price of HK$12.5 billion?
This is not the question to ask when the two bosses – Evergrande's Hui Kayan and Chinese Estate's Joseph Lau – have been playing card games together once a week for years.
This is not a question that will be answered when in almost every Evergrande transaction since the developer's listing in 2009 – be it its public offering, bond sales or property deals – there was Chinese Estates playing either the buyer or seller.
Nor is it a question that can be answered when a piece of land in Jiangsu has been sold by Evergrande to Chinese Estates for US$500 million; by Chinese Estates to a Japanese fund at cost a year later and then by the fund back to Evergrande for US$550 million a year after that.
Instead, let us talk about what will happen.
Some say Lau is retreating, pointing to his conviction in Macau, where he faces a jail sentence, his falling out of love with Beijing and the resignation of his son as Chinese Estates' chief executive.
Yet it's no secret that the son and father don't sing the same tune – junior just isn't interested in his dad's empire.
Meanwhile, the senior Lau, with sandals on his feet, has been seen busy drawing up plans in the Chinese Estates office on an almost daily basis.
Rather than quitting, Lau "the sniper" is more likely to snap up some prime asset from the listed company with a haul of newly arrived cash totalling HK$20.7 billion.
Thanks to Evergrande's generosity, Chinese Estates is getting HK$6.5 billion from the sale of Chengdu offices in July; HK$1.75 billion from a Chongqing complex deal in October; and HK12.5 billion from the Wan Chai office transaction on Thursday.
Count in the installments terms and Chinese Estates will be sitting on HK$9.25 billion cash in 2016 and HK$14.5 billion the year after. A special dividend will not be very difficult to justify.
With a 74.99 per cent holding, Lau may get a special dividend as high as HK$15.5 billion, which would be sufficient to fund some acquisitions from the listed company.
That is exactly what he has been doing in the past decade. The tycoon has pocketed HK$16.3 billion in special dividends since 2013 to foot HK$21.8 billion worth of buying from Chinese Estates, including deals for The One and Silvercord Centre in Tsim Sha Tsui.
The office tower sold to Evergrande is hardly a crown jewel. Chinese Estates' shopping malls and offices in Causeway Bay are.
As for Hui, let us not assume that he has been arm-twisted into the deal, although he has been on the receiving end in his relationship with Lau for years. An expensive loan from Lau and his buddies saved Hui from losing his business to foreign borrowers when Evergrande's first listing failed.
The 1.5 per cent yield of the worn out Wan Chai building doesn't seem attractive on the surface. However, the mega deal will give him an official reason to move money out of the mainland to Hong Kong.
Count in all the deals Evergrande has done this year and it will be bringing a total of HK$26 billion into the city to pay for the transactions.
For private entrepreneurs in mainland China, political change is a daily risk. They know not a single penny is real until it is out of the mainland.
Remitting profit is possible yet costly and time consuming. Every single cent of tax has to be paid before profit can be taken out. Transactions involving big bucks are the short cut.
Move the money across the border, pay the bill, get the asset, mortgage it for a loan and one has cash on hand. In the case of the Grade-A office Evergrande is getting, the financing cost will be dirt cheap.
One should never underestimate how much a private entrepreneur – in particular those in the property business – will pay for some extra security.