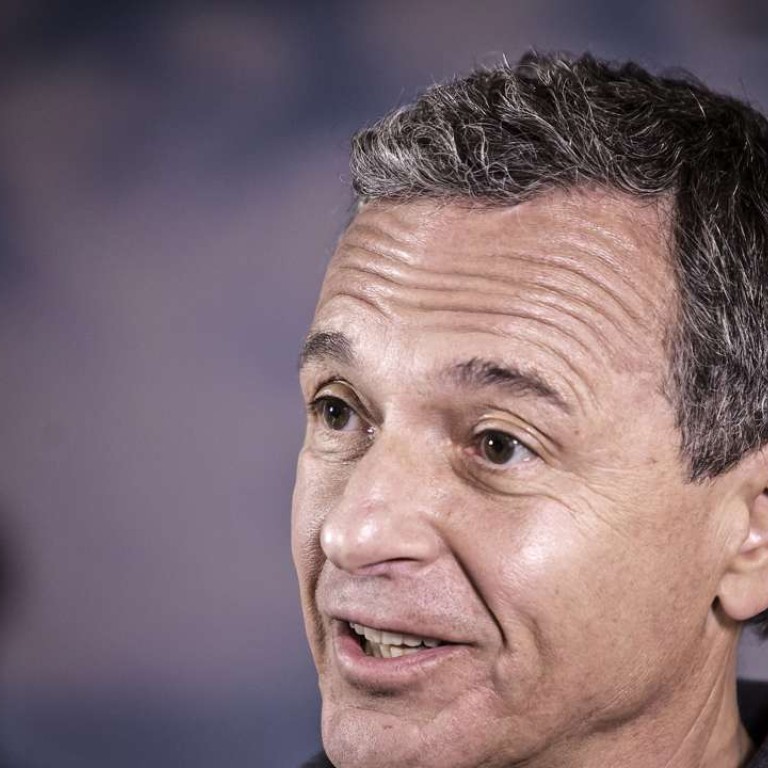 New

|
Coming to a theatre near you: made-in-China Disney movies
Walt Disney Co. is preparing to make Disney-branded films in China and at least one will be in production within a year, Chief Executive Officer Robert Iger said in an interview, the first major project from a local co-development deal in what will soon be the world's largest film market.
"We have a lot of development activity right now to make Disney-branded films in China," he said, speaking at the 963-acre Shanghai Disney resort, its first in mainland China that's scheduled to open June 16. "We are very far along on this process, including developing ideas, concepts for films and identifying talent to make those films."
The company is partnering with state-owned Shanghai Media Group Pictures to make Disney-branded films in China, a Disney representative said. Disney signed a multi-year tie-up with the company in 2014 to co-develop movies for China and other markets.
The stakes are high for Disney in the race to capture China's growing middle class and dominate the country's US$180 billion media and entertainment industry. The ambitious US$5.5 billion resort in Shanghai is seen as a capstone of Iger's legacy with the company searching for a successor after his contract ends in 2018. Adding movie production in China would maximise the company's ability to reap profits in the country and heat up the battle at the box office with billionaire Wang Jianlin's Dalian Wanda Group Co.
Dalian Wanda, which is looking to expand its global entertainment empire, said in April that it is consolidating its film operations into its Shenzhen-listed Wanda Cinema Line unit, including its US$3.5 billion acquisition of Hollywood studio Legendary Entertainment. Wanda Cinema is building movie-production facilities in the coastal province of Shandong in Qingdao city, which will be the world's biggest movie studio when completed in 2017.
Asked about the competition that Disney faces in China, Iger said, "we are bringing something that is so unique in this market, no one really comes close".
"When people see this, they will realise that the gap between what we have built and what others have built is enormous," he said, referring to Disney's new resort.
.
When it comes to the box office in China, Disney is on track for a record year: it has four out of the five highest-grossing imported films so far this year, including "Zootopia" and "Jungle Book," putting it on track to be the first Hollywood studio to make US$1 billion in a single year at the Chinese box office, said Jonathan Papish, an analyst for China Film Insider.
"The film business has grown significantly and will continue to," Iger said.
Nomura Securities analyst Richard Huang said that partnering with a local studio would help Disney get around government regulations that include limiting foreign studios' share of the box office to 25 per cent, allowing only 34 imported films a year, and "blackout" periods which span through most of the holiday seasons where imported films are not allowed to be screened.
"They need to make sure that the domestic studio owns the majority stake in the movie for it to bypass regulations, which is also not ideal," he said.
Disney's Marvel co-produced "Iron Man 3" with Beijing film studio DMG Entertainment in 2013.
China is on track to overtake the U.S. as the largest movie market in the world by 2017. U.S.-made films generated about US$11 billion in revenue in 2015, according to data from boxoffice.com and SNL Kagan.
Iger will preside over the official opening of the Shanghai Disney Resort next week. He said the Shanghai Disney resort, while costly, is an investment in Disney's future in China. The park is unlikely to be profitable in its first year, he said.
"We are not looking to surpass what we get on a per capita basis from other parks," he said. "I think the interest in Disney that will grow because of this park will enable us to gain access that will continue to be higher than what we would have gotten if we did not make this investment here."
For a Gadfly commentary about the succession issue at Disney, click here.
The Chinese resort project began under Disney's former chief financial officer and later chief operating officer, Thomas Staggs, who was widely seen as the heir apparent and surprised investors when Disney said in April he would be departing the company. On Thursday, Iger said the Disney board is "hard at work at succession" and "looking expansively" for candidates.
"They know and I know that I have to leave in 2018," said Iger.
Whether Disney succeeds in China will be a part of Iger's legacy, said Barton Crockett, a New York-based analyst at FBR Capital Markets.
"If he pulls off this last thing, it'll be very important for his legacy," said Crockett. "When people look back at Pixar, Lucasfilm, Marvel and Shanghai, he has pulled off the quadruple play. People tend to remember the last thing the most."