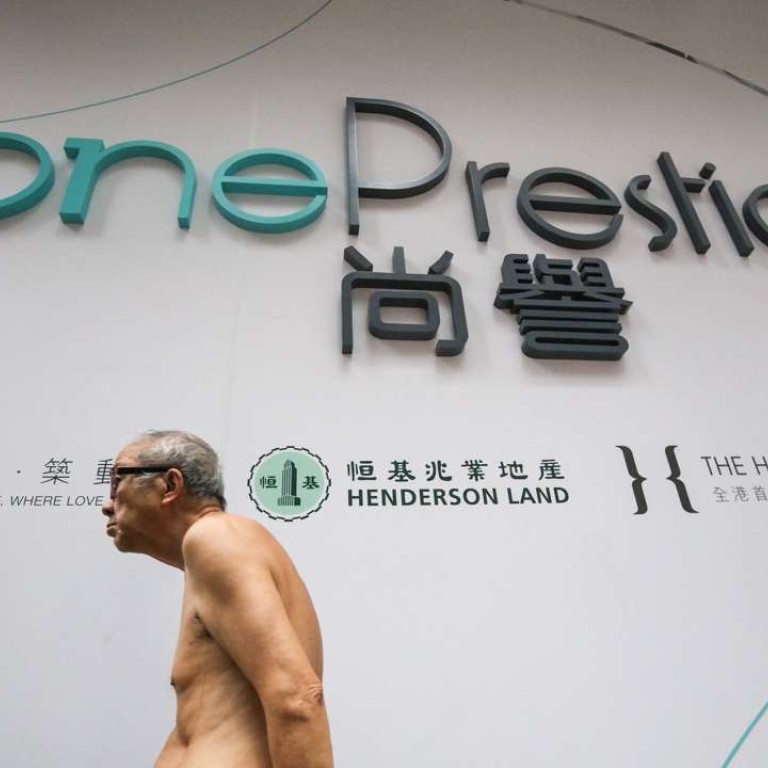 Henderson Land to unveil tiny flats in North Point amid Hong Kong's hot property market
Developers Sino Land and China Overseas Land also launching additional units in Sai Kung and Kai Tak
Henderson Land is set to launch its One Prestige development in North Point, which will offer some of the smallest but most expensive flats in the area.
One Prestige is expected to begin its first round of sales in the coming week or two, after releasing the price list for 50 flats in its first batch, including a unit only 163 sq ft in size – the tiniest on Hong Kong Island.
The developer put a price tag of HK$3.9 million, or HK$23,975 per sq ft, on the 163 sq ft flat on the 5th floor. One Prestige flats will range from 163 to 170 sq ft, and cost between HK$3.87 million to HK$4.78 million, an average of HK$25,248 per sq ft. After factoring a maximum of 5 per cent discount, the average price would be HK$24,000 per sq ft.
Henderson Land's wholly owned financial company will provide a loan of up to 80 per cent of the flat's value.
However, the development's management fee is between HK$5.6 to HK$5.7 per square foot, but could be as high as HK$7.6, so even for the smallest flat, buyers may be charged up to HK$1,238 per month.
The cheapest flat in One Prestige's initial batch is over HK$22,000 per sq ft, 25.5 per cent higher than the most expensive flats nearby, which range between HK$13,000 to HK$20,000 per sq ft. One Prestige's cheapest flat, with a unit size of 166 sq ft, will sell for HK$3.87 million, or HK$3.67 million after factoring in the 5 per cent discount, the smallest lump sum for a flat on Hong Kong Island in the past 10 months.
One Prestige's highly-priced tiny flats appear to reflect strong demand in Hong Kong for smaller units. Hong Kong may see as many as 5,000 new small apartments every year until 2019, almost three times the average in the last decade, according to a Jones Lang LaSalle (JLL) projection.
"The market demand for small units is high," said Patrick Au, director at Midland Realty. "Renting out small units can easily earn buyers tens of thousands. In a recent development in the Eastern district, 70 per cent of buyers were investors, a higher investment ratio than before."
Thomas Lam, general manager of sales at Henderson, said One Prestige is aimed at both people looking for good investments and wealthy first-time buyers.
He said that since market demand for tiny studios was "very strong," One Prestige designed small units "to fit that kind of market".
Hong Kong's hot property market continues to see more project developments, with Sino Land releasing an additional 30 units at its Sai Kung development, The Mediterranean, adding to the 260 it already sold for HK$2.3 billion. The new flats will sell at almost HK$12,000 per sq ft, with a total market value of HK$180 million. The cheapest flat, which is almost 400 sq ft, will cost more than HK$4.45 million.
China Overseas Land will release another 121 units for its One Kai Tak development at an average price of around HK$17,000 per sq ft, with some units priced 7 per cent higher than they were when the units launched two days ago.
This article appeared in the South China Morning Post print edition as: One Prestige set to come on market in tiny sizes