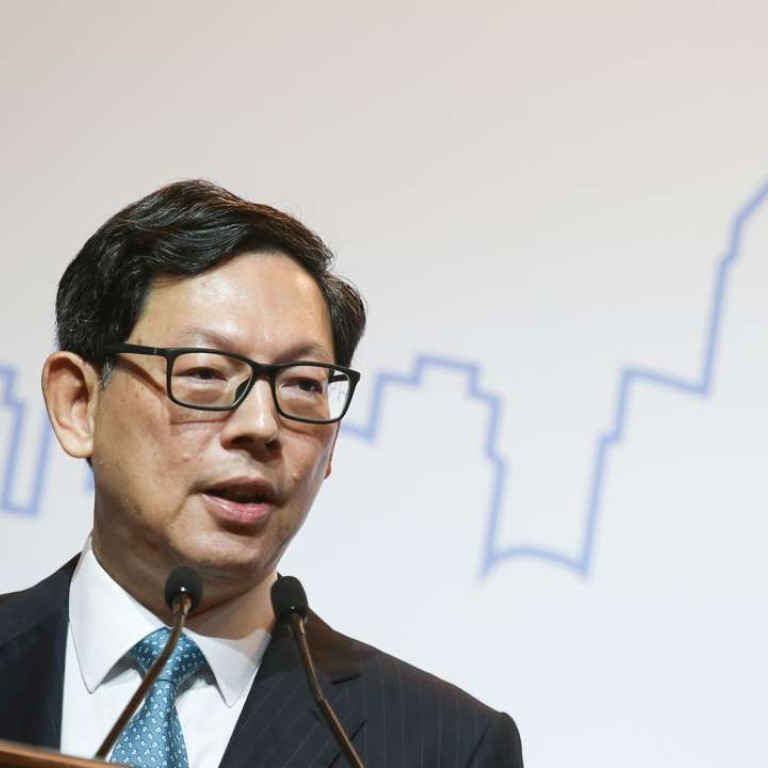 New

|
HKMA to add cyber security, anti-money laundering knowledge to bankers' certification
Starting in December, new programmes will be added to the HKMA's Enhanced Competency Framework (ECF) for local bankers
The Hong Kong Monetary Authority said it will require bankers operating in the city to be trained and certified to deal with cyber security and money laundering, beefing up its regulations to prepare for competition with Singapore to be the Asian hub for financial technology.
Beginning in December, the regulator's Enhanced Competency Framework (ECF) for local bankers will carry a certification programme on cyber security, and anti-money laundering measures, said the Hong Kong Monetary Authority's chief executive Norman Chan Tak-lam.
While the certification is not a mandatory requirement, the new programmes would allow banks to ensure that their staff have the adequate expertise to nab hackers who try to steal money from people's accounts and to ensure that customer accounts are not used for money laundering.
As competition from our neighbouring centres intensifies over the years, it is not only just "people that we need. It's about turning people into good people, and from good people into great people", Chan said in a speech to 700 bankers at the annual Hong Kong Institute of Bankers conference in the city. "Without people, Hong Kong has nothing."
Arthur Yuen, the deputy chief of the HKMA, said that cybersecurity is a major concern for banks as hacker attacks have become more frequent and are targeting various types of customers who use online banking services.
"The hackers are not just targeting individual user accounts but also shifting to corporate accounts. Some payment platform such as Bitcoin are also being targeted," Yuen said.
Most recently, Yuen said some new cases show investors' online securities' accounts being used by hackers to trade stocks illegally.
"This is why it is important for banks to make sure their staff are well trained to handle cybersecurity," he said.
Training bank staff in cybersecurity is seen as the latest move by HKMA to promote financial technology, the newest frontier for competition between Hong Kong and Singapore to become Asia's financial hub.
Total Asia-Pacific investments in fintech – a catch-all term that refers to use of digital technology to make financial services more efficient – has risen to US$4.3 billion in 2015, from US$103 million in 2010, according to Accenture.
To nurture FinTech development in Hong Kong, the HKMA introduced a hub for registered banks to conduct research, and developed a Sandbox for banks to test fintech services.
The regulator's ECF also carries a certification on wealth management, obtained by 1,600 local bankers.
Chan said the authority is also very keen bank staff to get training on anti-money laundering rules.
This article appeared in the South China Morning Post print edition as: HKMA offers to train bankers on cybersecurity