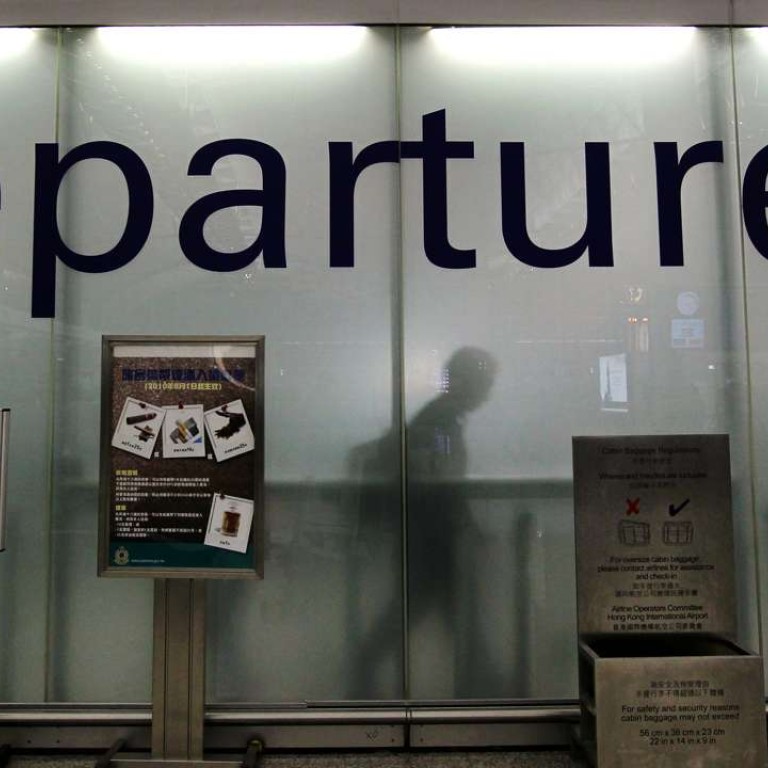 First signs appear of a rising tide of young Hong Kong emigrants
'City is struggling to remain relevant as anything more than a tourist destination and a place to launder money'
Imagine that in Hong Kong nothing will change economically and politically in the foreseeable future. Vested interests both inside the government and in the business sector stonewall any reforms. Flat affordability remains stubbornly impossible. Low interest rates will continue to fuel a rigged supply of residential flats.
Unrelenting political gridlock is permanent because no leader from Hong Kong or Beijing is motivated enough to lead the city into a full democracy.
Beijing won't take the unhedgeable risk of granting the city the right to freely and completely choose its own leaders. Powerful forces and interests have worked hard and won much by promoting misinformation and ignorance. And the city's despair will take on its own death mask.
According to a Chinese University of Hong Kong survey featured this month in the SCMP, about 40 per cent of Hongkongers want to move away from the city. One in 10 prospective emigrants is making actual plans to do so. Respondents cited dissatisfaction with the government, crowded living conditions and major and political and social disputes as the main reasons for their plan.
The survey showed that younger people had a stronger desire to move abroad than their older counterparts. About 57 per cent of those between 18 and 30 said they had emigration plans compared with just 26 per cent of those aged 51 and above. Taiwan was also the most preferred destination with 16.3 per cent of respondents picking the island. Australia and Canada came in second and third place.
Many of those looking to leave Hong Kong said factors such as larger living areas, higher democracy and freedom levels influenced their choices.
The city's affordability problem will persist because it is unlikely that real incomes will rise high and fast enough for average citizens to be able to afford liveable flats. It is even more ludicrous to expect prices to fall by half. It won't be long before 188 square foot flats become 150 then 100- a twisted, dystopic scene that local developers cruelly photoshop into their luxury websites.
In a recent column, I referred to the story and imagery of the famous 1974 sci-fi film "Soylent Green" starring Charlton Heston.
Watch it and you can see what Hong Kong might look and feel like. It is based on Thomas Malthus' theory that human populations tend to multiply faster than the food and materials available to them.
And unless checked by moral restraint, famine or war, poverty and degradation will result.
It exudes the chilling atmosphere of a degenerating civilisation. Everything and everyone has broken down. Streets are swollen with faceless humanity. The world is at a standstill, overpopulated. No one is offended by man's inhumanity to man as long as a buck can still be made. We are almost there.
Hong Kong's high cost of living hurts its ability to renew its economy and develop new businesses and talent. No foreigner would ever relocate here for a senior position unless they received a housing allowance. That's why there are so many listings for flats renting for HK$70,000 and more.
Then, talk to any of these expatriates and almost none of them would risk living in poor quality local housing for trying a start up. The result is a two tiered group of managers between incoming expats and emigrating locals.
Local graduates making HK$14,000 a month certainly can't go far. Better to emigrate early and start a new life in a more comfortable country than to struggle in Hong Kong. Hong Kong people are consuming their own lives and souls in a ceaseless and cruel cycle of despair as depicted in Soylent Green. That ceaseless despair starts with decades of savings required for a down payment on today's 180 square foot flat and the additional decades to pay off the mortgage.
These statistics are the first signs of an emigration wave. Young people who are not locked down with jobs and mortgages and family responsibilities should go as soon as they witness that political and economic progress can't be made in quality of life issues. The 1980s and 90s were fantastic for their parents, but those days are gone forever. Steady emigration of our most valuable people will return.
The pace of technological and industrial change will accelerate over the next 20 years. Hong Kong is struggling to remain relevant as anything more than a tourist destination and a place to launder money.
The free market utopia of Hong Kong establishment advocates poverty and greed through a combination of conspiracy theory, banality and viciousness. You can glimpse the scale of the disaster that will follow.
Peter Guy is a financial writer and former international banker