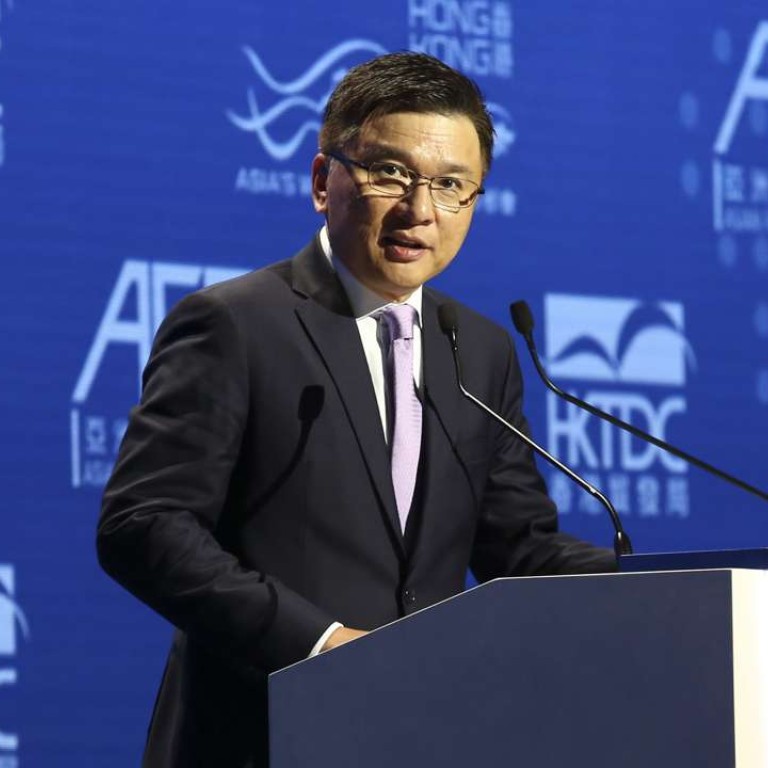 Acting Financial Secretary says increased stamp duties are working to cool Hong Kong's runaway property market
Chan Ka-keung tells Asian Financial Forum, which started in Hong Kong on Monday, the 15pc stamp duty was urgent to put the brakes on a dangerously overheating market
The government's increased stamp duty on property transactions for non-first-time buyers (to 15 from the lowest rate of 1.5 per cent) introduced in November has cooled the Hong Kong property market.
But acting Financial Secretary Chan Ka-keung said on Monday the government has not yet decided on any other major changes to its property policies.
"The market was overheating late last year, hence the government [in November[ had to introduce the special stamp duty.
According to recent transaction numbers, we can confirm the stamp duty has done its job," Chan said on the sidelines of the Asian Financial Forum which started in Hong Kong on Monday.
However he said there were no immediate plans to change the stamp duty policy.
"The government will continue to monitor property market developments before deciding on whether any changes need to be made," he said.
The International Monetary Fund (IMF) issued a report last Friday in which it said the city's growing property bubble, along with an ageing population and the slowdown in mainland economic growth were the major risks faced by Hong Kong.
The IMF report approved of the Hong Kong government adding the 15 per cent special stamp duty on certain property transactions to cool down the overheating local market, and said it believed the tax would prove effective.
Chan, meanwhile, also insisted the yuan's recent volatility would not affect Hong Kong's role as an offshore yuan trading centre.
The offshore yuan rose 2.4 per cent in two days at the beginning of this year after a sharp fall of 7 per cent last year, the largest annual drop since 1994.
"There is a lot of trading and hedging activities involving the yuan being conducted in Hong Kong," he said. The Hong Kong yuan market is trading smoothly, despite its volatility."
A record 2,800 delegates are attending this year's Asian Financial Forum at the start of a year which Chan said would present a lot of uncertainties and challenges, none more so that in the trade policies adopted by incoming US President Donald Trump, who takes office on Friday.
During the US election he vowed to impose heavy tariffs on Chinese goods entering the United States, to encourage US consumers to buy US goods.
If Trump's plans materialise into policy, Chan said it would certainly affect China and Hong Kong trade.
"A new president takes office in the US this week and his trade policy will have a direct and significant impact on Hong Kong, China and on Asia as a whole.
"The US dollar and US stocks have risen over the last two months since Trump was elected. When he finally assumes office on Friday the markets may well turnaround. We'll be monitoring the markets closely," he said.
Moving across the Atlantic, Chan said the Brexit negotiations due to start in March on how Britain was likely to split from the European Union, would also add uncertainties.
"However, China has initiated its "One Belt, One Road" initiative which will involve a lot of infrastructure financing and would encourage trade flow which will benefit Hong Kong and Asia," he said.
The "Belt and Road" project was initiated by Beijing in 2013, and is expected to spark huge infrastructure investment, such as in highways and railways, to better link China with 60 neighbouring countries and promote economic and trade links.
Thailand Vice-Minister for Finance Kiatchai Sophastienphong told the forum that his country strongly supports the project.
"It will create a lot of infrastructure in Asia, and this will greatly support economic growth and trade flow in the region," Sophastienphong said.
The 10th Asian Financial Forum is the biggest annual business gathering held by the Hong Kong government, and has invites government officials, regulators and businesses to discuss a huge list of economic issues which will hopefully lead to deals being made.
"The Asian Financial Forum has brought many senior financial officials and business leaders here," Chan said. "This is an important event to strengthen Hong Kong as an international financial centre. We are very satisfied with the achievements it has made so far."
This article appeared in the South China Morning Post print edition as: Higher stamp duties have helped cool HK realty market