Monetary authority issues guidelines for the launch of virtual banks in Hong Kong
Authority to receive feedback until March 15 and final regulations will be issued in May
Virtual banks looking to set up in Hong Kong will need to have at least HK$300 million (US$38.36 million) in capital, and cannot impose a minimum account balance or low balance fees, according to draft guidelines released by the Hong Kong Monetary Authority on Tuesday.
The authority will receive feedback on these guidelines until March 15 and the final regulations will be issued in May. Non-financial and traditional banks can apply for the licences now.
"Overseas experience has shown some successful virtual bank operations, while small and medium enterprises could get better banking services and lending," Arthur Yuen, the deputy chief executive of the authority, said during a media briefing on Tuesday.
"We expect virtual banks will focus on retail and SME businesses, but we will not require what type of services they must offer to customers. They could choose their business scope, ranging from payments, deposits and loans, to wealth management and other lending," said Yuen.
The authority will require them to set up a locally incorporated bank to offer retail banking, which is the same for conventional banks involved in retail banking.
"While the HKMA will not interfere with commercial decisions, we will, however, ban these virtual banks from carrying out any predatory tactics, such as extremely low prices or excessively high interest rates to aggressively compete for market share, as this would be detrimental to the stability of the banking sector, and affect the confidence of the general public," he added.
Although the virtual banks will only operate online and will not have a physical network, the authority will require them to have at least one physical office that can also handle complaints from customers.
Operators will need to have an exit plan in case of a collapse, and all virtual banks will need to join the deposit protection scheme, which offers depositors compensation of up to HK$500,000.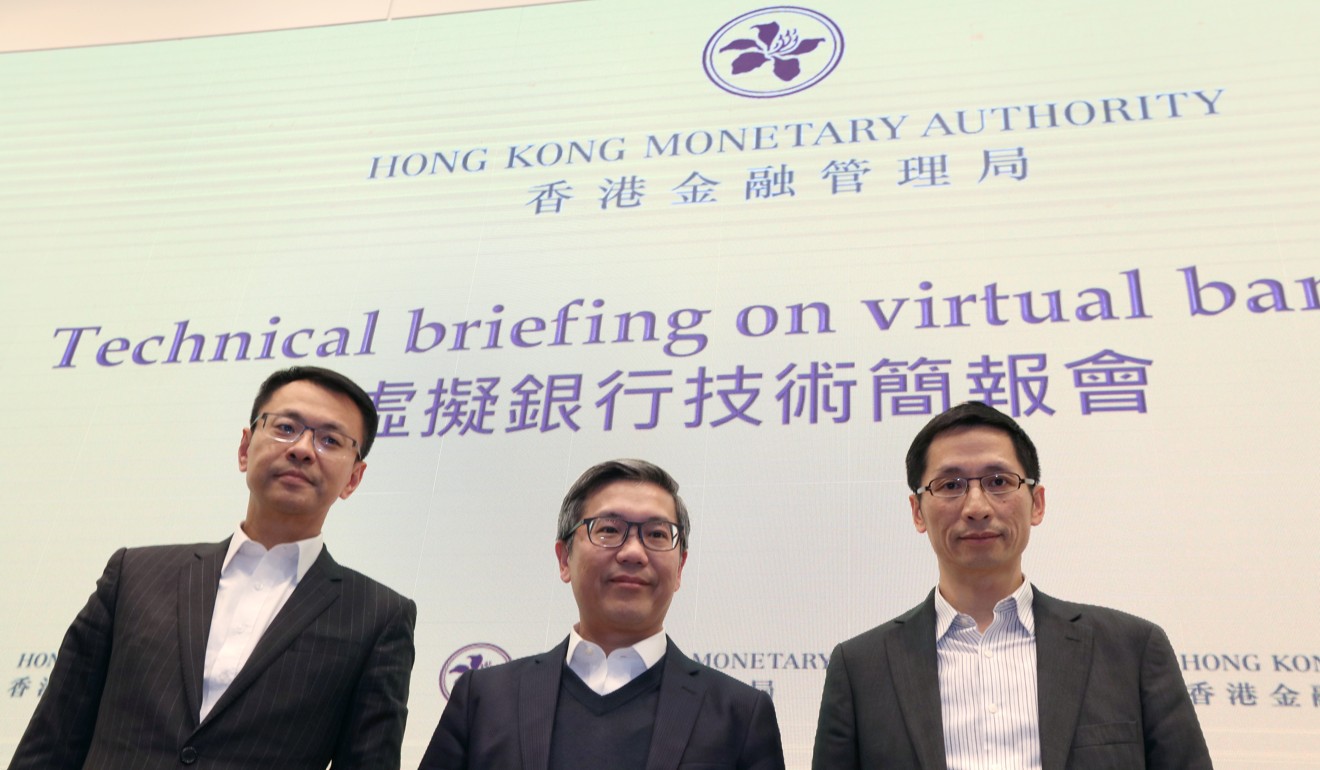 The South China Morning Post reported last week that the authority had received expressions of interest by 10 local and overseas companies looking to set up virtual banks in Hong Kong.
"This announcement is significant because the consultation document suggests the HKMA will let technology players, either from mainland China or elsewhere, provide financial services in Hong Kong," said James Lloyd, fintech leader Asia-Pacific at EY.
"We expect that this change will make it into the final policy.
"I don't anticipate the regulator will open the floodgates to allow lots of technology players to offer financial services, but there is scope for some to offer services in some underserved areas – SME financing could be one example," said Lloyd.
Yuen said the HK$300 million capital requirement was the same as that for conventional banks, while the no minimum balance requirement was aimed at protecting small investors. He added that while he expected the authority to issue the first licence by this year, it did not mean virtual banks would be able to operate by this year end.
The 10 companies expressing their interest include technology firms without a banking arm as well as traditional banks that want to set up virtual bank units, the authority chief executive Norman Chan Tak-lam told lawmakers during a Financial Affairs Panel meeting on Monday.
Raymond Chan, the authority's executive director for banking supervision, said virtual banks would treat their customers as fairly as conventional banks.
In September, Norman Chan announced seven initiatives to help Hong Kong migrate to what he called a "new era of smart banking", including the greater use of virtual banking.
A number of companies have said they will apply for a licence to operate a virtual bank in the city. For instance, ITF, a new financial technology bank in which veteran US investor Jim Rogers has a stake, aims to start operating this year, with its headquarters in Hong Kong.
Diana Cesar, the chief executive of HSBC in Hong Kong, said: "Digital is not just the future of banking – it's also the present. Virtual banks can help drive innovation and be an important part of the industry's development. Customers expect digital platforms that are convenient, reliable and secure to bring them simpler, better and faster services. That's why we have enhanced our mobile banking app, launched a series of new digital platforms and will continue to invest in our digital services."
This article appeared in the South China Morning Post print edition as: guidelines out for virtual banks