Tencent
Get more with myNEWS
A personalised news feed of stories that matter to you
Learn more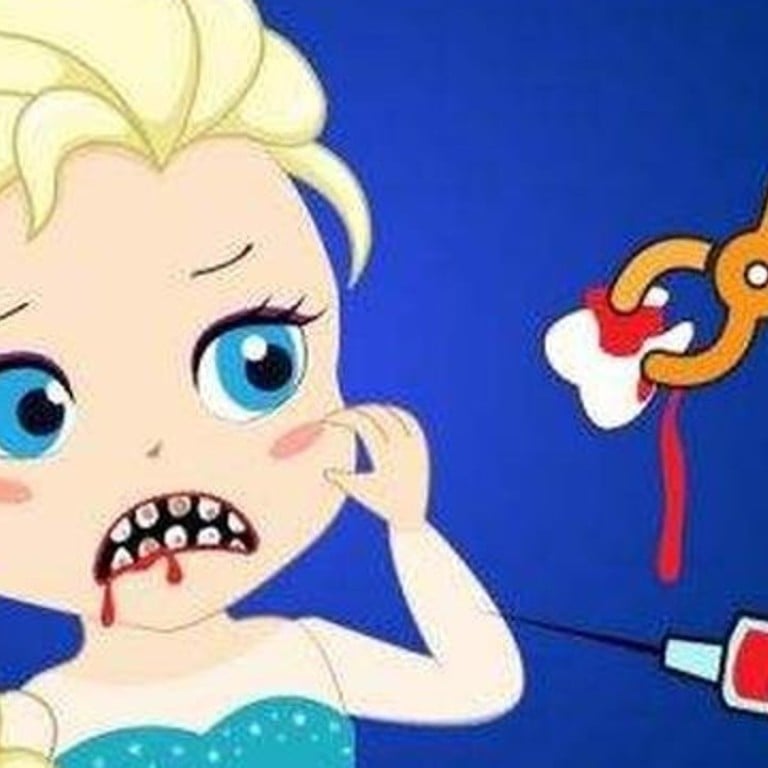 Tencent and Baidu in China censor's crosshairs for allowing disturbing children's videos
It follows a recent crackdown by YouTube on similar content worldwide
China's top media regulator on Monday has launched investigations against some of the top websites and video-streaming platforms for allowing disturbing videos targeted at children and said it was embarking on a two-month crackdown to take down inappropriate online content such as violence, sex and toilet humour featuring popular cartoon characters.
Tencent Video, Baidu's Haokan, Youku, owned by Alibaba Group Holding, and iQiyi have all responded and pledged to step up scrutiny of videos uploaded by users.
The anti-pornography office, a unit of China's state media censor – the State Administration of Press, Publication, Radio, Film and Television (SARFT), is investigating Youku, iQiyi and Tencent Holdings for allowing content from a Guangzhou-based video producer that depict well-known cartoon characters, such as Peppa Pig and Frozen's Princess Elsa, in bloody and horrific scenarios.
Separately, SARFT is also investigating Baidu's Haokan video site for allowing similar videos.
Guangzhou Yijun Trading Company signed separate contracts with Youku and iQiyi in 2016 to show its cartoon movies on their websites via an account called "Happy Disney", and making a profit of more than 2.2 million yuan (US$347,000), the regulator said.
Tencent Video said in a statement that it has terminated 1,325 accounts and removed more than 250,000 suspicious videos since mid-January.
"Tencent Video is willing to undergo viewer scrutiny and strives to get rid of any inappropriate content on the platform. Children are the future, and Tencent Video will do its best to provide a safe, healthy and happy environment for their development," the company said.
Youku said it had already removed or blocked offensive videos and set up a special working unit to ensure a fast response to such incidents. iQiyi said it had removed more than 40,000 suspicious videos and terminated some accounts.
Both sites have pledged to increase censorship through technological means and by personnel, including blocking searches for sensitive keywords and removing any video that contains suspicious words in the title or content.
Separately, Baidu's Haokan said it had formed a special unit that would use technology to review and censor harmful videos 24 hours a day, while encouraging users to report such videos.
On Monday, five authorities, including the Ministry of Culture, the Central Propaganda Department, the top internet regulator, the SARFT, and the anti-pornography office, said in a joint statement that they would launch a nationwide campaign to clamp down on disturbing children's cartoons and games, as well as "vulgar, pornographic, and violent" content on the internet.
The move comes amid consensus from social media platforms and regulators in the West that online content has to be regulated to protect children from pornography and violence.
In November, YouTube launched a crackdown after it was heavily criticised for failing to properly curate content after thousands of videos directed at children were found to have inappropriate content featuring violence and sex.
YouTube apologised and took action by terminating more than 270 accounts and removing over 150,000 videos, while announcing measures to review and restrict content inappropriate for children.
In China, the anti-pornography office said last month it had launched an investigation against Guangzhou Yijun for making videos that show popular cartoon characters in violent scenarios and disguising them as children's entertainment.
Guangzhou Yijun apologised afterwards on its official Sina Weibo account for making "horrific videos", saying the purpose was to "obtain web traffic" and that they had failed to realise it could hurt and traumatise children.
Alibaba owns the South China Morning Post.
This article appeared in the South China Morning Post print edition as: Top websites probed over 'disturbing' content for children